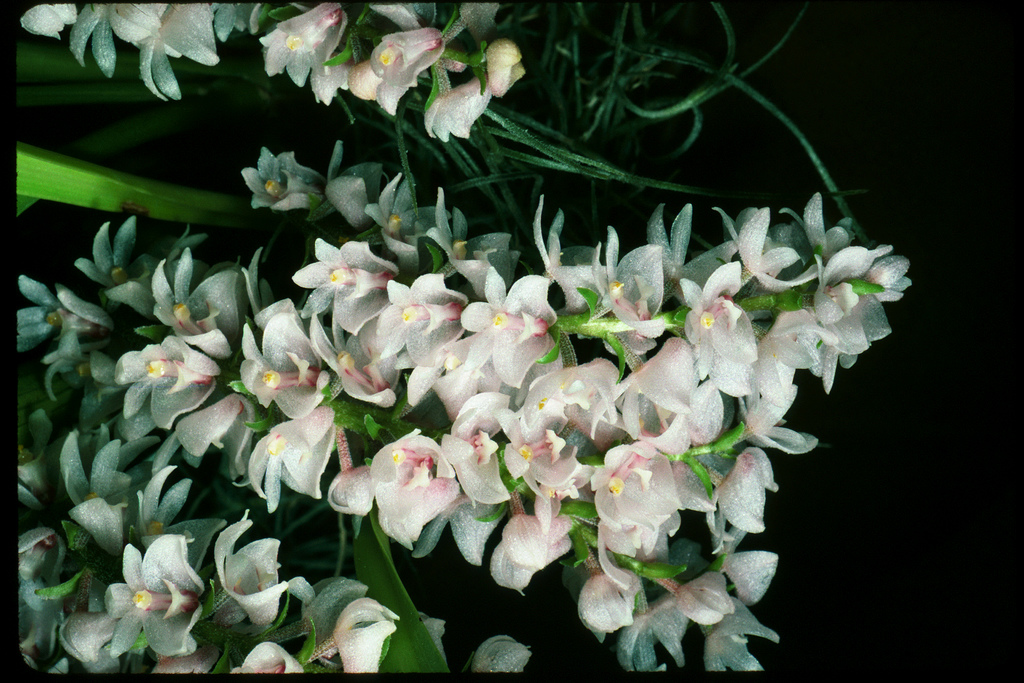 Eria spicata [D.Don]Hand.-Mazz. 1836 SECTION Pinalia Photo by © Eric Hunt and his Orchid Photo Site
Another inflorescence Photos by Jay Pfahl






Common Name The Spicate Eria - In China Mi Hua Ping Lan
Flower Size .3" [.8 cm]
Found in China, western Himalayas, Assam, the eastern Himalayas, Nepal, Laos, Myanmar, Thailand and Vietnam on wooded slopes on trees and in valley forests on rocks at elevations of 800 to 2800 meters as a miniature to small sized, warm to cold growing epiphyte or lithophyte with crowded, terete, narrow, elliptic-oblong to conical pseudobulbs enveloped basally by 1 to 2 sheaths and carrying 4, arising from near the apex, elliptic-oblong,obliquely bifid, sessile to shortly petiolate base leaves that blom s in the spring and summer on a glabrous, lateral, sub-erect, slender, [12 to 18 cm] long, laxly 5 to 20 flowered inflorescence with ovate-elliptic to oblong, obtuse, reflexed, floral bracts carrying glabrous to sparsely pilose, subglobose, fragrant flowers.
Often cited as Eria bractescens, major difference - E bractescens has 2 leaves at the apex of pseudobulb, larger more open acute flowers with no fragrance while E spicata has 4 near the apex leaves and smaller cupped flowers with fragrance.
I personally feel that the second two photos are more correct but I need better references.
Synonyms Eria convallaroides Lindley 1830; Eria salwinensis Hand.-Mazz. 1936; Octomeria convallarioides D. Don 1830; *Octomeria spicata D. Don 1825; Pinalia alba Buch.-Ham. 1825; Pinalia spicata (D.Don) S.C.Chen & J.J.Wood 2009; Pinalia salwinensis (Hand.-Mazz.) Ormerod 2011
References W3 Tropicos, Kew Monocot list , IPNI ; Orchids of Burma Grant 1895/1995 as Eria convallarioides; The Orchids of Sikkim-Himalaya Part 1 King & Pantling 1898 as E convallarioides drawing ok; The Orchids of North-Western Himalaya Vol IX Part II Duthie 1906 as E convallarioides; Die Orchideen Schlechter 1915 as E convallarioides; The Orchids of Thailand Seidenfaden & Smitinand 1960 drawing good; The Orchids of Thailand Seidenfaden & Smitinand 1965 corrections; Encyclopedia of Cultivated Orchids Hawkes 1965; Contribution to a Revision of the Orchid Flora of Cambodia, Laos and Vietnam Seidenfaden 1975; Indian Orchids: A Guide to Identification Vol 2 Pradhan 1979 drawing ok; Die Orchideen lieferung 11/12 633 - 752 Brieger 1981 as E convallarioides photo plant only; Eria globulifera Seidenf. 1982 Orchids of Arunachal Pradesh Hegde 1984 photo fide; AOS Bulletin Vol 54 No 3 1985; Orchids of Kumaun Himalayas Pangtey, Samant and Rawat 1991; The Manual of Cultivated Orchids Bechtel, Cribb and Launert 1992 photo good; Manual of Orchids Stewart 1995; The Wild Orchids of China Tsi, Chen & Mori 1997 photo ok; Native Orchids of China in Colour Singchi, Zhanhuo and Yibo 1999 photo fide; A Field Guide to the Wild Orchids of Thailand Vaddhanaphuti 2001 photo good; Orchid Flora of Kamrup District, Assam Barua 2001 as Eria bractescens; Beautiful Orchids of Nepal Rajbhandari & Bhattarai 2001 photo fide; Orchids of Bhutan Pearce & Cribb 2002 photo fide: Flora's Orchids Nash & La Croix 2005; A field Guide to the Wild Orchids of Thailand Vaddhanaphuti 2005 photo ok; Genera Orchidacearum Vol 4 part 1 Pridgeon, Cribb, Chase and Rasmussen 2005; Flora Malesiana Orchids of New Guinea Vol III Shuiteman and de Vogel 2006; Orchids of India A Glimpse Misra 2007; Native Orchids From Gaoligongshan Mountains, China Xiaohua, Xiaodong and Xiaochun 2009 photo good; Flora of China Vol 25 Zhengyi, Raven & Deyuan 2009 as Pinalia spicata; A Field Guide to the Orchids of China Singchi, Zhongjian, Yibo, Xiaohua and Zhanhuo 2009 photo fide; Flora of China Illustrations Vol 25 Zhengyi, Raven & Deyuan 2010 as Pinalia spicata drawing ok; The Wild Orchids in Yunnan Xu Xiang Ye & Liu 2010 as Pinalia spicata photos ok;
--------------------------------------------------------------------------------------------------------------------------