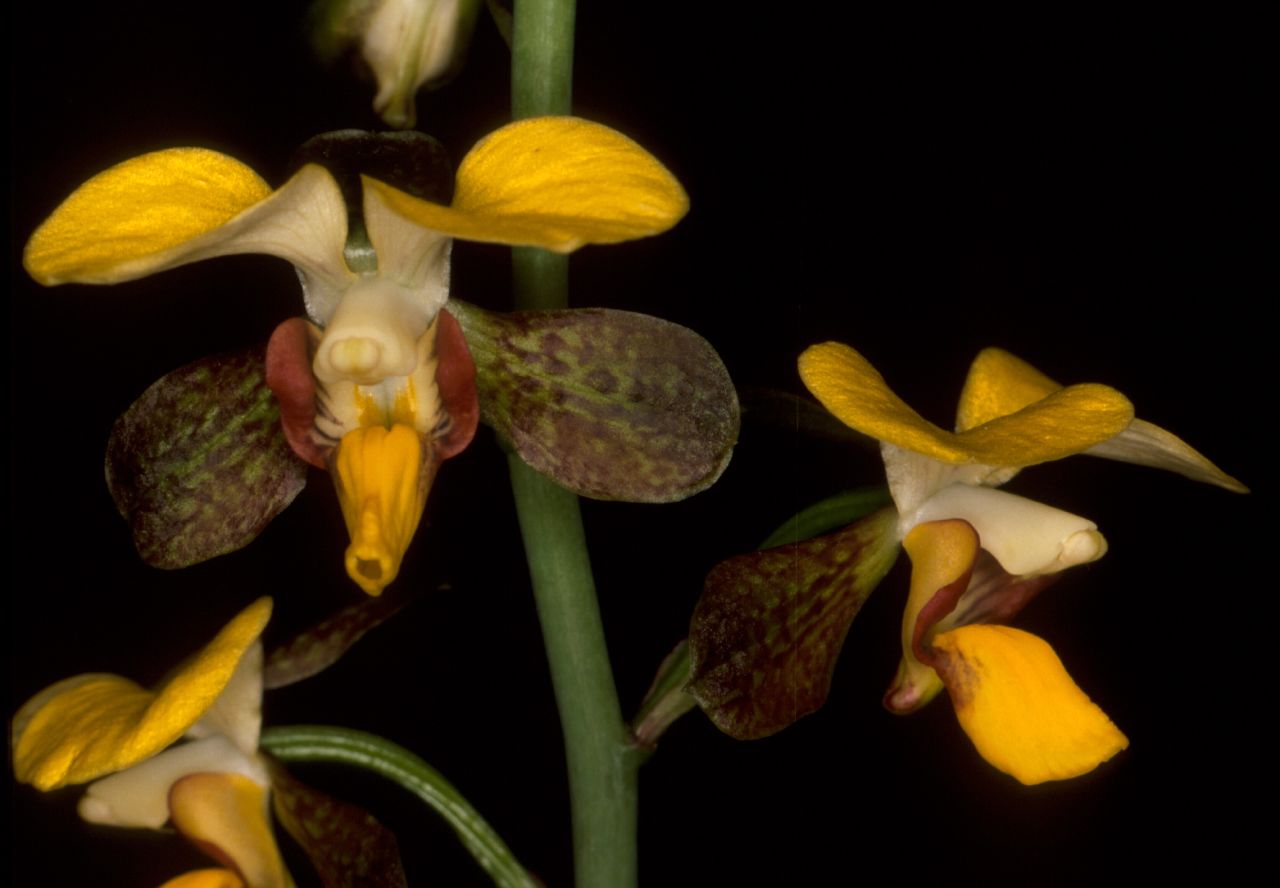 Eulophia streptopetala Lindley 1828 Photos by © Lourens Grobler
Inflorescence Photo by Jeff Aguillon.


to


EARLY

Common Name The Striped Petal Eulophia
Flower Size to about 1 1/2" [3.7 cm]
This robust species is found in Burundi, Rwanda, Zaire, Eritrea, Ethiopia, Sudan, Kenya, Tanzania, Uganda, Angola, Malawi, Mozambique, Zambia, Zimbabwe, Namibia, Swaziland, Cape Province, Transvaal, and Yemen in varied habitat, including, woodlands, rocks in montane grasslands, long grass at wood's edge, and occassionally in forests to elevations of 100 to 2550 meters as a medium to giant sized, hot to cold growing terrestrial with ovoid or ovoid-oblong pseudobulbs carrying 4 to 7, elongate-linear to lanceolate, acute or acuminate, plicate, arching leaves and blooms in the spring to early summer on an erect, to almost 3' [90 cm] long, racemose, laxly many flowered raceme that has oblong to oblong lanceolate bracts.
The Swazis of Swaziland South Africa use this species to concoct a medicine for unspecified diseases in children.
Synonyms Eulophia crepidata Butzin 1975; Eulophia grantii (Rchb.f.) Summerh. 1953; Eulophia krebsii [Rchb.f]Bolus 1888; Eulophia krebsii var. purpurata (Ridl.) Bolus 1889; Eulophia manganjensis Rolfe 1897; Eulophia paivaeana [Rchb.f] Summerhayes 1953; Eulophia paivaeana subsp. borealis Summerh. 1953; Eulophia rueppelii (Rchb.f.) Summerh. 1940; Eulophia stenophylla Summerh. 1949; Eulophia streptopetala var. rueppelii (Rchb.f.) P.J.Cribb 1979; Eulophia streptopetala var. stenophylla (Summerh.) P.J.Cribb 1989; Eulophia stuhlmannii (Kraenzl.) Butzin 1975; Hypodematium abyssinicum A.Rich. 1850; Lissochilus abyssinicus (A.Rich.) T.Durand & Schinz 1894; Lissochilus arabicus Lindl. 1833; Lissochilus carsonii Rolfe 1897; Lissochilus erythraeae Rolfe 1897; Lissochilus graeferi Kraenzl 1892; Lissochilus graniticus Schweinf. 1894; Lissochilus grantii Rchb.f. 1875; Lissochilus kirkii Rolfe 1897; Lissochilus krebsii Rchb.f 1847; Lissochilus micranthus Kraenzl. 1893; Lissochilus morrumbalaensis De Wild 1904; Lissochilus oatesii Rolfe 1889; Lissochilus oliverianus Rchb.f. 1875; Lissochilus paivaeanus Rchb. f. 1865; Lissochilus papilionaceus Rendle 1895; Lissochilus parviflorus Lindl 1833; Lissochilus renschianus Rchb.f. 1881; Lissochilus rueppelii Rchb.f. 1847; Lissochilus shirensis Rendle 1895; Lissochilus streptopetalus [Lindley]Lindley 1833; Lissochilus stuhlmannii Kraenzl. 1894; Lissochilus ukingensis Schltr 1915
References W3 Tropicos, Kew Monocot list , IPNI ; Otia Botanica Hamburgensia Rchb.f 1881 as Lissochilus renschianus; Xenia Orchidaceae Vol 3 Reichenbach 1894 as Lissochilus graefei drawing; Die Orchideen Schlechter 1915 as Lissochilus krebsii; Die Orchideen Schlechter 1915 as Lissochilus streptopetalum; Atlas des Orchidees Cultivees Constantin 1920 as Lissochilus krebsii drawing fide; AOS Bulletin Vol 28 No 4 1959 as Lissochilus krebsii; AOS Bulletin Vol 32 No 10 1963 as E paivaeana; Encyclopedia of Cultivated Orchids Hawkes 1965 as E krebsii; Encyclopedia of Cultivated Orchids Hawkes 1965; An Introduction to the South African Orchids Schelpe 1966; Orchids of East Africa Piers 1968 as E grantii; Orchids of East Africa Piers 1968 as E paivaeana; Orchids of East Africa Piers 1968 as E paivaeana subsp borealis photo good; Orchids of East Africa Piers 1968 as E stenophylla; AOS Bulletin Vol 44 #4 1975 as E paivaeana ssp borealis; The Orchids of South Central Africa Williamson 1977 as E paivaenana drawing/photo AOS Bulletin Vol 47 No 6 1978 as Lissochilus krebsii; Wild Orchids of Southern Africa Stewart, Linder, Schelpe & Hall 1982 photo fide; AOS Bulletin Vol 52 No 1 1983 photo fide; Flora of Tropical East Africa Orchidaceae Part 3 Cribb 1989 photo fide; Flora of Tropical East Africa Orchidaceae Part 3 Cribb 1989 as E streptopetala var stenophylla; Schlechteriana Vol 2 No 1 1991 photo fide; Rudolf Schlechter Die Orchideen Band 1B lieferung 24 1457 - 1520 Brieger 1991 drawing/photo fide; Rudolf Schlechter Die Orchideen Band 1B lieferung 24 1457 - 1520 Brieger 1991 as E krebsii; The Manual Of Cultivated Orchid Species Bechtel, Cribb and Launert 1992 photo fide; AOS Bulletin Vol 62 No 10 1993 postage stamp fide; Orchids of Kenya Stewart & Campbell 1996 as E stenophyla photo fide; Manual Of Orchids Stewart 1995 drawing fide; Orchids of Kenya Stewart & Campbell 1996 photo fide; African Orchids in the Wild and in Cultivation La Croix 1997 photo/drawing fide; Flora Zambesiaca Vol 11 Orchidaceae Part 2 Pope 1998 photo fide; Orchids of Southern Africa Linder & Kurzwell 1999 drawing/photo fide; Field Guide to the Ethiopian Orchids Demissew, Cribb & Rasmussen 2004 photo/drawing fide; Field Guide to the Orchids of Northern South Africa and Swaziland McMurty, Grobler, Grobler & Burns 2008 photos fide; Terrestrial African Orchids, A select Review John S. Ball 2009 drawing fide; The Cape Orchids Liltved & Johnson 2012 photos fide; Le Petit Larousse des Orchidees Lecoufle, Barthelemy and Schmidt 2013 photo fide; AOS Bulletin Vol 86 # 8 2017 drawing fide;
--------------------------------------------------------------------------------------------------------------------------