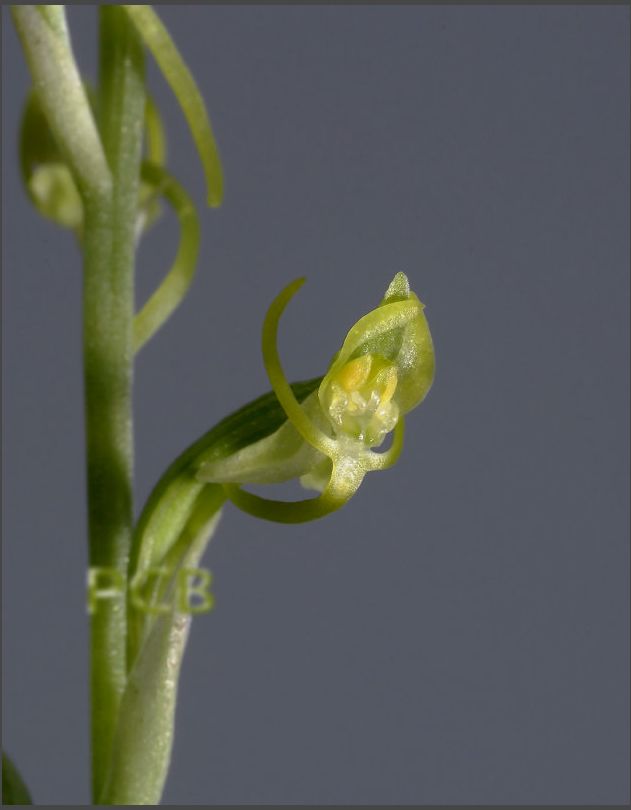 Habenaria arenaria Lindl. 1835 SECTION Chlorinae.
Photo by © Pieter Bouwer
Photo by © Lourens Grobler



Common Name The Sand Loving Habenaria
Flower Size 3/8" [1.1 cm]
Found in Mozambique, Cape Province, Natal and Transvaal South Africa in shade in montane thickets at elevations of 1000 to 1600 meters as a small to medium sized, cool growing terrestrial with an ellipsoid tuber giving rise to a slender stem carrying 2 to 3, radical but not adpressed to the ground, dappled/mottled gray-silver to plain above, narrowly to broadly elliptic, acute leaves and 2 to 4 smaller, cauline leaves above grading into the bracts that blooms in the fall on a terminal, erect, very laxly, 8 to 25 flowered inflorescence with lanceolate, acuminate, longer than the ovary floral bracts and carrying green flowers.
Synonyms Bonatea micrantha Lindl. 1835; Habenaria micrantha (Lindl.) Rchb.f. 1865
References W3 Tropicos, Kew Monocot list , IPNI ; Die Orchideen Band 3 Sonderabdruck aus Schlechter Brieger, Maatsch and Senghas 1973 photo ok; Wild Orchids of Southern Africa Stewart, Linder, Schelpe & Hall 1982 photo fide; Flora Zambesiaca Vol 11 Part 1 Pope 1995; Orchids of Southern Africa Linder & Kurzweil 1999 drawing/photo fide; Flora's Orchids Nash & La Croix 2005; Field Guide to the Orchids of Northern South Africa and Swaziland McMurty, Grobler, Grobler & Burns 2008 photos fide; AOS Bulletin Vol 79 #9 2010 photo fide; The Cape Orchids Vol 1 Liltved & Johnson 2012 photos fide
----------------------------------------------------------------------------------------------------------