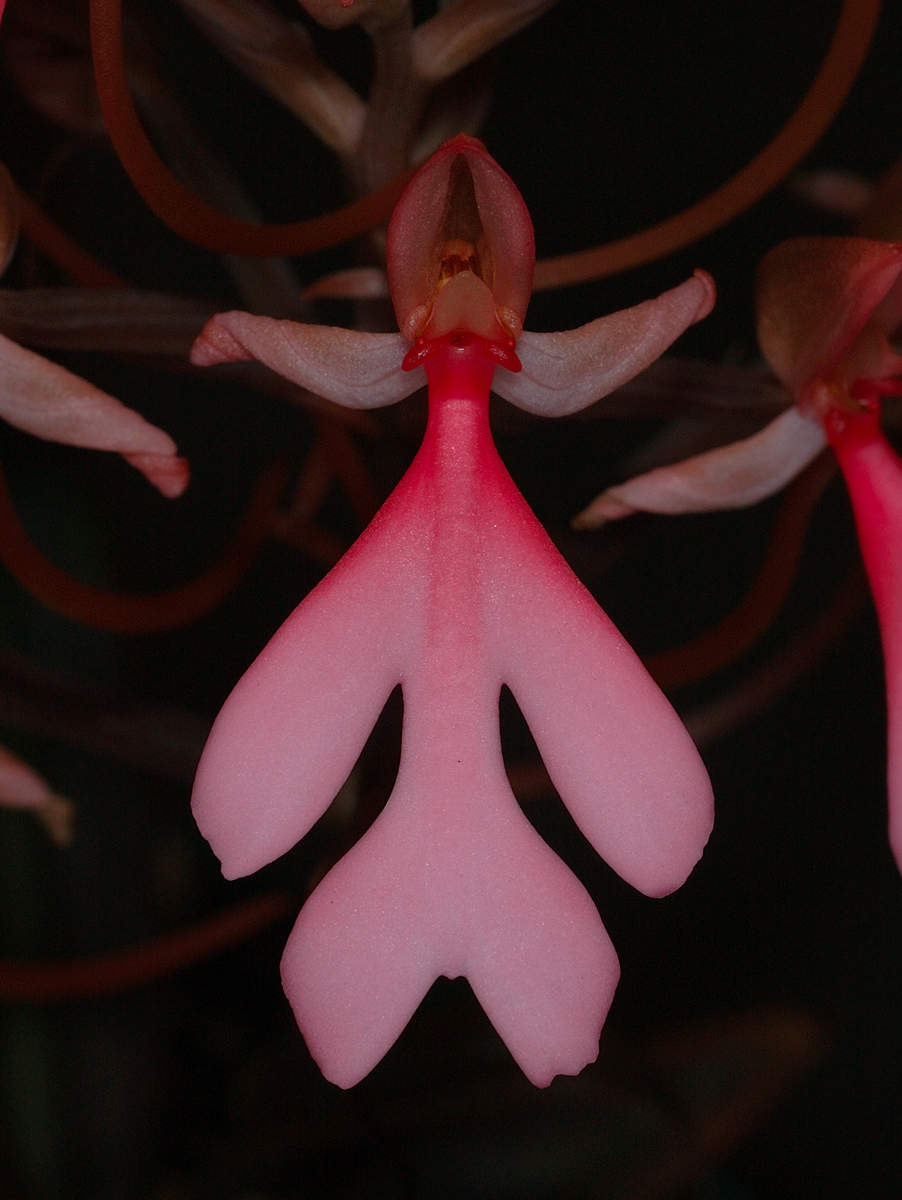 Habenaria erichmichelii Christenson 2003 H rhodocheila Complex Photo by © Eric Hunt and His Orchid Website
Flower Closeup Photo by © Eric Hunt and His Orchid Website.


to


Common Name Erich Michel's Habenaria [Hoosier Orchid's company owner current]
Flower Size 1" [2.5 cm]
A new species found in Assam, China, Myanmar, Thailand, Malaysia, Laos, Cambodia, Vietnam as a miniature terrestrial that is confused with Habenaria rhodocheila but differs in the 90 degree angle of the rostellum to the flower, short statured plants, and the leaves with silvery-white squarish spots. This species has a short stem carrying 4 to 6, subrosulate, linear-lanceolate, acute, green with silvery-white squarish spotted leaves and blooms on an erect, 6" [15 cm] long, subcorymbose inflorescence with two distant, leaf-like bracts and carrying 2 to 6 flowers.
Over the years several new species have been cut out of H rhodocheila and include H roeblenii, H janellehayneiana, and H xanthocheila.
Synonyms Smithanthe erichmichaelii (Christenson) Szlach. & Marg. 2004
References W3 Tropicos, Kew Monocot list , IPNI ; AOS Bulletin Vol 48 #4 1979 as H "carnea" photo fide; Thai Orchid Species Rakpaibulsombat 1992 as H militaris var roseochiela photo fide; *AOS Bulletin Vol 72 No 2 2003 photo fide; AOS Bulletin Vol 75 No 9 2006 photo fide; AOS Bulletin Vol 85 #1 2016 photo fide; AOS Bulletin Vol 85 #7 2016 photo fide; Orchideen Journal Vol 5 #4 Timothy C. Choltco, Brett Moloney & Gary Yong Gee 2017; AOS Bulletin Vol 86 #8 2017 photo fide; Orchids [AOS] Vol 87 No 6 2018 photo fide; AOS Bulletin Vol 88 #3 2019 photo fide;
----------------------------------------------------------------------------------------------------------