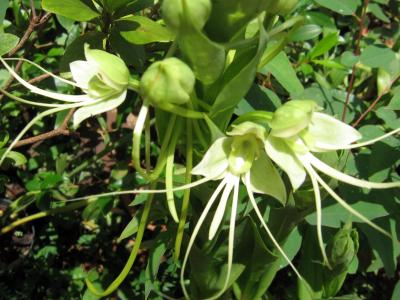 Habenaria gourlieana Gillies ex Lindl. 1835 SECTION Macroceratitis Kraenzl.
Photo by © Ricardo Luis Penz and his Orchid Website
Photos by © J. A. N. Batista; Joćo Batista F. da Silva; Luciano de Bem Bianchetti and the Orquideas de Minas Gerais; El Genero Habenaria


to


Common Name Gourli's Habenaria [Scottish Adventuror 1800's]
Flower Size 2.4" [6 cm]
Found from Brazil, Argentina and Uruguay at elvfations around 90 meters as an medium to giant sized, cool to cold growing terrestrial with an erect stem carrying linear-lanceolate, plicate leaves that blooms in the spring on a terminal, 12" [30 cm] long, laxly many flowered inflorescence with floral bracts that are longer than the pedicel
CAUTION This group, H fastor, H nabucoi, H gourlieana and H macronectar are all fairly similar. I hope I have them separate in a correct fashion. H nabucoi is considered by Kew to be synomonous with H melvillei but I have left them separate for now. H fastor is also considered by Kew to be synomonous with H melvillei and so the photo for Habenaria melvillei Ridl. 1885 is what was considered to be H fastor. I have to date not seen a plant labeled H melvillei so please use all of these species with caution!
Synonyms Habenaria bractescens Griseb. 1879; Habenaria burkartiana Hoehne 1937; Habenaria spegazziniana Kraenzl. 1905; Kusibabella burkartiana (Hoehne) Szlach. 2004; Kusibabella gourlieana (Gillies ex Lindl.) Szlach. 2004; Macrocentrum mendocinum Phil., Sert. Mend. Alt.: 43 (1871
References W3 Tropicos, Kew Monocot list , IPNI ; Repert Specierum Novarum Regni Vegetabilis Band 35 Rio Grande Do Sul Schlechter 1925; Flora Brasilica Vol XII I Hoehne 1940 drawing fide; Flora Brasilica Vol XII I Hoehne 1940 as H burkartiana drawing ok; Flora Brasilica Vol XII I Hoehne 1940 as H spegazziniana; Orchidaceae Brasilenses Band 1 Pabst and Dungs 1975 drawing good; 100 Orquideas Argentinas Freuler 2005 photo fide; Orquideas de Minas Gerais; El Genero Habenaria Joćo A. N. Batista; Joćo Batista F. da Silva; Luciano de Bem Bianchetti; Rev. bras. Bot. vol.31 no.1 Sćo Paulo Jan./Mar. 2008 photo; 100 Orquideas Argentinas Freuler 2009 photo fide; Orquidees du Bresil As Orquideas sa Serra do Castelo Vol 1 Chiron & Bolsanello 2015 photo/drawing fide;
----------------------------------------------------------------------------------------------------------