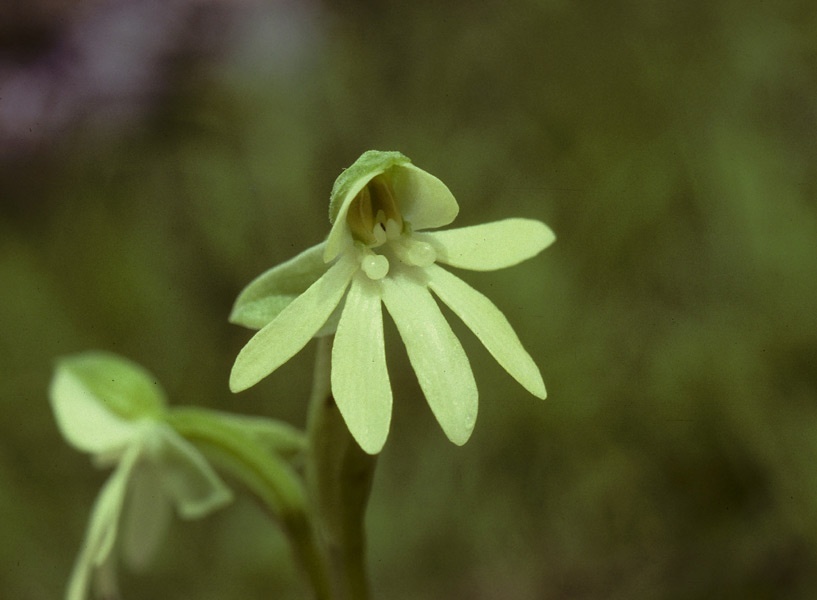 Habenaria macrura Kraenzl. 1893 SECTION Diphyllae Kraenzl.
Plant and Flowers in situ Photos courtesy of © Swiss Orchid Foundation at the Herbarium Jany Renz and their Website




LATE


Common Name The Long Spurred Habenaria
Flower Size 1.2" [3 cm]
Found in Nigeria, Gabon, Central African Republic, Cameroon, Zaire, Congo, Ethiopia, Sudan, Uganda, Tanzania, Angola, Malawi, Zambia and Zimbabwe in montane grasslands at elevations of 1200 to 2400 meters as a small to just large sized, cool to cold growing terrestrial with ellipsoid to almost globose, tomentose tubers giving rise to an erect stem carrying 2 basal, adpressed to the ground, ovate to almost orbicular, acute, slightly cordate basally leaves and then a 5 to 6 rather loosely sheath-like leaves that blooms in the late spring and summer on an erect, laxly 1 to 11 flowered inflorescence with lanceolate, acute floral bracts and carrying flowers with a spicy carnation fragrance.
Synonyms Arachnaria macrura (Kraenzl.) Szlach. 2003; Habenaria pentaglossa Kraenzl. 1902
References W3 Tropicos, Kew Monocot list , IPNI ; Flora of Tropical East Africa Part 1 Summerhayes 1968; The Orchids of South Central Africa Williamson 1977 drawing/photo fide; Flore D'Afrique Centrale [Zaire- Rwands - Burundi] Orhidaceae Premeir parte Geerink 1984; Orchids of the Central African Republic A Provisional Checklist Cribb & Fay 1986; Flora Zambesiaca Volume 11 Part one Pope 1995; Orchids of Kenya Stewart & Campbell 1996 photo fide; Flore du Gabon Vol 36 Szlachetko etal 2004 drawing ok; Field Guide to Ethiopian Orchids Demissew, Cribb & Rasmussen 2004 photo fide; Orchidaceae of West Central Africa Vol 1 Szlatchecko etal 2010 as Arachnaria macrura drawing fide;
----------------------------------------------------------------------------------------------------------