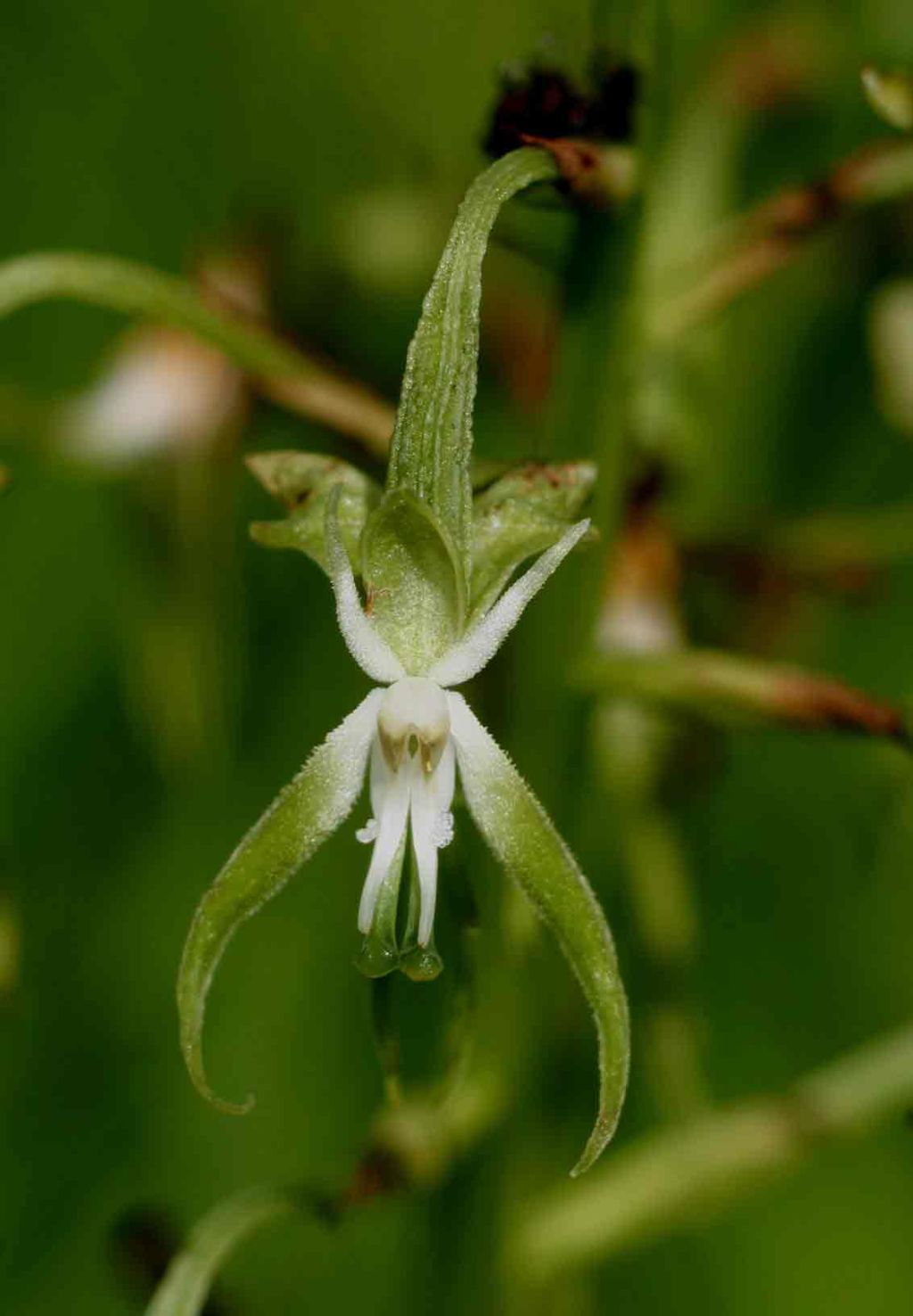 Habenaria schimperiana Hochst. ex A.Rich. 1850 SECTION Replicatae Kraenzl.
Plant In Situ Zimbabwe Photos by Bart Wursten ©, and his Flora Of Zimbabwe WebSite





Common Name Schimper's Habenaria [German Plant Collector East Africa 1800's]
Flower Size 3/4" [2.1 cm]
Found in Gabon, Zaire, Eritrea, Ethiopia, Sudan, Kenya, Tanzania, Malawi, Zambia, Zimbabwe, Swaziland, Yemen and Natal and Transvaal states of South Africa in grasslands and swamps in badly drained soils at elevations of 1000 to 2800 meters as a medium to giant sized, cool to cold growing terrestrial with an erect stem carrying 6 to 10, suberect to spreading, all along the stem, linear to linear-lanceolate, decreasing in size ascending, cauline leaves that blooms in the winter on an erect, 2.4 to 14" [6 to 35 cm] long, 4 to 25 flowered inflorescence carrying foul smelling flowers.
This species and H genuflex are often combined with this one taking precedence, I have left them separate pending better references and photos, but at this point I can say that H genuflexa has much wider petals and is not hairy to erose margined in any parts, otherwize they are very similar
Synonyms Bilabrella involuta (Bolus) Szlach. & Kras 2006; Bilabrella peltastes (Rchb.f.) Szlach. & Kras-Lap. 2003; Bilabrella schimperiana (Hochst. ex A.Rich.) Szlach. & Kras-Lap. 2003; Habenaria anomala Lindl. ex Kraenzl. 1893; Habenaria involuta Bolus 1889; Habenaria peltastes Rchb.f. 1881
References W3 Tropicos, Kew Monocot list , IPNI ; Otia Botanica Hamburgensia Rchb.f 1881 as H pelastes; Orchids of East Africa Piers 1968; The Orchids of South Central Africa Williamson 1977 drawing hmm; Wild Orchids of Southern Africa Stewart, Linder, Schelpe & Hall 1982 photo fide; The Orchids of South Central Africa Williamson 1977 drawing fide; Wild Orchids of Southern Africa Stewart, Linder, Schelpe & Hall 1982 photo fide; Flore D'Afrique Centrale [Zaire- Rwands - Burundi] Orhidaceae Premeir parte Geerink 1984; Flora Zambesiaca Vol 11 Part 1 Pope 1995 photo fide; Orchids of Kenya Stewart 1996; Orchids of Southern Africa Linder & Kurzweil 1999 drawing/photo fide; Flore du Gabon Vol 36 Szlachetko etal 2004 drawing fide; Field Guide to the Ethiopian Orchids Demissew, Cribb & Rasmussen 2004 photo fide; Field Guide to the Orchids of Northern South Africa and Swaziland McMurty, Grobler, Grobler & Burns 2008 photo fide; Orchidaceae of West Central Africa Vol 1 Szlatchecko etal 2010 as Bilabrella schimperiana drawing GOOD
----------------------------------------------------------------------------------------------------------