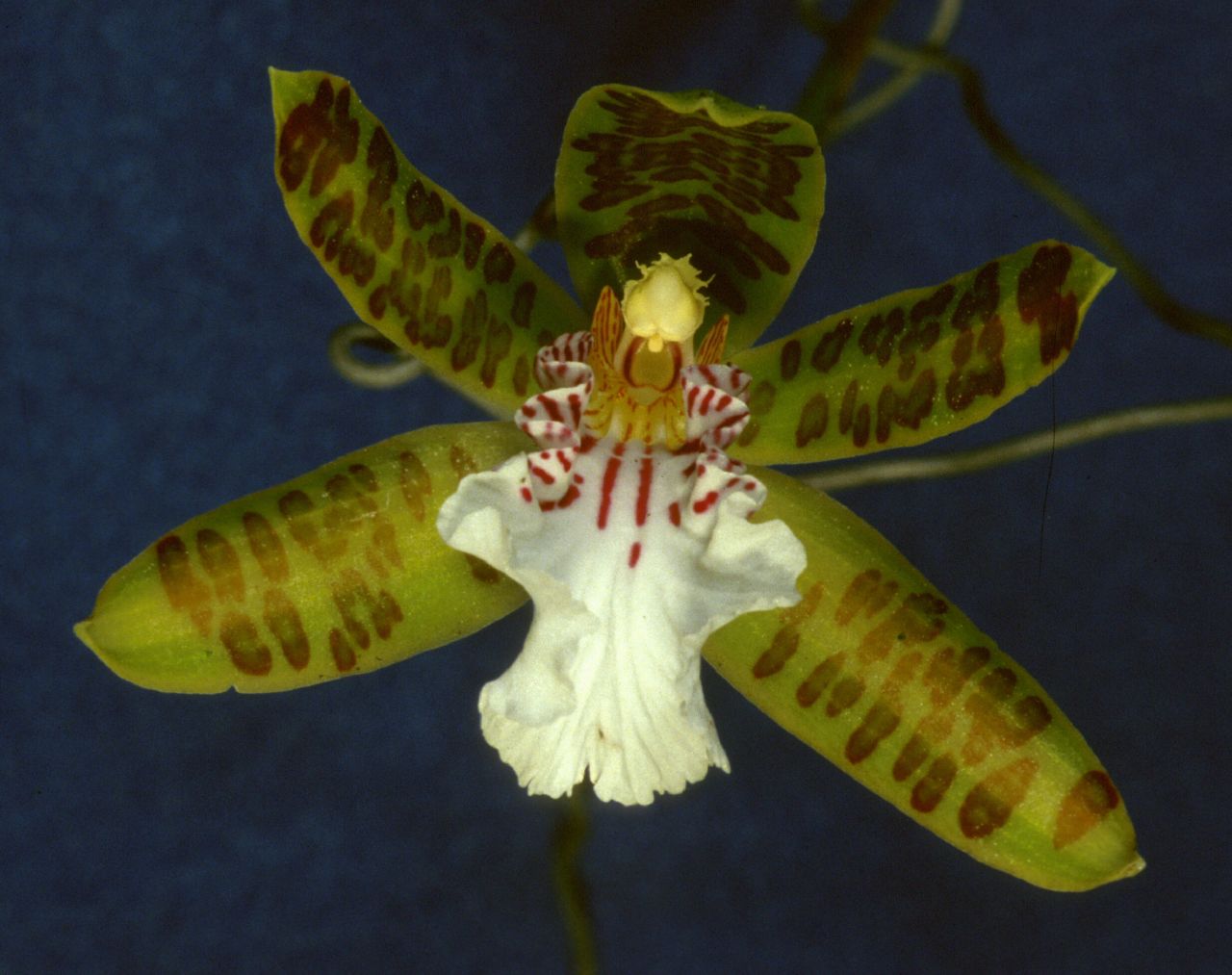 !Helcia sanguinolenta Lindley 1845
Photo by © Lourens Grobler .



To


and

Common Name The Blood-Stained Helcia
Flower Size 3" [7.7 cm]
This species is from Ecuador, Peru and Colombia at elevations of 600 to 3000 meters and is a small to medium sized, cold to warm growing, caespitose epiphyte from wet montane forests that needs cool night temperatures, summer shade, high humidity and ample water while growing and a 3 to 4 week rest after blooming to enable the new growth to mature. The small to medium sized plant has 3" ovoid, elongated, psuedobulbs partially enveloped basally by imbricate, acute, scarious sheaths that are tightly packed on a rhizome. They have a single, elongated, elliptic, coriaceous , 4" to 8" [10 to 20 cm] long, conduplicate below into the elongate, petiolate base leaf that has an undulate margin. The many fragrant, long lasting, successive opening flowers occur on a single, occasionally successively 2 flowered, basal, arching to pendant, 3 1/2" [9 cm] long inflorescence arising on a mature pseudobulb and appear in the winter and spring.
Synonyms Trichopilia sanguinolenta [Lindley] Rchb.f 1867
References W3 Tropicos, Kew Monocot list , IPNI ; Xenia Orchidaceae vol 2 Rchb.f 1865 as Trichopilia sanguinolenta; Otia Botanica Hamburgensia Rchb.f 1878 as Trichopilia sanguinolenta; Die Orchideen Schlechter 1915; Atlas des Orchidees Cultivees Constantin 1920 drawing fide; Iconografia de Orchidaceae Do Brasil Hoehne 1949 drawing fide; AOS Bulletin Vol 27 No 1 1958 photo fide; Encyclopedia of Cultivated Orchids Hawkes 1965; Fieldiana Biology, Vol 33, 1st Supple. to the Orchids of Peru Schweinfurth 1970; Icones Planetarum Tropicarum Plate 389 Dodson 1980 drawing fide; Icones Orchidscearum Peruviarum Plate 069 Bennett & Christenson 1980 drawing fide; The Manual Of Cultivated Orchid Species Bechtel, Cribb & Launert 1992 photo fide; Rudolf Schlechter Die Orchideen Band 1C lieferung 32 1977 - 2056 Brieger 1996 drawing/photo fide; Native Ecuadorian Orchids Vol 2 Dodson 2001 drawing/photo fide; The Pictoral Encyclopedia of Oncidium Zelenko 2002; Orchid Species Culture: Oncidium, Bakers 2006; AOS Bulletin Vol 76 No 5 2007 photo fide; Orchid Species Of Peru Zelenko & Bermudez 2009 photo fide as Trichopilia sanguinolenta; Mille et Une Mini Orchideees Roguenant 2009 photo fide; Orchid Digest Vol 74 #3 2010 photo fide; AOS Bulletin Vol 85 #11 2016 as Trichopilia sanguinolenta photo fide; Orchids A Colombian Treasure Vol 3 Ortiz & Uribe 2019 photo/drawing fide;
--------------------------------------------------------------------------------------------------------------------------