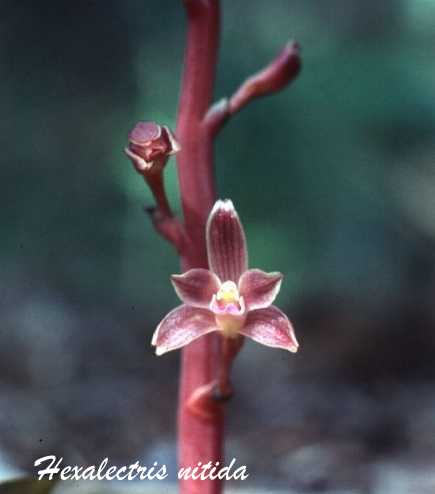 Hexalectris nitida L.O. Williams 1944 Photo courtesy Victor Engel and his Webpage


to


and

Common Name Shining Cock's Comb Hexalextris
Flower Size
Victor has no pictures of the type-form of H. nitida from the Chisos Mountains and surrounding areas. The pictures I have are typical of the lowland (Dallas/Austin) mycoheterotrophic plants. Distinguishing characteristics of the highland variety are the curled tepals, as in H. revoluta. The plants I have seen have flowers that rarely open or open very little. They are mostly self-pollinating.
References W3 Tropicos, Kew Monocot list , IPNI ; AOS Bulletin Vol 56 No 8 1987 photo; Flora Novo-Galaciana Vol 16 McVaugh 1985;

Hexalectris nitida L.O. Williams var alba 1944

Photo courtesy Victor Engel and his Webpage
Common Name The Albino Shining Cock's Comb
A Mycoheterotrophicleafless terrestrial of southwestern Texas in forested mountain slopes as well as dry creek beds where it blooms in the spring and summer on an erect, pinkish loosely or densly flowered racemose inflorescence.
--------------------------------------------------------------------------------------