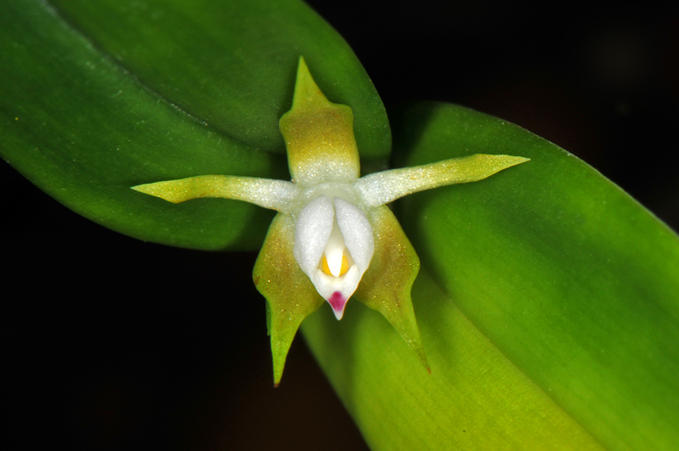 Hormidium pygmaeum (Hook.) Benth. & Hook. f. ex Hemsl. 1883
Photo by © Richard Ashby and hisOrchid Photo Website.
Photo by © Jay Pfahl
Photo by Eric Hunt, plant grown by OrchidMania
Plant and Flowers in situ Costa Rica
Photo by Wilfried Löderbusch




and

Common Name Dwarf Hormidium
Flower Size 1/16" to 1/2" [.5 to 1 cm]
Found in Florida, Cuba, Dominican Republic, Haiti, Jamaica, Leewards?, Puerto Rico, Trinidad & Tobago, Windwards, Mexico, Guatemala, Belize, Honduras, Nicaragua, Costa Rica, Panama, French Guiana, Surinam, Guyana, Venezuela, Colombia, Ecuador, Peru, Bolivia and Brazil in wet montane forests at elevations of sealevel to 1700 meters as a common, hot to cool growing, miniature sized, creeping epiphyte with tiny elliptic pseudobulbs that form dense mats, and is and has the smallest flowers of the genus which occur mostly in the spring, summer and fall on a terminal, very short, subsessile, subumbellate inflorescence arising on a mature, fusiform, bifoliate, dark green psuedobulb partially enveloped basally by a few scarious sheaths and carrying 2, apical, narrowly lanceolate, acute, conduplicate at the base leaves and forming an apical spathe giving rise to a terminal, subsessile, subumbellate, racemose inflorescence usually occuring with one to two flowers held close to the apex of the pseudobulb.
Synonyms Aulizeum pygmaeum (Hook.) Benth. 1892; Coelogyne triptera Brongn. 1834; Encyclia pygmaea (Hook.) Dressler 1961; Encyclia triptera (Brongn.) Dressler & G.E. Pollard 1971; Epidendrum caespitosum Poepp. & Endl. 1837-8; Epidendrum monanthum Schltr. 1916; Epidendrum monanthum Steud. 1840; *Epidendrum pygmaeum Hook. 1833; Epidendrum uniflorum Lindl. 1839; Hormidium humile (Cogn.) Schltr. 1920; Hormidium tripterum (Brongn.) Cogn. 1898; Hormidium uniflorum (Lindl.) Heynh. 1841; Microstylis humilis Cogn. 1906; Prosthechea pygmaea (Hook.) W. E. Higgins 1997
References W3 Tropicos, Kew Monocot list , IPNI ; Studies in the Family Orchidaceae Fascile 2 Ames 1908 as H tripterum drawing fide; Symbolae Antillanae Vol VI Orchidaceae Urban 1909 as Hormidium tripterum; Flora of Jamaica Fawcett & Rendle 1910 as Hormidium tripterum drawing fide; Atlas des Orchidees Cultivees Constantin 1920 as Hormidium uniflorum drawing fide; Repert. Sp. Nov. Regni. Veg. Beih. 19: 207. Costa Rica Schlechter 1923; The Genus Epidendrum Ames 1936 as Epidendrum pygmaeum; The Orchids of Panama L.O. Williams & P Allen 1946 as Epidendrum pygmaeum drawing good; Iconografia de Orchidaceae Do Brasil Hoehne 1949 as H tripterum; Ceiba Vol 5 No 1 L O Williams 1956 as Epidendrum pygmaeum; AOS Bulletin Vol 29 No 10 1960 as Epidendrum pygmaeum; Venezuelan Orchids Vol 2 Dunsterville & Garay 1961 as Epidendrum pygmaeum drawing fide; AOS Bulletin Vol 33 #8 1964 as Epidendrum pygmaeum; Encyclopedia of Cultivated Orchids Hawkes 1965 as Epidendrum pygmaeum; Flora de Venezuela Foldats Volumen XV Part 3 1970 as Epidendrum pygmaeum drawing fide; The Native Orchids of Florida Luer 1972 as Encyclia pygmaea drawing/photos fide; Las Orquedias De El Salvador Vol 1 Hamer 1974 as Epidendrum pseudopygmaeum drawing/photo fide; AOS Bulletin Vol 44 #8 1975 as Encyclia pygmaea; Die Orchideen 3 Auflage Bd 1 Sonderabdruck aus Schlechter Lieferung 9 513 - 576 Brieger, Maatsch and Senghas 1977; Orchids of Venezuela An Illustrated Field Guide Vol 1 Dunsterville & Garay 1979 as Epidendrum pygmaeum drawing fide; Las Orquedias de El Salvador Vol 3 Hamer 1981 as Epidendrum pseudopygmaeum drawing fide; AOS Bulletin Vol 48 No 5 1979 as E pseudopygmaea; Icones Planetarum Tropicarum Plate 070 Dodson 1980 as Encyclia pygmaea drawing fide; Icones Planetarum Tropicarum Plate 695 Dodson 1982 as Encyclia pygmaea drawing fide; The Orchids of Surinam Werkhoven 1986 photo ok; Selbyana Vol 10 Orchids of Central America Hamer 1988 as Encyclia pseudopygmaea drawing ok; Selbyana Vol 10 Orchids of Central America Hamer 1988 as Encyclia pygmaea drawing fide; Icones Planetarum Tropicarum Series II plate 0215 Dodson & Vasquez 1989 as Encyclia pygmaea drawing fide; Manual of Cultivated Orchid Species Bechtel, Cribb, & Launert 1992 as Encyclia puygmaea; Icones Orchidacearum Peruviarum Plate 038 Bennett & Christenson 1993 as Encyclia pygmaea drawing fide; Orchids of the High Mountain Atlantic Rainforest in SE Brazil Warren & Miller 1994 as Encyclia pygnaea; An Orchid Flora Of Puerto Rico and the Virgin Islands Ackerman 1995 as Encyclia pygmaea drawing fide; Orchids of Venezuela [An illustrated field guide] Vol. 3 Ramiro and Carnevali 2000 as Prosthechea pygmaea drawing fide; Flora of the Venezuelan Guayana Vol 7 Steyermark, Berry, Yatskievych and Holst 2003; Native Ecuadorian Orchids Vol 4 Dodson 2003 drawing fide; Orquideas Nativas del Tachira Cesar Fernandez 2003 as Prosthechea pygmaea photo fide; Manual de Plantas de Costa Rica Vol 3 Hammel, Grayum, Herrera and Zamora 2003 as Prosthechea pygmaea; Orchids of Bolivia Vol 2 Laelinae Vasquez and Ibisch 2004 as Protheschea pygmaea drawing/photo fide; ; The Cattleyas and Their Relatives, the Debateable Epidendrum Withner and Harding 2004 photo fide; Algunas Orquideas de Oaxaca Suarez 2004 as Prosthechea pygmaea photo fide; Orquideas de la Serrania del Baudo Misas Urreta 2006 as Prosthechea pygmaea drawing/photo fide; Orchids of Costa Rica Vol 2 Morales 2009 as Prosthechea pygmaea photo fide; Mille et Une Mini Orchideees Roguenant 2009 as Prosthechea pygmaea photo fide; Las Orquideas del Peru Izerskyy & Bezverhov 2011 photo fide; Orquideas de Roirama Luz & Franco 2012 as Prosthechea pygmaea photo fide; Orchidees Du Bresil As Orchideas da Serra Do Castello Vol 3 Chiron & Bolsanello 2013 as Prosthechea pygmaeadrawing/photo fide; Orchid Genera and Species in Guatemala Archila, Szlachchetko, Chiron, Lipinska, Mystkowska and Bertolini 2018 as Prosthechea pygmaea; Vanishing Beauty, Native Costa Rican Orchids Vol 2 Lacaena to Pteroglossa Pupulin 2020 as Prosthechea pygmaea photo fide
--------------------------------------------------------------------------------------------------------------------------