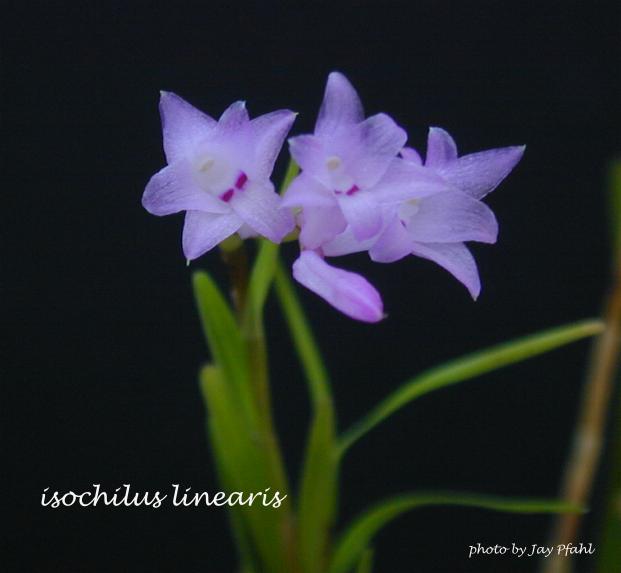 !Isochilus linearis (Jacq.) R. Br. 1813
Photo by © Jay Pfahl
Photo by © Weyman Bussey.
Flowering plant in situ in Mexico
Photo by © Weyman Bussey.


To





Common Name The Slim Isochilus
Flower Size to almost 1/2" [to almost 1.3 cm]
A widespread, lowland species found in Cuba, Dominican Republic, Haiti, Jamaica, Leewards, Puerto Rico, Trinidad & Tobago, Windwards, El Salvador, Guatemala, Honduras, Nicaragua, Costa Rica, Panama, French Guiana, Surinam, Guyana, Venezuela, Colombia, Ecuador, Peru, Bolivia, Brazil, Paraguay and Argentina as a medium sized epiphyte, lithophyte or terrestrial that occurs at an elevation of 300 to 3900 meters, and is best grown in cool to warm conditions because the majority of specimens are collected in these areas with moderate shade and high humidity. It has clustered, slender, erect becoming arching stems enveloped below by tubular, verrucose sheaths and above carrying several, disitichous, narrowly linear, obtuse, basally clasping leaves giving rise to a terminal 2 1/4" [to 6 cm] long raceme with palaceous bracts, and several to many tubular, color variable flowers that can occur at any time of the year arising from the apex of the stem and held very close to the leaf.
Synonyms Coilostylis obtusifolia Raf. 1836; Cymbidium lineare (Jacq.) Sw. 1799; *Epidendrum lineare Jacq. 1760; Isochilus brasiliensis Schltr. 1921; Isochilus leucanthus Barb. Rodr. 1877; Isochilus linearis var. leucanthus (Barb.Rodr.) Cogn. 1898; Isochilus peruvianus Schltr. 1921; Leptothrium lineare Kunth 1815
References W3 Tropicos, Kew Monocot list , IPNI ; Bonplandia Rchb.f 1854; Bonplandia Rchb.f 1856; Symbolae Antillanae Vol VI Orchidaceae Urban 1909; Symbolae Antillanae Vol VI Orchidaceae Urban 1909 as I pauciflora; Flora of Jamaica Fawcett & Rendle 1910 drawing fide; Die Orchideen Schlechter 1915; Atlas des Orchidees Cultivees Constantin 1920 drawing good; Die Orchideen der Sudamerikanischen Kordillerenstaaten IV Peru Schlechter 1921 as I peruvianus; Flore Descriptive des Antilles Francaises H. Stehle 1939 drawing fide; Flore Descriptive des Antilles Francaises H. Stehle 1939 as I pauciflora; Iconografia de Orchidaceae Do Brasil Hoehne 1949 as L brasiliensis drawing fide; Venezuelan Orchids Illustrated Vol 1 Dunsterville & Garay 1959 drawing hmm; Native Orchids of Trinidad Schultes 1960; AOS Bulletin Vol 33 #8 1964; Encyclopedia of Cultivated Orchids Hawkes 1965 drawing fide; AOS Bulletin Vol 38 No 6 1969; Flora de Venezuela Foldats Volumen XV Part 3 1970 drawing good; Die Orchideen 3 Auflage Bd 1 Sonderabdruck aus Schlechter Lieferung 8 449 - 512 Brieger, Maatsch and Senghas 1976 photo fide; Flora of the Lesser Antilles Garay & Sweet 1974 drawing fide; Las Orquedias De El Salvador Vol 2 Hamer 1974 drawing/photo hmm; Orchidaceae Brasilenses Band 1 Pabst & Dungs 1975 drawing fide; Orchids of Venezuela, An Illustrated Field Guide Vol 2 Dunsterville & Garay 1979 drawing hmm; Las Orquedias de El Salvador Vol 3 Hamer 1981 drawing ok; The Orchids of Surinam Werkhoven 1986 photo ok; The Manual Of Cultivated Orchid Species Bechtel, Cribb & Launert 1992 photo fide;Orchids of the High Mountain Atlantic Rainforest in SE Brazil Warren & Miller 1994; Native Colombian Orchids Vol 5 COS 1994 photo fide; Icones Orchidaceaerum Peruviarum Plate 263 Bennett & Christenson 1995 as Isochilus peruviana drawing fide; An Orchid Flora Of Puerto Rico and the Virgin Islands Ackerman 1995 drawing ok; Icones Planetarum Tropicarum plate 536 Dodson 1982 drawing good; Icones Planetarum Tropicarum plate 787 Dodson 1982 drawing good; Selbyana Vol 10 Orchids of Central America Hamer 1988 drawing good; Native Colombian Orchdis Vol 5 COS 1994; Orchidaceae Antillanae Nir 2000; Orchids of Venezuela [An illustrated field guide] Vol. 2 Ramiro and Carnevali 2000 drawing hmm; Australian Orchid Review Vol 66 No 3 2001 photo; Orquideas Nativas del Tachira Cesar Fernandez 2003 photo fide; Manual de Plantas de Costa Rica Vol 3 Hammel, Grayum, Herrera and Zamora 2003; Flora of the Venezuelan Guayana Vol 7 Steyermark, Berry, Yatskievych and Holst 2003 drawing ok; Orchids of Bolivia Vol 2 Laelinae Vasquez and Ibisch 2004 Drawing/photo fide; The Orchids of Cuba Llamacho & Larramendi 2005 photo good; 100 Orquideas Argentinas Freuler 2005 photo hmm; Orquideas Da Chapada Diamantina Brito & Cribb 2005; AOS Bulletin Vol 76 #10 2007 photo fide; Orchid Species of Peru Zelenko Bermudez 2009 photo fide; Orquideas de Roirama Luz & Franco 2012 photo ok; AOS Bulletin Vol 84 #2 2015 photo fide; Orchids A Colombian Treasure Vol 3 Ortiz & Uribe 2019 photo fide; Orchid Genera and Species in Guatemala Archila, Szlachchetko, Chiron, Lipinska, Mystkowska and Bertolini 2018
--------------------------------------------------------------------------------------------------------------------------