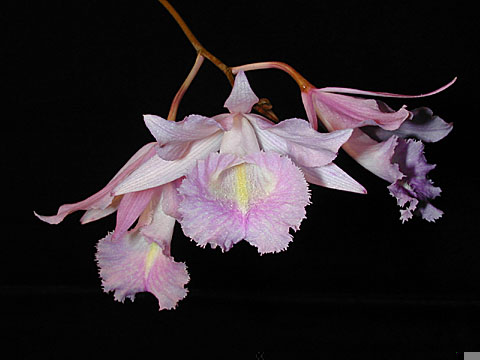 !Laeliopsis domingensis Lindl. ex Paxton 1852-3
Photo courtesy of Andy's Orchids Copyright © 2002 All rights reserved.




to

Common Name Dominican Laeliopsis - In DR Flor de Mayo or Canuela
Flower Size 2 to 2 1/2" [5 to 6.25 cm]
From the island of Hispaniola and Mona Island, Puerto Rico where it is found in dry coastal scrub forest at elevations of sealevel to 200 meters as a small sized, hot to warm growing epiphyte with ovoid to fusiform-cylindric pseudobulbs carrying 2 to 3, linear to ligulate, unequally round or bilobed apically leaves with serrulate margins that blooms most often in the spring and summer on a 2' [60 cm] long, slender inflorescence with a panicle of faintly fragrant, or not flowers clustered at the apex and opening in succession over a long period.
It is best mounted on wood and given partial shade and moderate humidity but likes xerophytic conditions in the winter.
Synonyms Bletia domingensis [Lindl.]Rchb.f 1862; Broughtonia domingensis [Lindley]Rolfe 1889; *Cattleya domingensis Lindley 1833; Broughtonia lilacina Henf. 1851; Laelia domingensis (Lindl.) Millsp. 1900
References W3 Tropicos, Kew Monocot list , IPNI ; Xenia Orchidaceae vol 2 Rchb.f 1862 as Bletia domingensis; Symbolae Antillanae Vol VI Orchidaceae Urban 1909 as Broughtonia domingensis; Flora of Jamaica Fawcett & Rendle 1910 as Broughtonia dominguensis Drawing ok; Die Orchideen Schlechter 1915 as Broughtonia dominguensis; AOS Bulletin Vol 26 No 2 1957; AOS Bulletin Vol 32 No 3 1963 photo fide; Encyclopedia of Cultivated Orchids Hawkes 1965; AOS Bulletin Vol 35 No 6 1966 photo fide; Die Orchideen 3 Auflage Bd 1 Sonderabdruck aus Schlechter Lieferung 10 576 - 632 Brieger, Maatsch and Senghas 1977 as Broughtonia dominguensis; The Manual Of Cultivated Orchid Species Bechtel, Cribb & Launert 1992 drawing fide; An Orchid Flora Of Puerto Rico and the Virgin Islands Ackerman 1995 as Broughtonia domingensis; Cattleyas and Their Relatives Withner Vol 4 1996 photo fide; Rudolf Schlechter Die Orchideen Lieferung 42/3 2001 photo fide; Moscosoa 13:111 2002 photo fide; AOS Bulletin Vol 75 No 2 2006 photo fide; Orquideas de la Republica Dominicana Y Haiti Fernandez 2007 as Broughtonia domingensis photo fide; AOS Bulletin Vol 81 #3 2012 as Broughtonia domingensisphoto fide; Orchid Flora of the Greater Antilles Ackerman 2014; AOS Bulletin Vol 84 #1 2015 as Broughtonia domingensisphoto fide;
--------------------------------------------------------------------------------------------------------------------------