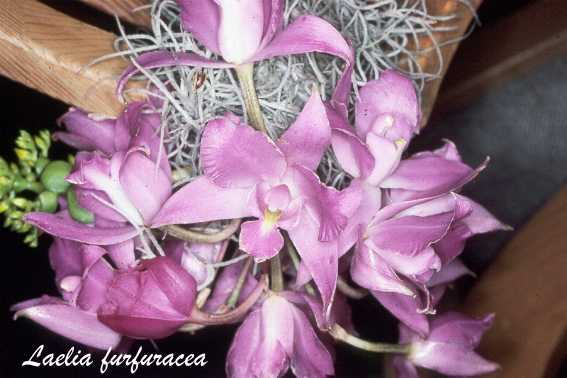 Laelia furfuracea Lindl. 1839 SUBGENUS Laelia SECTION Podolaelia Schlechter Photo by Weyman Bussey.
Flower Closeup Photo by © Lourens Grobler.



to


to MID

Common Name Scurfy Laelia or in Mexico - La Monjita - Lirio de San Franscisco - Flor de Nochebuena
Flower Size 2 to 3" [5 to 8 cm]
Found in Oxaca state of southern Mexico and is a cold to cool growing, mini-miniature to medium sized epiphyte occuring at elevations of 2100 to 3000 meters on the rough bark of scrubby oaks, with a conic-ovoid, 3 noded, slightly ribbed pseudobulb carrying a solitary [rarely 2], apical, erect, lanceolate, acute, fleshy leaf, that blooms in the fall to mid winter on a slender, short to 12" [15 to 30 cm], arching raceme with 3 to 5 long-lived, fragrant, color variable flowers.
This species needs a cork or treefern mount, high humidity year round but it needs a decided winter rest with bright light after the growth has matured.
Synonyms Amalia furfuracea (Lindl.) Heynh, 1846; Bletia furfuracea Rchb.f 1861; Cattleya furfuracea Beer 1854; Laelia autumnalis var. furfuracea [Lindley] Rolfe
References W3 Tropicos, Kew Monocot list , IPNI ; Bonplandia Rchb.f 1856; Xenia Orchidaceae vol 2 Rchb.f 1862 as Bletia furfuracea; Die Orchideen Schlechter 1915; AOS Bulletin Vol 27 No 5 1958 drawing; AOS Bulletin Vol 30 No 9 1961; Encyclopedia of Cultivated Orchids Hawkes 1965; Die Orchideen 3 Auflage Bd 1 Sonderabdruck aus Schlechter Lieferung 10 576 - 632 Brieger, Maatsch and Senghas 1977; Orchid Digest Vol 42 No 1 1978 photo fide; Flora Novo-Galaciana Vol 16 McVaugh 1985; Cattleya and Their Relatives Vol 2 Withner 1990 Photo fide; Orchid Digest Vol 58 No 4 1994 photo fide; Laelia in Mexico ORQUIDEA (MEX.) 15. OCTOBER 1997 drawing/photo fide; Australian Orchid Review Vol 72 No 4 2007 photo; Icones Orchidacearum fascile 10 plate 1036 Hagsater & Soto 2008 drwaing fide; Mille et Une Mini Orchideees Roguenant 2009 photo fide;
--------------------------------------------------------------------------------------------------------------------------