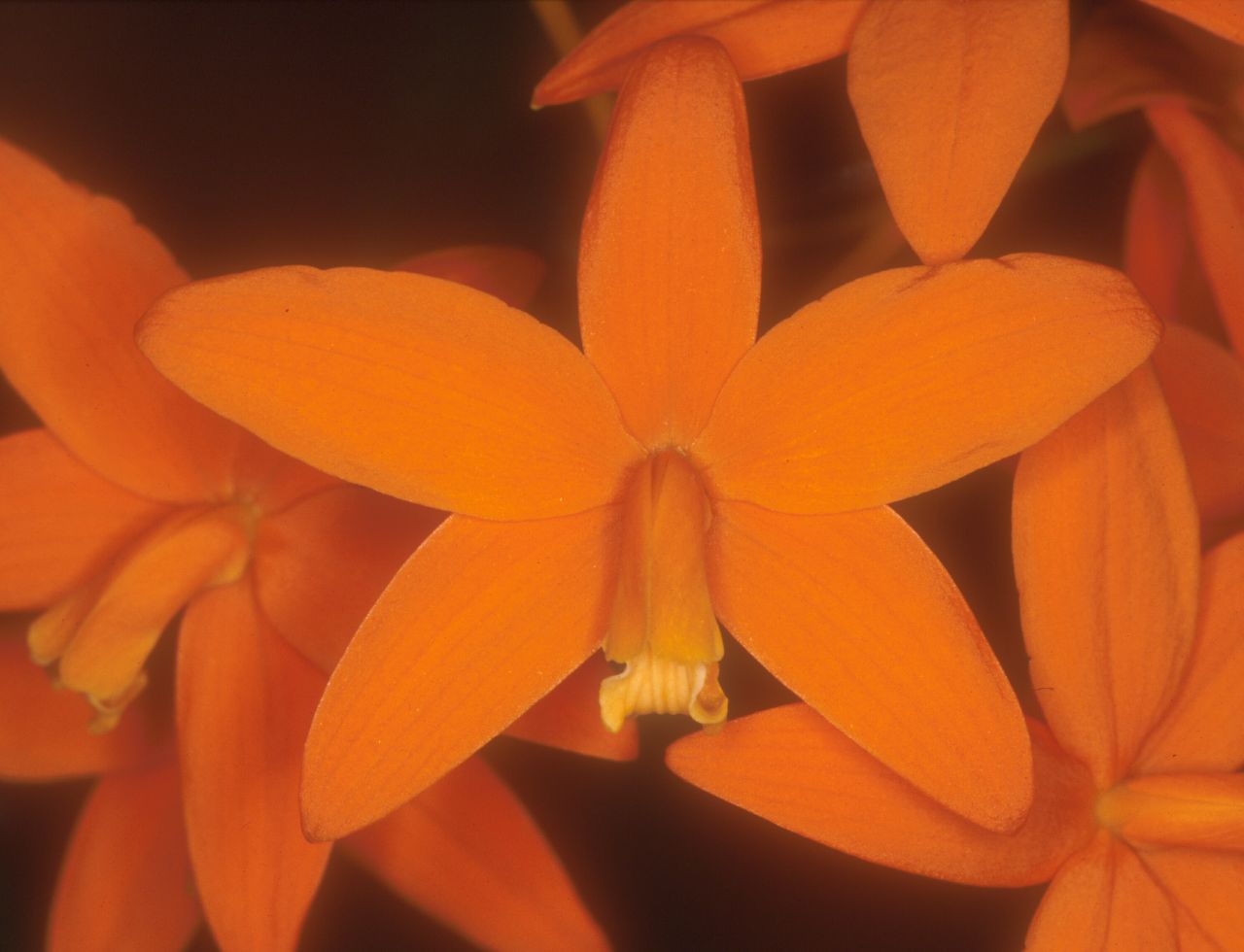 Laelia kautskyi Pabst 1970SUBGENUS Parviflorae SECTION Harpophyllae Withner 1990 Photo by © Lourens Grobler
Inflorescence Photo by © Eric Hunt and His Orchid Website.


To


Common Name Kautsky's Laelia [Original discoverer of the species late 1900's]
Flower Size 1.8" [4.5 cm]
Found in the shady forests of Espirito Santos, Brazil at elevations of 600 to 1000 meters as a medium sized, warm to cool growing lithophyte among grasses with oboclaviform, elongate pseudobulbs carrying 1 to rarely 2, coriaceous, elliptic-elongate, straight, green leaves that blooms in the winter arising through a linear, truncate, apically oblique spathe on a terminal, 16" [40 cm] long, successively to 12 flowered inflorescence with flowers that open towards the base first and have 6 flowers open at any one time.
This species requires a warm to cool environment with partial shade and regular spring and summer waterings and less in the winter.
Synonyms Cattleya neokautskyi Van den Berg 2008; Dungsia kautskyi (Pabst) Chiron & V.P.Castro 2002; Hoffmannseggella kautskyi (Pabst) H.G. Jones 1972; Laelia kautskyi Pabst 1970; Laelia kautskyana Pabst 1974 ; Sophronitis kautskyi (Pabst) C. Berg & M.W. Chase 2000
References W3 Tropicos, Kew Monocot list , IPNI ; Orchidaceae Brasilienses Pabst & Dungs Band I 1975 as L kautskyi drawing fide; Die Orchideen 3 Auflage Bd 1 Sonderabdruck aus Schlechter Lieferung 10 576 - 632 Brieger, Maatsch and Senghas 1977; Orchid Digest Vol 45 No 3 1981 photo fide; Orchid Digest Vol 48 No 1 1984 photo fide; Cattleya and Their Relatives Vol 2 Withner 1990; The Manual Of Cultivated Orchid Species Bechtel, Cribb & Launert 1992 under L flava; Lindleyana Vol 15 No 2 2000 as Sophronitis kauskyana; Icones Orchidacearum Brasilienses II Plate 156 Castro 2006 as Hoffmannseggella kautskyana; AOS Bulletin Vol 76 No 1 2007 as Dungsia kautskyi photo fide; Mille et Une Mini Orchideees Roguenant 2009 as Sophronitis kautskyi photo fide; Orchidees Du Bresil As Orchideas da Serra Do Castello Vol 3 Chiron & Bolsanello 2013 as Hoffmanseggella kautskyi drawing/photo fide; Orchidees Du Bresil As Orchideas da Serra Do Castello Vol 3 Chiron & Bolsanello 2013 as Dungsia kautskyi drawing/photo fide
--------------------------------------------------------------------------------------------------------------------------