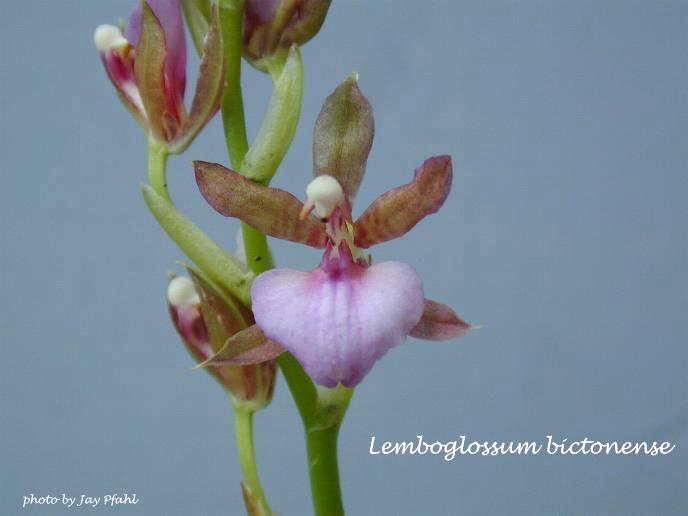 Rhynchostele bictoniensis (Bateman) M.A.Soto Arenas & G.A.Salazar 1993
Photo by © Jay Pfahl.
Alba Variety Photos by © Lourens Grobler.
Plant in situ in Mexico Photos by © Robert Weyman Bussey.



to


to

Common Name Bicton Rhynchostylis [English Village With Large Greenhouse]
Flower Size to 1 1/2" [to 3.75 cm]
Found in Hidalgo, Veracruz, Pueble, Oaxaca an Chiapas states of Mexico as a large sized species and the third photo is of one in situ on the roadside between Tuxtla Gutierrez and San Cristobal de las Casas, Chiapas. This large, cold to cool growing epiphytic or terrestrial species is found on trees in humid forests, on rock on cliffs and terrestrially, at 2000 to 3200 meters in altitude in Mexico, Guatemala, El Salvador, Costa Rica and Panama with elliptic, laterally compressed pseudobulbs subtended by 2 to 3, conduplicate, foliaceous bracts and carrying apically a single, elliptic-lanceolate, conduplicate leaf and it blooms on a erect, basal, to 1' [30cm] long, simple or few branched inflorescence arising on a newly formed pseudobulb with narrowly elliptic-lanceolate bracts in the winter and spring. It requires medium shade, even watering and humidity while in growth, and a cold, drier winter.
Synonyms Amparoa bictoniensis (Bateman) Archila 2009; Cymbiglossum bictoniense (Bateman) Halb. 1983; *Cyrtochilum bictoniense Bateman 1838; Lemboglossum bictoniense (Bateman) Halb. 1984; Odontoglossum bictoniense [Bateman.] Lindley 1840; Oncidium bictoniense hort. 1833; Zygopetalum africanum Hooker 1840
References W3 Tropicos, Kew Monocot list , IPNI ; Lankester's Epidendra Website CR ; The Orchids of Mexico and Guatemala Bateman 1843 as Cyrtochilum bictonense drawing fide; Die Orchideen Schlechter 1915 as Odontoglossum bictonenese; Atlas des Orchidees Cultivees Constantin 1920 as Odontoglossum bictonense drawing good; AOS Bulletin Vol 30 No 9 1961 as Odontoglossum bictonense; AOS Bulletin Vol 31 No 7 1962 photo fide; AOS Bulletin Vol 32 No 10 1963 as Odontoglossum bictonense; Encyclopedia of Cultivated Orchids Hawkes 1965 as Odontoglossum bictonense photo fide; AOS Bulletin Vol 36 #4 1967 as Odontoglossum bictonenese; Las Orquedias De El Salvador Vol 2 Hamer 1974 as Lemboglossum bictonensedrawing/photo fide; AOS Bulletin Vol 48 No 11 1979 as Odontoglossum bictonense photo fide; Orchid Digest Vol 44 No 2 1980 as Odontoglossum bictonense; AOS Bulletin Vol 49 No 8 1980 photo fide; AOS Bulletin Vol 49 No 8 1980 as Odontoglossum bictonense var alba photo fide; ORQUIDEA (Méx. ) 8(2) Hagsater 1982 as Odontoglossum bictonense drawing/photo fide; Las Orquedias de El Salvador Vol 3 Hamer 1981 as Odontoglossum bictonensse drawing fide; AOS Bulletin Vol 53 No 1 1984 as Odontoglossum bictonense photo fide; ORQUIDEA (Méx.) 9(2): Halbinger 1984 as Lemboglossum bictonense; An Introdution to the Orchids of Mexico Wiard 1987 as Lemboglossum bictonense photo fide; Selbyana Vol 10 Orchids of Central America Hamer 1988 as Lemboglossum bictonense drawing fide; AOS Bulletin Vol 60 No 6/539-42 1991 as Cyrtochilum bictonense drawing fide; Icones Planetarum Tropicarum plate 1442 Atwood 1992 as Lemboglossum bictonense drawing fide; The Manual Of Cultivated Orchid Species Bechtel, Cribb & Launert 1992 as Lemboglossum boctonense photo fide; *Orquídea (Méx.) 13(1-2): 147. Soto, Salazar y Rojas 1993; Rudolf Schlechter Die Orchideen Band 1C lieferung 33 - 36 2057 - 2308 Brieger 1997 drawing fide; Guatemala Y Sus Orquideas Behar & Tinschert 1998 as Lemboglossum bictonense photo fide; Fieldiana Biology, Flora Costa Ricensis Family # 39 Orchidaceae, subtribes Maxillariinae and Oncidiinae Atwood & Mora 1999 drawing fide; Orchid Australia Vol 12 No 5 2000 photo; The Pictoral Encyclopedia of Oncidium Zelenko 2002; Manual de Plantas de Costa Rica Vol 3 Hammel, Grayum, Herrera and Zamora 2003; Orchid Species Culture: Oncidium, Bakers 2006; Icones Orchidacearum fascile 10 plate 1076 Hagsater & Soto 2008 drawing fide; Orchid Digest Vol 75 #4 2011 as Odontoglossum bictonense Photo fide; Algunas Orquideas De Mexico Tomo 1 Suarez 2012 photo fide; Orchid Digest Vol 77 #2 2013 photo fide; Guia de Orquideas de Chiapas Carlos Rommel Beutelspacher Baigts 2013 photo fide; AOS Bulletin Vol 83 #9 2014 photo fide; Orchid Genera and Species in Guatemala Archila, Szlachchetko, Chiron, Lipinska, Mystkowska and Bertolini 2018 photo fide; Orchid Digest Vol 83 #3 2019 photo fide; AOS Bulletin Vol 88 # 6 2019 drawing fide;
--------------------------------------------------------------------------------------------------------------------------