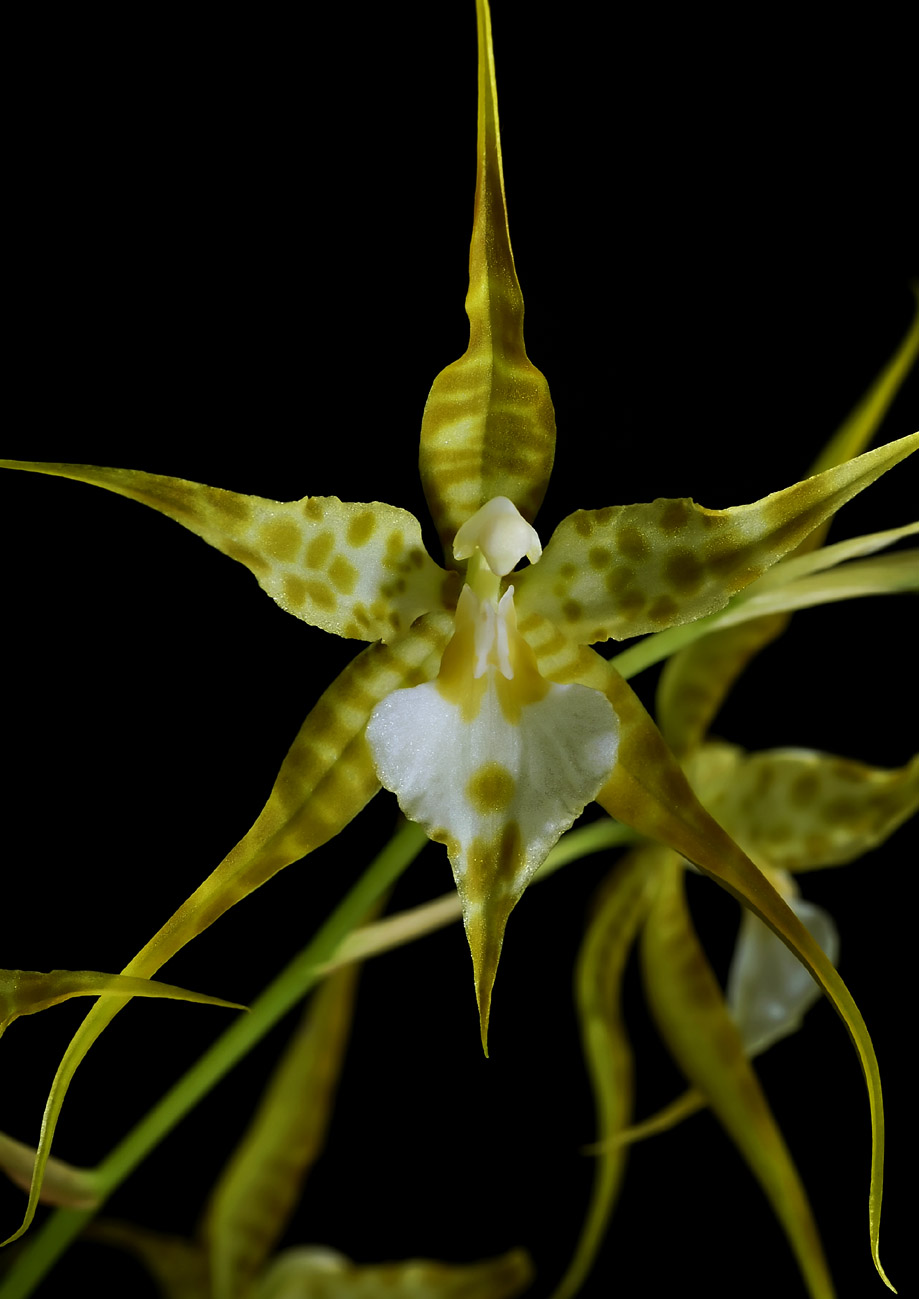 Rhynchostele cordata (Lindl.) Soto Arenas & Salazar 1993
Photo by © Pieter C. Brouwer and his Nature Photo Website
Photos by © Marius Wasbauer.


to


Common Name The Heart-Shaped Rhynchostele
Flower Size to 3" [4 to 7.5 cm]
From Mexico, Guatemala, El Salvador, Honduras, Costa Rica and in Venezuela as a small to medium sized, cold to warm growing species is found epiphytically and sometimes terrestrially in the paramo [mist forest] that forms at 1900-3000 meters with ellipsoid-ovoid, flattened pseudobulbs subtended by several scarious, 2 to 4, conduplicate below and leaf-bearing above sheaths and carrying a single, apical, elliptic-lanceolate, apiculate, leaf that is conduplicate basally and blooms in the spring on a basal, erect, to 1 1/2' [30 to 60 cm]long, racemose, laxly few to several [4 to 12] flowered inflorescence arising from on a a mature pseudobulb from the leaf bearing sheaths with lanceolate, acuminate bracts.
Pots or tree fern mounts suit this species fine as well as cool to warm temperatures never hot, high humidity, and semi-shade.
Synonyms Amparoa cordata (Lindl.) Archila 2009; Amparoa duvivieriana (Rchb.f.) Archila 2009; Cymbiglossum cordatum (Lindl.) Halb. 1983; Lemboglossum cordatum [Lindley]Halbinger 1984; Lemboglossum cordatum f. sulphureum (Rchb.f.) O.Gruss & M.Wolff 2007; *Odontoglossum cordatum Lindley 1838; Odontoglossum cordatum var. aureum B.S.Williams 1897; Odontoglossum cordatum var. sulphureum Rchb.f. 1880; Odontoglossum hookeri Lemaire 1856; Odontoglossum lueddemannii Regel 1859; Odontoglossum maculatum Hook. 1855; Odontoglossum maculatum var. duvivierianum Rchb.f. 1888; Rhynchostele × duvivieriana (Rchb.f.) Soto Arenas & Salazar 1993
References W3 Tropicos, Kew Monocot list , IPNI ; Bonplandia Rchb.f 1856 as Odontoglossum cordatum; Die Orchideen Schlechter 1915 as Odontoglossum cordatum; Atlas des Orchidees Cultivees Constantin 1920 as Odontoglossum cordatum drawing fide; AOS Bulletin Vol 30 No 9 1961 as Odontoglossum cordatum; Encyclopedia of Cultivated Orchids Hawkes 1965 as Odontoglossum cordatum; Flora de Venezuela Foldats Volumen XV Part 5 1970 as Odontoglossum cordatum drawing fide; Las Orquideas De El Salvador Vol 2 Hamer 1974 as Lemboglossum cordatumdrawing/photo fide; Venezuelan Orchids Illustrated Vol 6 Dunsterville & Garay 1976 as Odontoglossum cordatum drawing fide; Orchids of Venezuela, An Illustrated Field Guide Vol 2 Dunsterville & Garay 1979 as Odontoglossum cordataum drawing fide; Las Orquedias de El Salvador Vol 3 Hamer 1981 as Odontoglossum cordatum drawing fide; ORQUIDEA (Méx. ) 8(2) Hagsater 1982 as Odontoglossum cordatum drawing/photo fide; ORQUIDEA (Méx.) 9(2): Halbinger 1984 as Lemboglossum cordatum; Icones Planetarum Tropicarum plate 1011a Dodson 1985 as Lemboglossum cordatum drawing fide; Selbyana Vol 10 Orchids of Central America Hamer 1988 as Lemboglossum cordatum drawing fide; Orchids Travel By Air A Pictoral Safari Mulder, Mulder-Roelfsema and Schuiteman 1990 as Lemboglossum cordatum photo fide; The Manual Of Cultivated Orchid Species Bechtel, Cribb & Launert 1992 as Lemboglossum cordatum photo fide; *Orquídea (Méx.) 13(1-2): 148. Soto, Salazar y Rojas 1993; Orquídea (Méx.) 13(1-2): 148. Soto, Salazar y Rojas 1993 as R x duviveriana; Guatemala Y Sus Orquideas Behar & Tinschert 1998 as Lemboglossum cordatum photo fide; Orchids of Venezuela [An illustrated field guide] Vol. 3 Ramiro and Carnevali 2000 drawing fide; Manual de Plantas de Costa Rica Vol 3 Hammel, Grayum, Herrera and Zamora 2003; Orchid Species Culture: Oncidium, Bakers 2006; The Pictoral Encyclopedia of Oncidium Zelenko 2005; Icones Planetarum Tropicarum Plate 1011 Dodson 1984 as Cymbiglossum cordatum drawing fide; An Introdution to the Orchids of Mexico Wiard 1987 as Lembiglossum cordatum photo fide; Rudolf Schlechter Die Orchideen Band 1C lieferung 33 - 36 2057 - 2308 Brieger 1997 drawing/photo fide; Icones Orchidacearum 5 - 6 Orchids of Mexico Part 2 - 3 Plate 655 Hagsater & Soto 2002 drawing fide; AOS Bulletin Vol 73 No 10 2004 as Odontoglossum cordatum photo fide; Mille et Une Mini Orchideees Roguenant 2009 photo fide; Algunas Orquideas De Mexico Tomo 1 Suarez 2012 photo fide; Guia de Orquideas de Chiapas Carlos Rommel Beutelspacher Baigts 2013 photo fide; AOS Bulletin Vol 83 #9 2014 photo fide; Orchid Digest Vol 80 #3 2016 photo fide; Orchid Genera and Species in Guatemala Archila, Szlachchetko, Chiron, Lipinska, Mystkowska and Bertolini 2018; Orchid Digest Vol 83 #3 2019 photo fide; AOS Bulletin Vol 88 # 6 2019 drawing fide;
Rhynchostele cordata (Lindl.) Soto Arenas & Salazar 1993 var alba
An albino versiion of the previous species
--------------------------------------------------------------------------------------------------------------------------