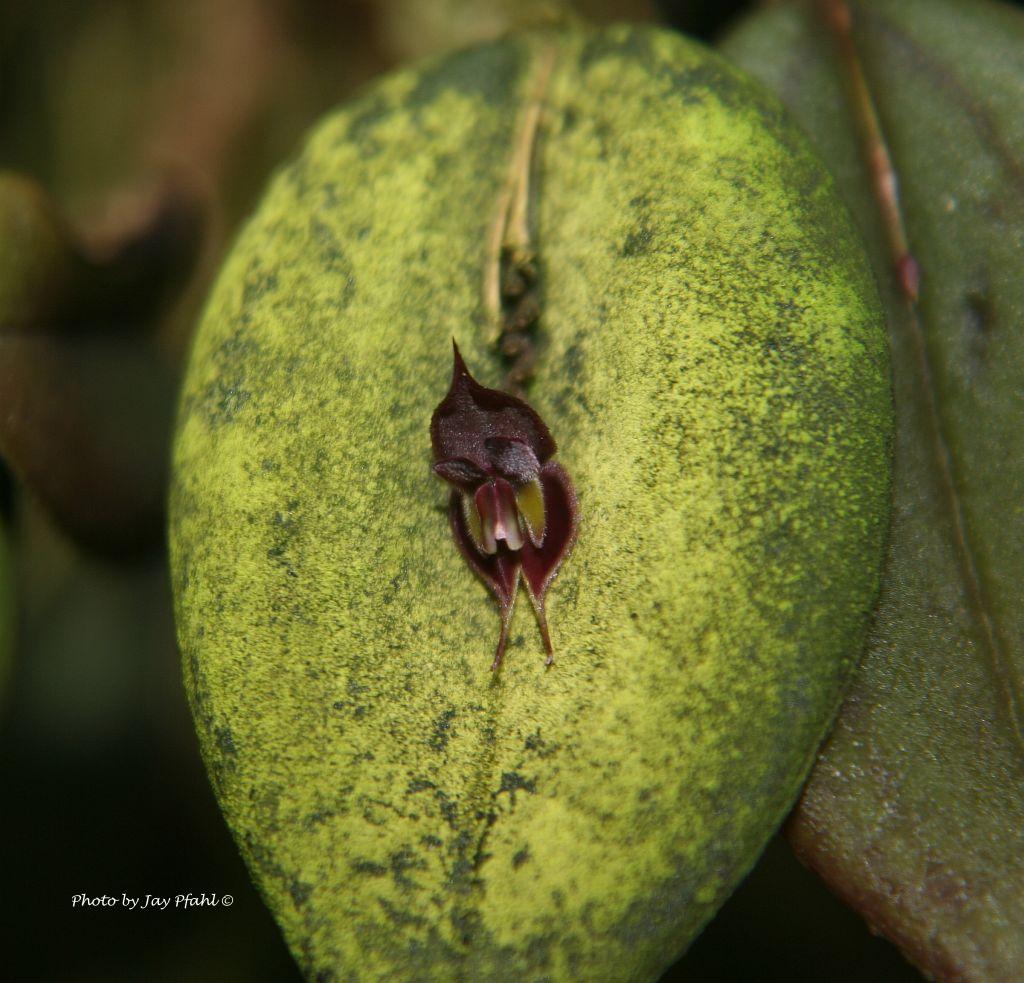 Lepanthes manabina Dodson 1980 SUBGENUS Lepanthes SECTION Lepanthes SUBSECTION Lepanthes SERIES Lepanthes Novon 1993
Flower in situ Jardin Colombia 1/6/16
Flower in situ Jardin Colombia 1/6/16
Plant and Flower in situ Jardin Colombia 1/6/16
Plant in situ Jardin Colombia 1/6/16
Photos by © Jay Pfahl.
Photo by Jay Pfahl
Photo by © Lourens Grobler


to





Common Name The Manabi Lepanthes [A Western Ecuador State]
Flower Size 1/4" [6 mm]
Found as a miniature sized, cool to cold growing epiphyte in Colombia and northern Ecuador in cloud forests at elevations of 1600 to 2500 meters with suberect to erect, slender ramicauls enveloped by 4 to 12 minutely pubescent, lepanthiform sheaths carrying a single, apical, erect, coriaceous, suberect to horizontal, finely pubescent, ovate leaf that is dark green with purple beneath and somewhat reticulate that is always in bud or flower on an elongating, 2 1/4" [6 cm] succesively single flowered inflorescence arising from the leaf base and held against the leaf.
This species is close to L smaragdina but it has broadly ovate, obtuse, tailless and not concave dorsal sepal and the lateral sepals are connate to form an ovate synsepal with an acute split apex. Also similar is L ortiziana, but it has lateral sepals that are spreading rather than approximate and the petals are wider with more or less uncinate, incurved upper lobes.
Synonyms Lepanthes mastodon Luer 1983
References W3 Tropicos, Kew Monocot list , IPNI ; Icones Planetarum Tropicarum plate 128 Dodson 1980 drawing hmm; Native Colombian Orchids Vol 2 COS 1991 Photo fide to the L mastodon photo; Icones Pleurothallidinarum Vol XIV Systematics of Draconanthes and Lepanthes Luer 1996 drawing fide; Native Ecuadorian Orchids Vol 2 Dodson 2001 drawing ok; Flora of Ecuador No 88 Lepanthes and affiliates Dodson & Luer 2011 drawing fide; Icones Pleurothallidinarum Vol XXXII Luer 2012 drawing fide; Orchids, A Colombian Treasure Vol 3 Ortiz & Uribe 2019 drawing/PHOTO fide; Orquideas de Farallones de Cali Galindo-Tarazona, Haelterman, Zuluaga Trochez and Sebastian Moreno 2020 photo fide
--------------------------------------------------------------------------------------------------------------------------