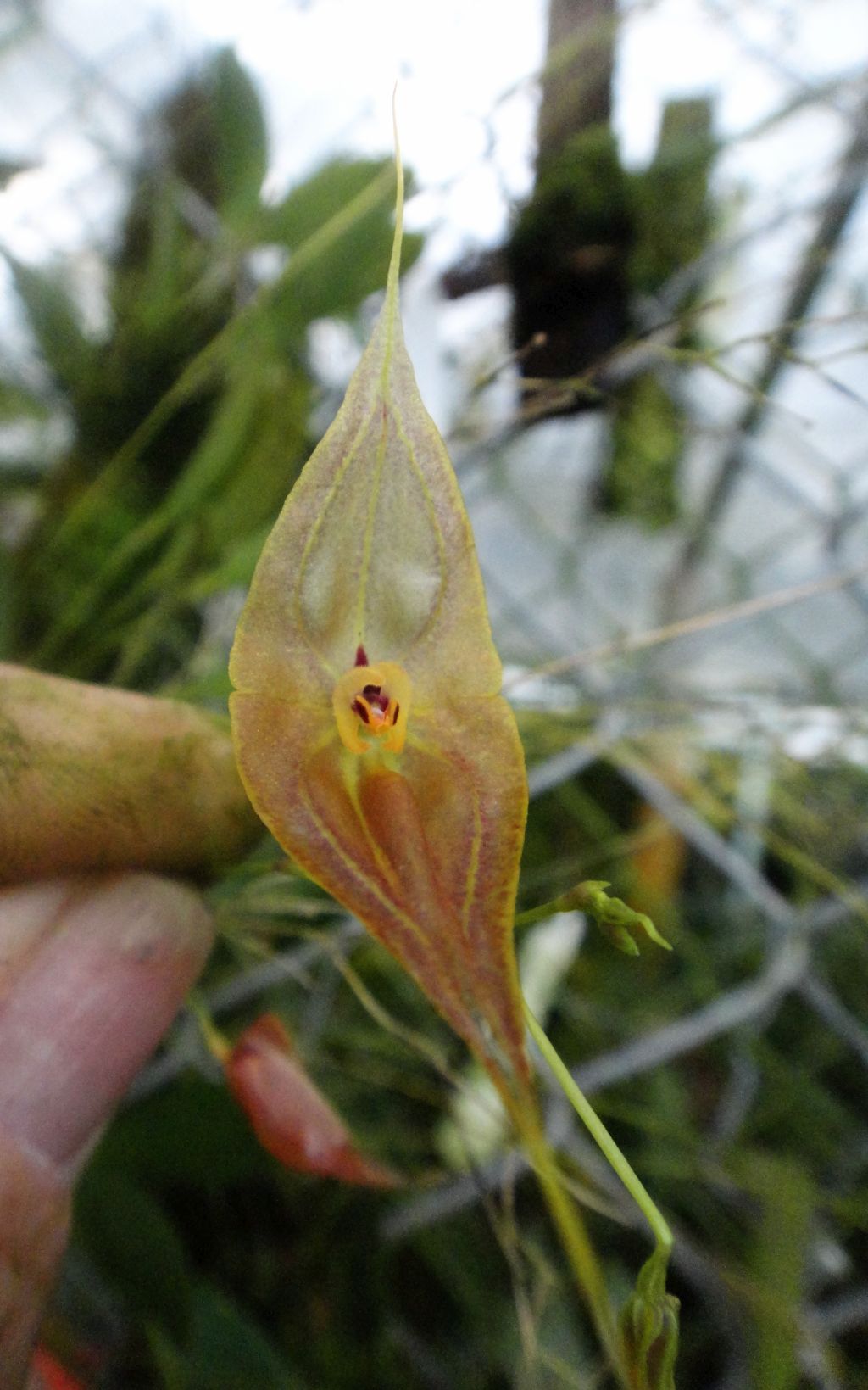 Lepanthes dalessandroi Luer 1983 SECTION Lepanthes SUBSECTION Lepanthes SERIES Elongatae 1993 Photo by © Jay Pfahl
Another Flower Photo by © Francisco Tobar and his Ecuador Orchids Flickr Photo Webpage
Variable flower form Photo by © Jay Pfahl
Another Flower Photo by Arturo Carrilo ©
another flower Photo by Jay Pfahl ©
Flower Closeup and classic flower shape Photo by © Lourens Grobler
Side View Of Flowers Photo by © Lisa Thoerle




Common Name or Meaning Dalessandro's Lepanthes [American Discoverer of Species current]
Flower Size .3" x .8" [7mm x 2 cm]
Found in Ecuador and Peru in cloud forests at elevations around 1700 to 2400 meters as a mini-miniature sized, cool to cold growing epiphyte with slender to comparatively stout, erect ramicauls enveloped basally by 3 to 6, microscopically scabrous, lepanthiform sheaths carrying a single, apical, coriaceous, narrowly oblong, subacute to obtuse, narrowly cuneate below into the petiolate base leaf that blooms in the spring on a progressively lengthening, subflexuous, 13.2" [33 cm] long, loosely 1 to 3, simultaneously flowered, racemose inflorescence with very large flowers for the genus.
This species has many variable flower shapes but the lip stays constant. It is a very large flowered species with 1 to 3 flowers open at any one time.
Synonyms
References W3 Tropicos, Kew Monocot list , IPNI ; Icones Pleurothallidinarum Vol XIV Systematics of Draconanthes and Lepanthes 1996 drawing fide; Icones Orchidacearum Peruviarum Plate 484 Bennett & Christenson 1998 drawing fide; Orchid Species of Peru Zelenko Bermudez 2009 photo fide; Mille et Une Mini Orchideees Roguenant 2009 photo fide; Flora of Ecuador No 88 Lepanthes and affiliates Dodson & Luer 2011 drawing fide; Orchid Digest Vol 77 #2 2013 drawing/photo fide
W 3 Tropicos This one checks out.
--------------------------------------------------------------------------------------------------------------------------