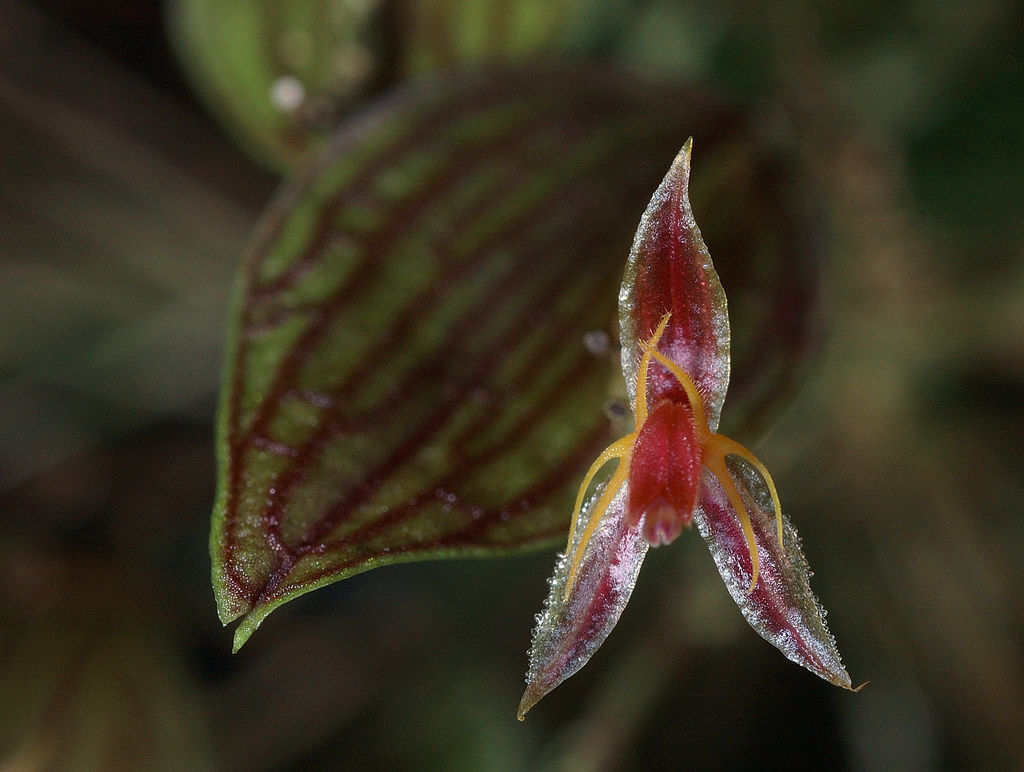 Lepanthes hexapus Luer & R. Escobar 1984 SUBGENUS Lepanthes SECTION Lepanthes SUBSECTION Lepanthes SERIES Lepanthes
Photo by © Eric Hunt
Photo by © Lourens Grobler
Photo by © Milan Vagner.


To


To

Common Name The Six Footed Lepanthes [refers to the six segments of a pair of petals]
Flower Size 1/5" [5 mm]
Found in Colombia and Ecuador in cloud forests at elevations of 850 to 2100 meters as a mini-miniature, warm to cool growing epiphyte with slender, erect ramicauls enveloped basally by 5 to 6 ciliate, lepanthiform sheaths carrying a single, apical, erect, coriaceous, purple veined, ovate, acute leaf with the base cuneate into the petiole that blooms in the winter and spring on a congested, successively several flowered, 2/5" [1 cm] long, racemose inflorescence.
Similar to L heptapus, L skelton and L aguirre but this one has wider ovate leaves and a much shorter, ovoid appendix.
References W3 Tropicos, Kew Monocot list , IPNI ; *Orquideologia Vol 16 No 2 1984 drawing fide; Native Colombian Orchids Vol 5 COS 1994 as L hetapus photo fide; Icones Pleurothallidinarum Vol XIV Systematics of Draconanthes and Lepanthes 1996 drawing fide; Orquideas de la Serrania del Baudo Misas Urreta 2006 drawing/photo fide; Flora of Ecuador No 88 Lepanthes and affiliates Dodson & Luer 2011 drawing fide; Icones Pleurothallidinarum Vol XXXII Luer 2012 drawing fide; Lankesteriana 18: 183 Baquero & J S Moreno 2018 photo fide; Orchids A Colombian Treasure Vol 3 Ortiz & Uribe 2019 photo fide; Orquideas de Farallones de Cali Galindo-Tarazona, Haelterman, Zuluaga Trochez and Sebastian Moreno 2020 photo fide
Checked Luer OK
--------------------------------------------------------------------------------------------------------------------------