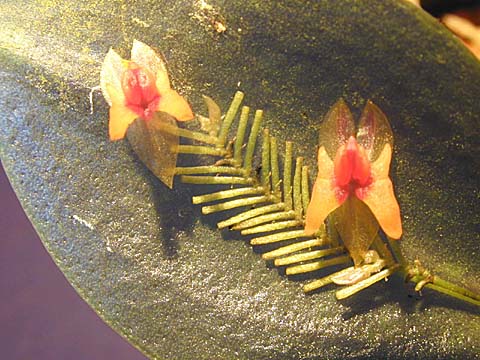 Lepanthes infundibulum Luer 1984 Photo courtesy of Andy's Orchids Copyright © 2002 All rights reserved.
Another Clone Photo courtesy of Jay Pfahl


to





Common Name Funnel-Shaped Lepanthes
Flower Size .1" [2.5 mm]
Found in Costa Rica and Panama at elevations around 1700 meters as a mini-miniature sized, cool to warm growing epiphyte with stout, erect, blackish ramicauls enveloped by 2 to 5 lepanthiform sheaths and carrying a single, concave, orbicular, obtuse, abruptly narrowing to the round, cuneate base leaf that is always in bud or bloom with a few, .4" [1 cm] long, successively single, several flowered inflorescence..
Said to be a synonym of L helleri but if the determinations are correct are quite different so i leaves tham apart until more information becomes available
CAUTION I am not sure of this determination so please use with caution
Synonyms
References W3 Tropicos, Kew Monocot list , IPNI ; Lankester's Epidendra Website CR CHECKED Type ?; *Phytologia 55(3): 186. 1984.