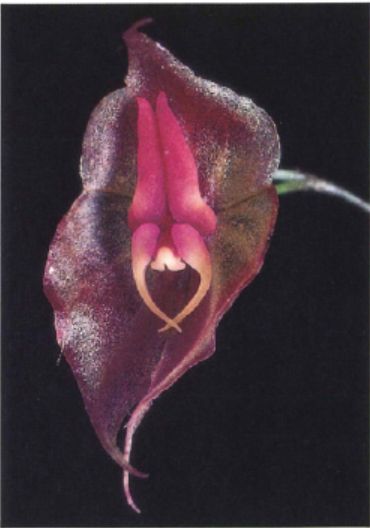 Lepanthes johnsonii Ames 1923 SUBGENUS Lepanthes SECTION Lepanthes SUBSECTION Lepanthes SERIES Lepanthes
Photos by © L Aguirre
TYPE Drawing by © Ames and The Epidendra Websitees



EARLY


Common Name Johnson's Lepanthes [American Orchid Collector in Guatemala 1900's]
Flower Size .4" [1 cm]
Found in Mexico, Guatemala, Belize, Nicaragua in premontane rain forest to cloud forest and disturbed primary forests at elevations of 700 to 2100 meters as a mini-miniature sized, warm to cold growing epiphyte with erect ramicauls enveloped completely by several infundibuliform, finely hispidous lepanthiform sheaths and carrying a single, apical, erect, coriaceous, elliptic, round and retuse apically, abruptly narrowing below into the petiolate base leaf blooms in the fall and early winter on a basal, successively few flowered inflorescence that is longer than the leaf, has a bract in the middle and has only a single flower at any one time.
This species is very similar to L edwardsii and was separated on the basis of the larger petals in relation to the sepals and lip and by the purple color of the flowers.
CAUTION !!!Many references cite the deep brick red flowered similar Lepanthes as subspecies var costaricensis, but this orchid was elevated to species status in 2012 and can be found as Lepanthes ruberrima.
Synonyms
References W3 Tropicos, Kew Monocot list , IPNI ; Lankester's Epidendra Website CR CHECKED Type OK; * Schedul. Orchid. 2: 24. Ames 1923 Drawing fide; Icones Planetarum Tropicarum Plate 1025 Hamer/Dodson 1984 drawing fide; Selbyana Vol 10 Orchids of Central America Hamer 1988 drawing fide; El Genero Lepanthes En Mexico Salazar * Soto 1996 drawing/photo good but in both the drawing and the photos the petals are much larger in relation to the sepals than in the Costa Rican specimens which is now known as L ruberrima; Orchid Digest Vol 62 #2 1998 photo fide; Guatemala Y Sus Orquideas Behar & Tinschert 1998 photo not = L edwardsii; Lepanthes de Guatemala Archila 2001 drawing/photo fide; Manual de Plantas de Costa Rica Vol 3 Hammel, Grayum, Herrera and Zamora 2003 not - L rubberrima; Guia de Orquideas de Chiapas Carlos Rommel Beutelspacher Baigts 2013 photo fide; Diversity of Pleurothallidinae in Guatemala: An Endangered Orchid Subtribe with High Economic and Horticultural Potentials Edgar Mo Mo, Cetzal, Basu and Vega 2017 photo fide; Orchid Genera and Species in Guatemala Archila, Szlachchetko, Chiron, Lipinska, Mystkowska and Bertolini 2018
-------------------------------------------------------------------------------------------------------------------------