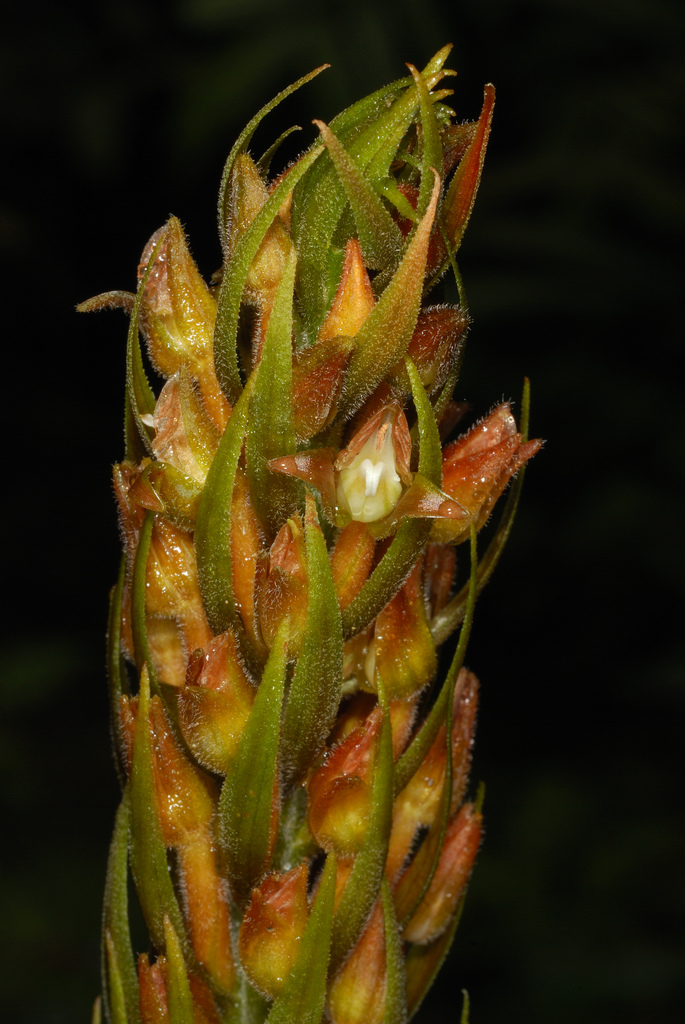 !Lepidogyne longifolia (Blume) Blume 1859
Photo by © Eric Hunt
Photos by André Schuiteman, courtesy of Dr. E.F. de Vogel and Jaap Vermeulen and Their Netherlands National Herbarium Website
Photo courtesy of Wolfgang H. Bandisch. Photo By Neville Howcroft. Copyright © 1998, 199 All rights reserved.



LATE

Common Name or Meaning The Long-Leafed Lepidogyne
Flower Size .7" [1.6 cm]
Found in Malaysia, Borneo, Java, Sumatra, New Guinea and the Philippines in mature hill and lower montane forests often on south facing mountains in peaty soils in dense shade at elevations of 700 to 1500 meters as a large sized, hot to warm growing terrestrial with an erect stem carrying many, gradually narrowing to a long pointed tip, leaves set close together in a whorl that attains heights of 5' [150 cm] when in flower with a showy, erect, to 28" [70 cm] long, racemose inflorescence of many complex flowers and many sterile bracts arising in the late winter.
Synonyms Lepidogyne sceptrum Schltr. 1911 ; Lepidogyne minor Schltr. 1911; Neottia longifolia Blume 1825; Spiranthes longifolia (Blume) Lindl. 1840
References W3 Tropicos, Kew Monocot list , IPNI ; Die Orchideen Von Java J.J.Smith 1905; Die Orchideen Von Java Figuren Atlas J.J.Smith 1908 drawing fide; Orchidaceae of German New Guinea Schlechter 1911 as L sceptrum drawing good; Orchidaceae of German New Guinea Schlechter 1911 as L minor drawing good; Die Orchideen Schlechter 1915; Encyclopedia of Cultivated Orchids Hawkes 1965; Encyclopedia of Cultivated Orchids Hawkes 1965 as L sceptrum; Encyclopedia of Cultivated Orchids Hawkes 1965 as L minor; Die Orchideen 3 Auflage Bd 1 Sonderabdruck aus Schlechter Lieferung 5 257- 320 Brieger, Maatsch and Senghas 1974 drawing fide; The Complete Writings on Philippine Orchids Vol 1 Quisumbing 1981; Orchidiana Philipiniana Vol 1 Valmayor 1984; Orchidaceae of German New Guinea Schlechter 1985 as L minor and L sceptrum; Orchids of Java Comber 1990 photo ok; The Orchids of Penninsular Malaysia and Singapore Woods & Seidenfaden 1992 drawing fide; AOS Bulletin Vol 61 No 11 1992 photo fide; The Plants of Mount Kinabalu Vol 2 Orchids Beaman, Wood, Beaman & Beaman 1993; A Checklist of the Orchids of Borneo Wood & Cribb 1994; Orchids of Sumatra Comber 2001 photo fide; Orchids of Sarawak Beaman, Wood & Beaman etal 2001; Flora Malesiana Orchids of the Philippines Vol I Agoo, Shuiteman and de Vogel 2003; Flora Malesiana Orchids of New Guinea Vol IV Shuiteman and de Vogel 2006; The Orchids of Mount Kinabalu Vol 1 Wood, Beaman, Lamb, Chu Lun and Beaman 2011 drawing/photo fide; The Orchids of Mount Kinabalu Vol 2 Wood, Beaman, Lamb, Chu Lun and Beaman 2011
--------------------------------------------------------------------------------------------------------------------------