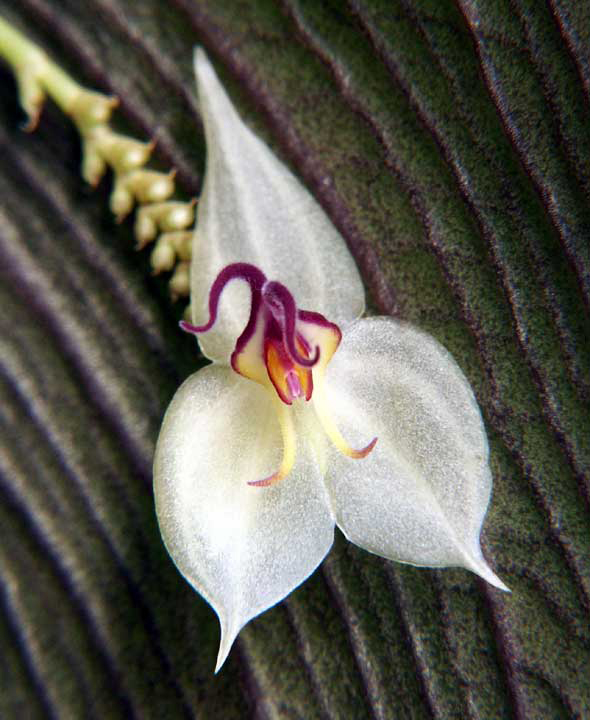 Lepanthes medusa Luer & R. Escobar 1991
Photo by Walter Teague
Photo by Eric Hunt, Plant grown by Dan Newman of Hanging Gardens.
TYPE Drawing by Carl Luer.



Common Name The Medusa Lepanthes [Greek Myth Monster - Snake-Headed]
Flower Size 3/4" [2 cm]
Found in Antioquia department of Colombia at elevations of 2000 to 2400 meters as a medium sized, cold growing epiphyte with erect, stout ramicauls enveloped by 11 to 12, minutely ciliate lepanthiform sheaths and carrying a single, apical, erect, coriaceous, ovate, acute, shortly acuminate, rugose between the veins on the underside, rounded and contractes into the twisted, petiolate base base leaf that blooms in the spring on a few, terminal, 1.6" [4 cm] long, successively single, several flowered inflorescence arsing on the back side of the leaf.
L maria-victoriae is similar to the pale sepaled, brightly colored petaled L medusa but it differs in the larger flowers with petals with long narrow lobes.
References W3 Tropicos, Kew Monocot list , IPNI ; Checked type drawing W3Tropicos OK; Orquideologia Vol 18 #1 19991 Drawing/photo fide; Native Colombian Orchids Vol 2 COS 1991 photo fide; AOS Bulletin Vol 72 No 8 2003 photo fide; Australian Orchid Review Vol 69 No 5 2004 photo; Icones Pleurothallidinarum Vol XXXII Luer 2012 drawing fide; Orchids, A Colombian Treasure Vol 3 Ortiz & Uribe 2019 drawing/photo fide;
--------------------------------------------------------------------------------------------------------------------------