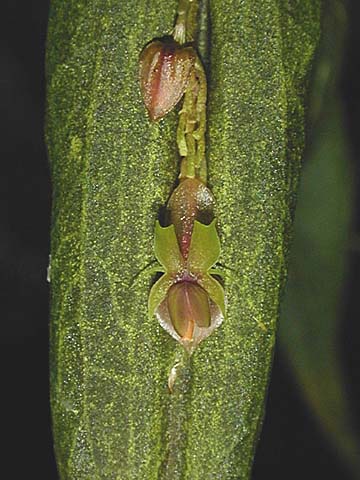 Lepanthes mucronata Lindl. 1834 SECTION Lepanthes SUBSECTION Lepanthes SERIES Mucronatae 1996
Photo courtesy of Andy's Orchids, Copyright © 2002 All rights reserved
Photo by Arturo Carrilo
Photo courtesy of Akerne Orchids


to





Common Name The Blunt Point Lepanthes [refers to the petal tips]
Flower Size 1/5" [6mm]
Found in Colombia, Ecuador, Peru and Bolivia at elevations of 1700 to 3000 meters as a miniature sized, cool to cold growing epiphyte with slender erect ramicauls enveloped basally by 7 to 12 close fitting, lepanthiform sheaths carrying a single, apical, more or less horizontal, often purple beneath, thinly coriaceous, ovate to narrowly ovate, acute, acuminate leaf with the base broadly to narrowly cuneate into a petiole that is free flowering throughout the year on a congested, successively many flowered, 1 1/5" long, racemose inflorescence.
Related to L sobrina and L habenifera but it differs in the smooth, truncate upper lobes of the petals, the broad connectives of the blades of the lip and the large, strap-shaped appendix.
Also related to L abitaguae, L bipinnulata L pelyx, L ortegae and L rhodophylla.
Similar to L pilosiaures but it differs in the pubescent petals.
Synonyms Lepanthes andrenoglossa Rchb. f. 1855; Lepanthes macroura Schltr. 1921; Lepanthes mesochlora Rchb. f. 1856; Lepanthes tricuspis Schltr. 1920
References W3 Tropicos, Kew Monocot list , IPNI ; Xenia Orchidaceae Rchb.f 1854 as L mesochlora; Xenia Orchidaceae Rchb.f 1854; Xenia Orchidaceae Rchb.f 1854 as L andrenoglossa; Bonplandia Rchb.f 1855 as L andrenoglossa; Die Orchideen der Sudamerikanischen Kordillerenstaaten II Colombia Schlechter 1920 as L tricuspis; *Die Orchideen der Sudamerikanischen Kordillerenstaaten III Ecuador Schlechter 1921 as L macroura; Orchids Travel By Air A Pictoral Safari Mulder, Mulder-Roelfsema and Schuiteman 1990 photo fide; Native Colombian Orchids Vol 5 COS 1994 photo fide; Icones Pleurothallidinarum Vol XIV Systematics of Draconanthes and Lepanthes Luer 1996 drawing fide; Orchid Species of Peru Zelenko Bermudez 2009 photo fide; Icones Pleurothallidinarum Vol XXXI Luer 2010 drawing fide; Flora of Ecuador No 88 Lepanthes and affiliates Dodson & Luer 2011 drawing fide; Icones Pleurothallidinarum Vol XXXII Luer 2012 drawing fide; Harvard Papers in Botany, Vol. 18, No. 2, pp. 173 to 196 2013 MISCELLANEOUS NEW SPECIES IN THE PLEUROTHALLIDINAE (ORCHIDACEAE) Carlyle A. Luer & Lisa Thoerle; Orchids, A Colombian Treasure Vol 3 Ortiz & Uribe 2019 drawing/photo fide; Orquideas de Farallones de Cali Galindo-Tarazona, Haelterman, Zuluaga Trochez and Sebastian Moreno 2020 photo fide
Checked Luer OK
----------------------------------------------------------------------------------------------------------
--------------------------------------------------------------------------------------------------------------------------