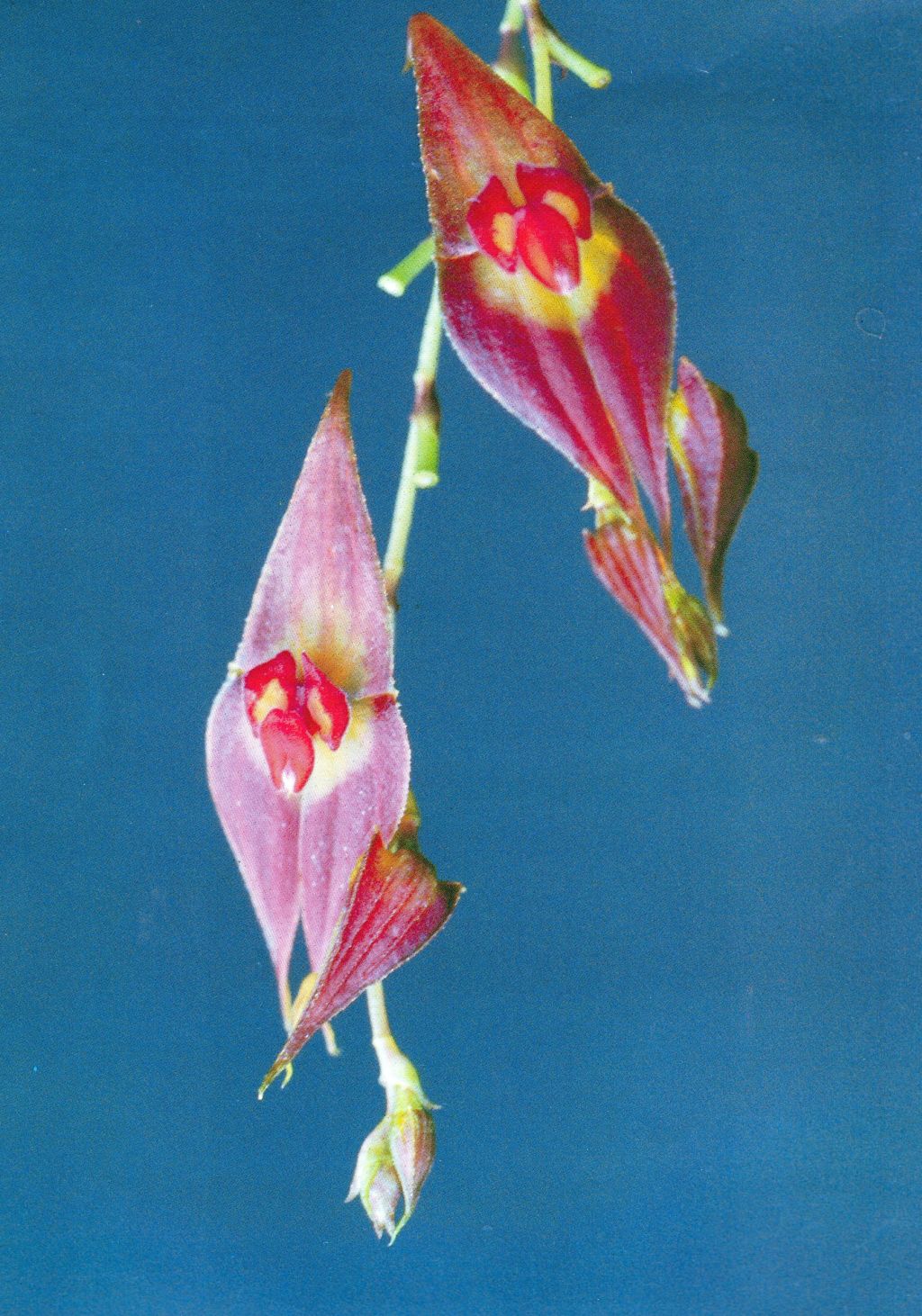 Lepanthes nanegalensis Rchb.f. 1876 SUBGENUS Lepanthes SECTION Lepanthes SUBSECTION Lepanthes SERIES Lepanthes Novon 1993
Photo by Rodrigo Escobar/Drawing by © Carl Luer and The Swiss Orchid Foundation at the Jany Renz Herbaria Webpage
Photo by Andres Posada and His Flickr Orchid Photo Website
Photo by Morley Read and His Nature Photo website




THROUGH

Common Name The Nanegal Lepanthes [A town In Ecuador]
Flower Size .2" [5 mm]
Found only in Ecuador in cloud forests at elevations around 2500 to 3100 meters as a small sized, cold growing epiphyte, terrestrial or lithophtye with an erect, slender to stout ramicaul enveloped by 10 to 15, microscopically ciliate-scabrous, lepanthiform sheaths and carrying a single, apical, erect, thinly coriaceous, elliptic-ovate, acute to subacute, acuminate, cuneate to rounded below into the contracted, petiolate base leaf that blooms in the late winter through summer on 1 to a few, loose, distichous, slightly flexuous, progressively lengthening, to 16" [to 40 cm] long, racemose, successively 2 to 3, becoming many flowered inflorescence.
" L rhombipetala, now recognized as distinct from L nanegalensis has been treated as a synonym of the later by Luer 1996b, but the 2 are sufficiently different to recognize both. L rhombipetala is a robust species and occurs in southern Colombia and northern Ecuador while L nanegalensis is not known outside of Ecuador. L rhombipetala is characterized by the large zize, ovate-acuminate leaves, and a gradually lengthening, long-lasting, loosely flowered inflorescnewce that eventually exceeds the leaf, The sepals of the dark colored flowers are acute, and acuminate, the lateral sepals are deeply connate into a narrowly triangular, shortly bifid synsepal. The petals are small and rhomboid, with the opposite lobes short and obtuse. The blades of the lip are narrowly ovate, the connectives are short and cuneate and the minute appendix is delicate and pedunculate with a bi-glandular terminal segment. The flowers of L deliciasensis are also shaped like an elongated diamond, with the dorsal sepal and synsepal nearly identical, but the latter is distinguished by its concave dorsal sepal and petals with the apex of the upper lobe narrow and everted." Luer 2012
CAUTION The first photo and the type drawing are absolutely correct, but I am not convinced that either of the photos beneath with question marks are corrrect, please use with caution. The drawing is most likely correct, but I have not seen Reichenbach's drawing.
Synonyms Lepanthes macropoda Schltr. 1921;
References W3 Tropicos, Kew Monocot list , IPNI ; Die Orchideen der Sudamerikanischen Kordillerenstaaten II Colombia Schlechter 1920 as L rhombipatala; Die Orchideen der Sudamerikanischen Kordillerenstaaten III Ecuador Schlechter 1921 as L macropoda; Native Colombian Orchids Vol 5 COS 1994 as L rhombipetala photo not; Icones Pleurothallidinarum Vol XIV Luer 1996 drawing fide; Flora of Ecuador No 88 Lepanthes and affiliates Dodson & Luer 2011 drawing hmm; Icones Pleurothallidinarum Vol XXXII Luer 2012;
--------------------------------------------------------------------------------------------------------------------------
------------------------------------------------------------------------------------------------------