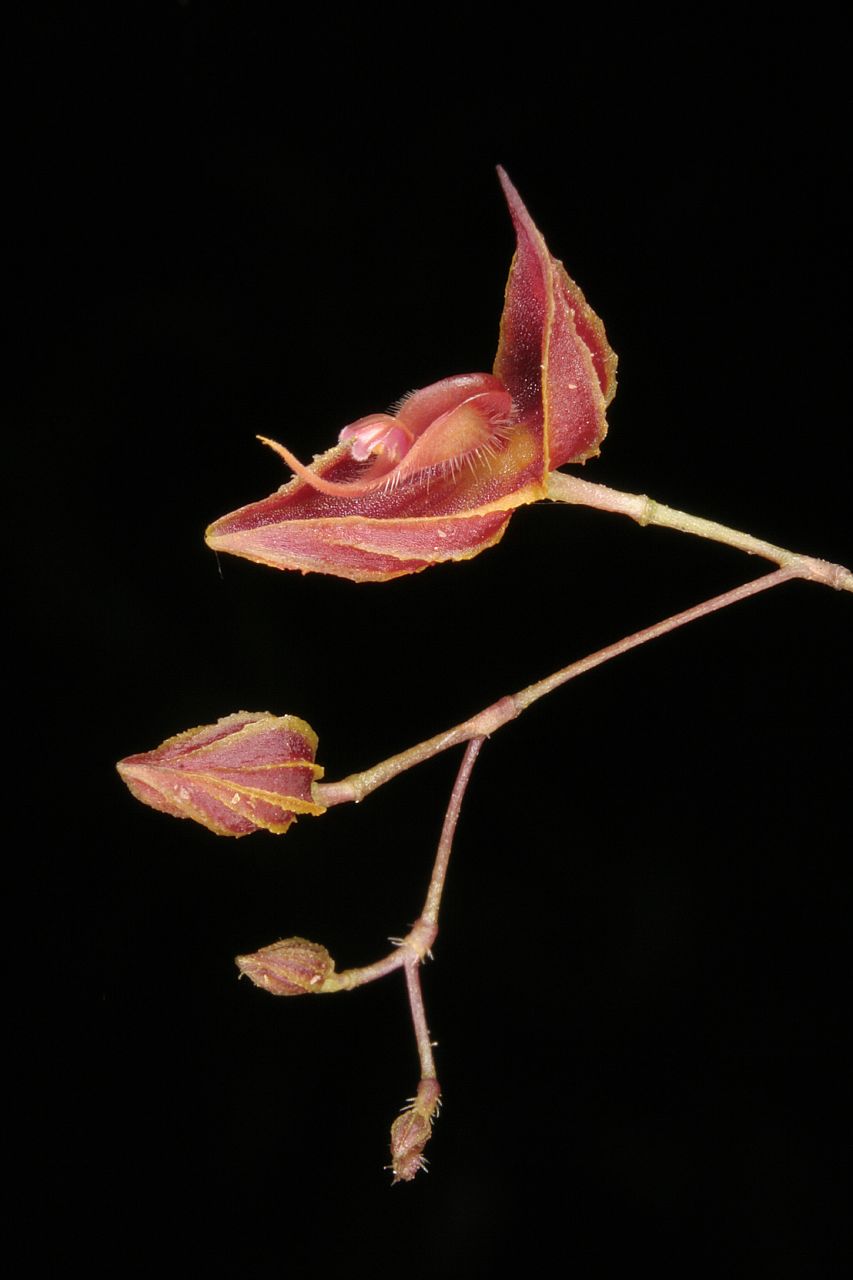 Lepanthes nematostele Luer 1993 SECTION Lepanthes SUBSECTION Lepanthes SERIES Elongatae 1993
Photo by © Lourens Grobler
TYPE drawing by © Carl Luer


LATE

EARLY

Common Name The Worm-Like Column Lepanthes
Flower Size .2" [5 mm]
Found in southern Colombia and northwest Ecuador in mossy forests at elevations of 1500 to 1900 meters as a mini-miniature sized, cool growing epiphyte with erect, slender ramicauls enveloped by 7 to 8, long ciliate, lepanthiform sheaths and carrying a single, apical, erect, coriaceous, elliptical, subacute, cuneate below into the petiolate base leaf that blooms in late summer and early fall on a few , 2" [5 cm] long, loose, distichous, successively flowered, racemose inflorescence that is longer than the leaf, carrying a single to occasionally 2 simultaneously opening flowers.
"This remarkable species is characterized by the small vegetative habot with long-ciliate, lepanthiform sheaths , a loose inflorescence longer than the leaves, concave, crested sepals, petals with a long-acuminate lower lobe and a long, threadlike column bearing near the apex a tiny lip. The blades of the lip are solidly agglutinized over the column. A prominent stigmatic process as large as the retrorse appendix descends from between the blades." Luer 1996
Similar to L tetrachaeta but differs markedly in the lip.
Synonyms
References W3 Tropicos, Kew Monocot list , IPNI ; * Novon 3: 449 Luer 1993 drawing fide; Icones Pleurothallidinarum Vol XIV Systematics of Draconanthes, Lepanthes subgenus Marsipanthes and subgenus Lepanthes of Ecuador Luer 1996 drawing fide; Flora of Ecuador No 88 Lepanthes and affiliates Dodson & Luer 2011 drawing fide; Orchids, A Colombian Treasure Vol 3 Ortiz & Uribe 2019 drawing/photo fide;
--------------------------------------------------------------------------------------