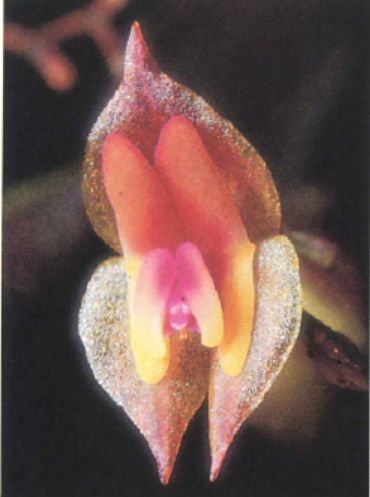 Lepanthes oreocharis Schltr. 1912 SUBGENUS Lepanthes SECTION Lepanthes SUBSECTION Lepanthes SERIES Lepanthes Novon 1993
Photo by © Miguel Soto
Another Flower Photo by Mario Velasquez and his Flickr Orchid Photo Website
Another Flower Photo courtesy of Noble Bashor



and

Common Name The Mountain Loving Lepanthes
Flower Size .2" [5mm]
Species pictured 1280m elev., Montebello Lakes area, epiphyte on small trees.
Found in southern Mexico to Guatemala at elevations of 2100 to 3200 meters as a miniature sized, cold growing epiphyte with erect, slender ramicauls enveloped completely by 3 to 5 lepanthiform sheaths and carrying a single, apical, broadly suborbicular-elliptic to elliptic, obtuse to subacute, tridenticulate apically, fleshy, dark green, purple suffused, convex, cuneate below or abruptly contracted into the twisted, petiolate base leaf that blooms in the spring and fall if not more on one to two, 3.4" [8.5 cm] long, successively single flowered, thin inflorescence arising either above or below the leaf with up to 22 flowers.
This species is highly variable in its flower form.
References W3 Tropicos, Kew Monocot list , IPNI ; Icones Planetarum Tropicarum Plate 1026 Hamer 1984 drawing ok; Selbyana Vol 10 Orchids of Central America Hamer 1988 drawing ok; El Genero Lepanthes Sw. En Mexico Salazar & Soto 1996 drawing/photo fide; Lepanthes de Guatemala Archila 2001 drawing/photo fide; Diversity of Pleurothallidinae in Guatemala: An Endangered Orchid Subtribe with High Economic and Horticultural Potentials Edgar Mo Mo, Cetzal, Basu and Vega 2017 photo fide; Orchid Genera and Species in Guatemala Archila, Szlachchetko, Chiron, Lipinska, Mystkowska and Bertolini 2018
Checked Hagsater OK
--------------------------------------------------------------------------------------------------------------------------