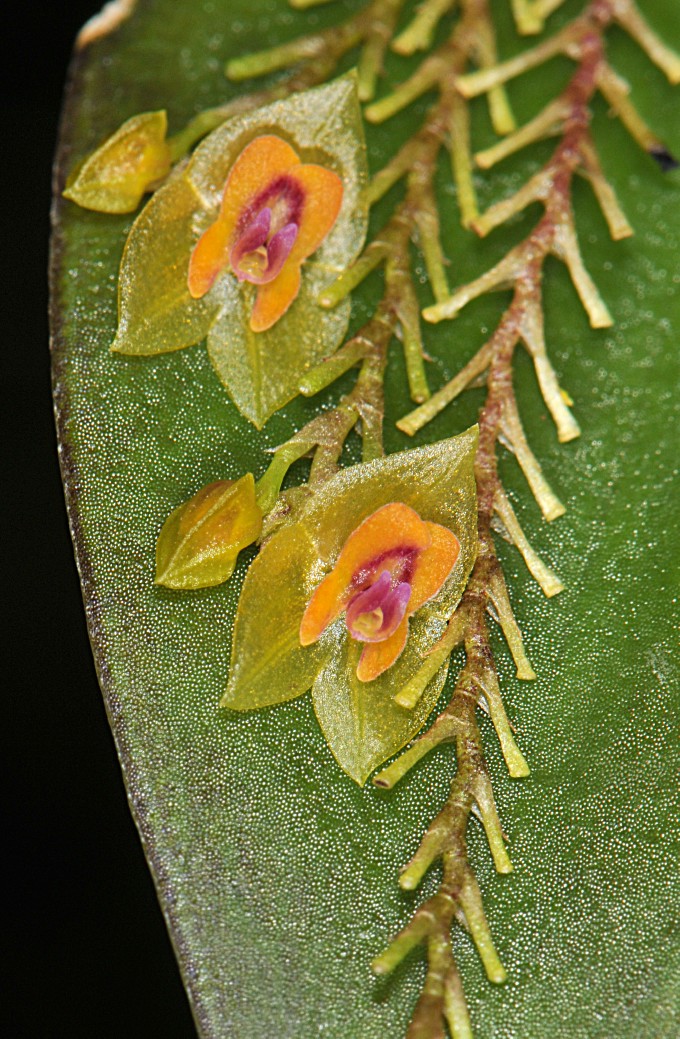 !Lepanthes ovalis (Sw.) Fawc. & Rendle 1910 SUBGENUS Lepanthes SECTION Lepanthes SUBSECTION Lepanthes Novon 1993 Photo by © Richard Ashby and hisOrchid Photo Website.
Another Photo Photo courtesy of Dale and Deni Borders
Another Clone Photo courtesy of Andy's Orchids Copyright © 2002 All rights reserved.


to





Common Name The Oval Lepanthes
Flower Size 1/8" [.35 cm]
Found in Jamaica as a miniature, caespitose, unifoliate, hot to warm growing epiphytic species occuring at elevations of 700 to 800 meters with erect ramicauls enveloped completely by tubular, longitudinally nerved, dilated, muricate lepanthiform sheaths and carrying a single, apical, membraceous, ovate to narrowly ovate, shortly and widely acuminate, finely tridenticulate apically, widely round and cuneate into the petiolate base leaf that blooms with a fascicle of filiform, distally distichously, 1" to 2" [2.5 to 5 cm] long including the .4 to 1" [1 to 2.5 cm] long peduncle, densly few to several flowered, racemose inflorescence that are shorter than the leaves and having minute flowers occuring at any time of the year.
Synonyms *Epidendrum ovale Sw 1799; Epidendrum concinnum [Sw.] Steud. 1821; Lepanthes concinna Sw. 1799; Lepanthes crassifolia Rchb.f 1877
References W3 Tropicos, Kew Monocot list , IPNI ; Xenia Orchidaceae Rchb.f 1854 as L concinna; Symbolae Antillanae Vol VI Orchidaceae Urban 1909 as Lepanthes crassifolia; Symbolae Antillanae Vol VI Orchidaceae Urban 1909 as L concinna; Flora of Jamaica Fawcett & Rendle 1910; Flora de Venezuela Foldats Volumen XV Part 2 1970 drawing ok; Orchids of Jamaica Gloudon & Tobisch 1995 Drawing fide; Icones Pleurothallidianrum Vol XXX Luer 2009 drawing fide
--------------------------------------------------------------------------------------------------------------------------