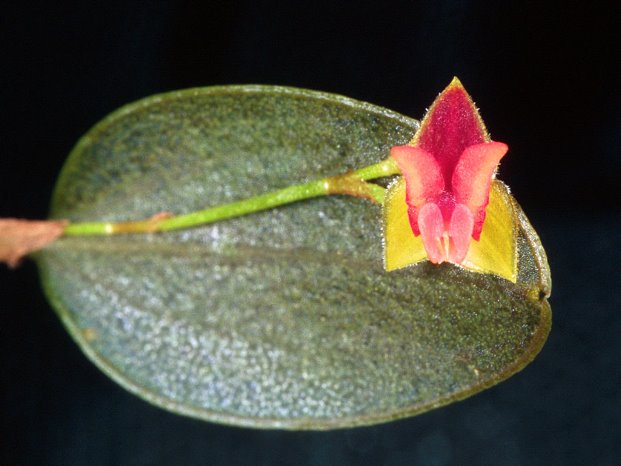 Lepanthes tracheia Rchb.f 1886 SUBGENUS Lepanthes SECTION Lepanthes SUBSECTION Lepanthes SERIES Lepanthes Novon 1993
Photo courtesy of Eric Hunt ©.
Photo courtesy of Weyman Bussey
Another view, in situ Colombia
Another view, in situ Colombia
Photos by © Jay Pfahl
Photo by © Walter Teague
Another view, in situ Colombia
Photo by Arturo Carrillo



Common Name The Trachea Lepanthes [Possibly refers to the lepanthiform sheathed ramicaul]
Flower Size 1/8" [3 mm]
Found in Venezuela, Colombia, Ecuador and Peru, at elevations around 1000 to 2000 meters as a miniature to small sized, cool growing epiphyte with a slender, erect ramicaul enveloped basally by a 8 to 12, minutely ciliate lepanthiform sheaths carrying a single, apical, erect, rigidly coriaceous, purple suffused, broadly ovate to suborbicular, obtuse, slightly convex leaf that is rounded to cordate basally and is contracted into a petiole. This species blooms in the summer on a filiform, congested, distichous .72 to .88" [1.8 to 2.2 cm] long including the .32 to .48" [8 to 12 mm] long peduncle, successively several flowered, racemose inflorescence that arises behind the leaf.
Synonyms Lepanthes caucana Schlechter 1924
References W3 Tropicos, Kew Monocot list , IPNI ; Beitrage Zur Orchideenkunde Von Colombia 27:159 Schlechter 1924 as L caucana; Venezuelan Orchids Illustrated Vol 6 Dunsterville & Garay 1976 drawing fide; Orchids of Venezuela An Illustrated Field Guide vol 2 Dunterville & Garay 1979 drawing fide; Icones Planetarum Tropicarum plate 442 Dodson 1982 drawing hmm; Icones Pleurothallidinarum Vol XIV Systematics of Draconanthes and Lepanthes Luer 1996 drawing fide; Orchids of Venezuela [An illustrated field guide] Vol. 2 Ramiro and Carnevali 2000 drawing fide; Native Ecuadorian Orchids Vol 2 Dodson 2001 drawing ok; Orquideas Nativas del Tachira Cesar Fernandez 2003 photo ok; Orchid Species of Peru Zelenko Bermudez 2009 photo fide; Flora of Ecuador No 88 Lepanthes and affiliates Dodson & Luer 2011 drawing fide; Icones Pleurothallidinarum Vol XXXII Luer 2012 drawing fide; Orchids, A Colombian Treasure Vol 3 Ortiz & Uribe 2019 photo fide;
Checked Luer OK
--------------------------------------------------------------------------------------------------------------------------