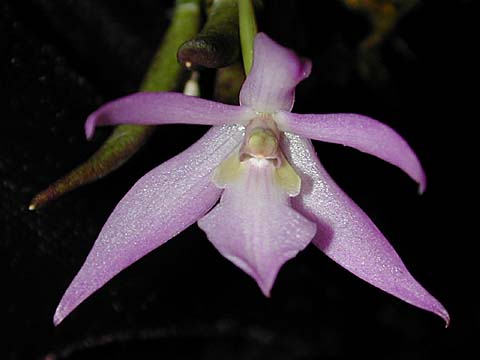 Leptotes unicolor Barb. Rodr. 1877 Photo courtesy of Andy's Orchids, Copyright © 2002 All rights reserved


to

LATE

and

Common Name Concolored Leptotes
Flower Size 3/4 to 1" [2 to 2.4 cm]
Found in Brazil and Argentina as a miniature, pendant, hot to cool growing epiphyte with a short fusiform-cylindrical stem carrying a single, apical, straight or slightly arcuate, fleshy, subcylindric, acute, deeply sulcate above leaf that blooms in the late fall and winter in cultivation and May and June in Brazil with a short, pendant inflorescence with 1 to 2, fragrant sweet floral scented, nodding to pendant flowers arising from the leaf base.
Synonyms Leptotes paranaensis Barb. Rodr. 1882
References W3 Tropicos, Kew Monocot list , IPNI ; Die Orchideen Schlechter 1915; Iconografia de Orchidaceae Do Brasil Hoehne 1949 drawing fide; Encyclopedia of Cultivated Orchids Hawkes 1965; Orchidaceae Brasilenses Band 1 Pabst & Dungs 1975 drawing fide; Die Orchideen 3 Auflage Bd 1 Sonderabdruck aus Schlechter Lieferung 9 513 - 576 Brieger, Maatsch and Senghas 1977 photo/drawing fide; AOS Bulletin Vol 49 No 6 1980 photo fide; AOS Bulletin Vol 50 No 3 1981 drawing fide; Cattleyas and Their Relatives Withner Vol 3 1990 photo fide; Orchids Travel By Air A Pictoral Safari Mulder, Mulder-Roelfsema and Schuiteman 1990 photo fide; The Manual Of Cultivated Orchid Species Bechtel, Cribb & Launert 1992; AOS Bulletin Vol 74 No 11 2005 photo fide; 100 Orquideas Argentinas Freuler 2005 photo ok; Mille et Une Mini Orchideees Roguenant 2009 photo fide; Orchid Digest Vol 80 #2 2016;
Leptotes unicolor Barb. Rodr. 1877 var alba Photo courtesy of Alejandro Taborda ©
A white color form of the preceding species.
--------------------------------------------------------------------------------------