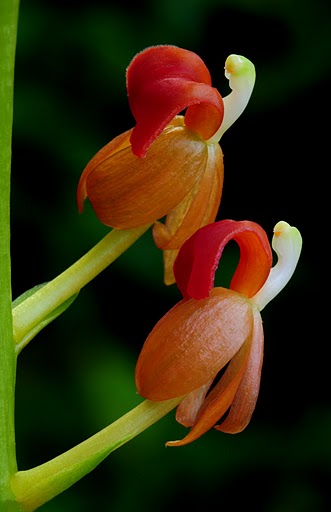 Liparis spectabilis Schltr. 1911 SUBGENUS Cestichis SECTION Blepharoglossum Photo by © Art Vogel
Inflorescence Photo by Wolfgang H. Bandisch. Copyright © 1998, 1999 All rights reserved.



LATE

Common Name The Spectacular Liparis
Flower Size .4" [1 cm]
Found in Papua New Guinea at elevations around 1000 meters as a medium sized, warm to cool growing epiphyte on big branches or terrestrial below trees in humus with clustered, cylindrical to cylinric-ovoid, laterally compressed pseudobulbs carrying 2 to rarely 3 apical, erect, lanceolate-ligulate, subacute leaves that blooms in the late spring on a lateral to pendant, 16" [40 cm] long, racemose inflorescence with many small flowers.
Synonyms Cestichis spectabilis (Schltr.) M.A.Clem. & D.L.Jones 2005; Liparis spectabilis var. dischorensis Schltr. 1911; Stichorkis spectabilis (Schltr.) Marg., Szlach. & Kulak 2008
References W3 Tropicos, Kew Monocot list , IPNI ; *The Orchidaceae of German New Guinea Schlechter 1911/85 drawing fide; The Orchidaceae of German New Guinea Schlechter 1911/85 as Liparis spectabilis var. dischorensis; Orchids of Papua New Guinea Millar 1999 photo ok; Flora Malesiana Orchids of New Guinea Vol IV Shuiteman and de Vogel 2006
--------------------------------------------------------------------------------------