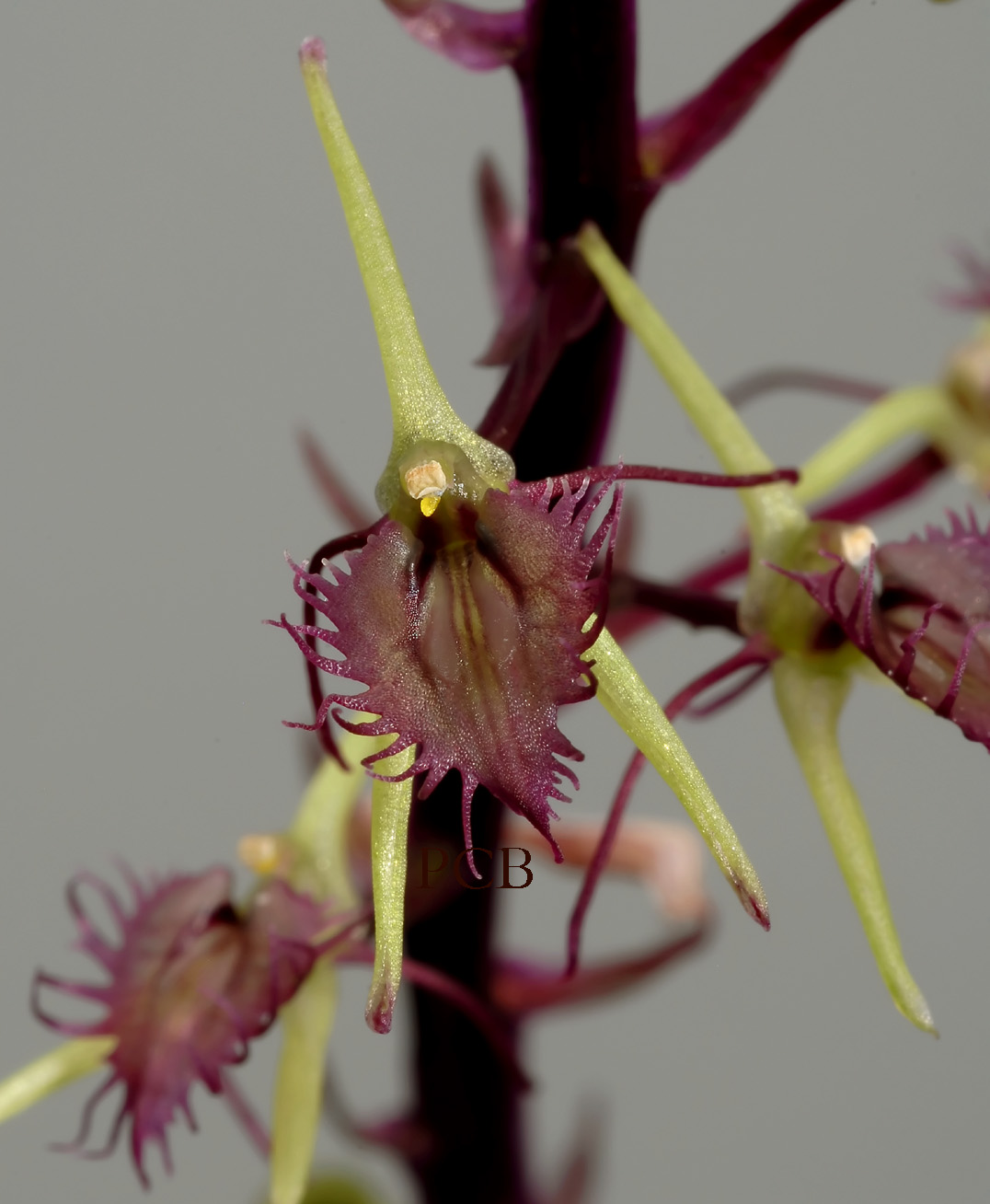 Liparis purpureoviridis Burkill & Holttum 1923 SUBGENUS Sturmia SECTION Lipari
Photos by © Pieter C. Brouwer and his Nature Photo Website
Photo by © Patricia Harding
Photo courtesy of Andy's Orchids Copyright © 2002 All rights reserved.
Plant and flowers in situ Cameron Highlands Malaysia
Photo by © David Kuehn



Common Name The Purple Green Liparis
Flower Size 3/4" [1.85 cm]
Found in penninsular Malaysia, Sumatra and Borneo at elevations of 1300 to 1400 meters as a miniature sized, cool growing terrestrial or on mossy rocks in montane forests with a pretty, reticulated, cordate, acute, single leaf which blooms in the summer with an apical, 6" to 10" [15 to 25 cm] long, erect inflorescence with several to many flowers
This species is very similar to L pilifera but can be easily diferentiated by the hairy fringe that is all around the margin of the lip. In L pilifera the hairs are confined to the apical portion of the lip.
References W3 Tropicos, Kew Monocot list , IPNI ; Flora of Malaya Vol 1 Holttum 1957; Dansk Bot Arkiv Bind 31 Nr 1 Liparis Seidenfaden 1976 drawing fide; The Orchids of Penninsular Mayasia and Singapore Seidenfaden & Wood 1992 drawing fide; A Checklist of the Orchids of Borneo Wood & Cribb 1994 drawing fide; Orchids of Sumatra Comber 2001; A to Z of South East Asian Orchid Species Vol 1 O'Byrne 2001 photo fide; Wild Orchids of the Cameron Highlands REACH 2009 photo fide; Wild Orchids of Penninsular Malaysia Ong, O'Byrne, Yong & Saw 2011 photo fide
--------------------------------------------------------------------------------------