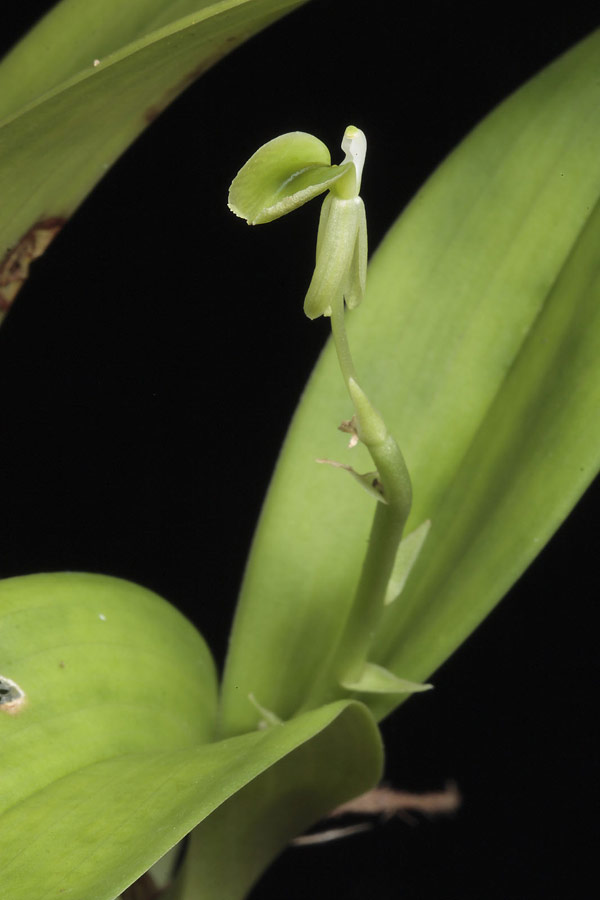 Liparis viridicallus Holttum 1953 SECTION Coriifolia Rchb.f
Photo by © André Schuiteman and The Swiss Orchid Foundation at the Jany Renz Herbarium Website
Photos by © Art Vogel



Common Name or Meaning The Green Callus Liparis
Flower Size .6" [1.5 cm]
Found in Malaysia, Java, Sumatra, Borneo and the Philippines in hill and lower montane forests at elevations of 1100 to 1500 meters as a miniature to small sized, cool growing terrestrial or occasional epiphyte with .8 to 1.6" [2 to 4 cm] between each ovoid, slightly flattened pseudobulbs enveloped completely by imbricating, scarious sheaths and carrying erect, lanceolate, acute, articulate, size variable leaves that blooms in the fall on a terminal, erect, on a longer than the leaves, to 14" [35 cm] long, several to many flowered inflorescence.
Similar to L terrestris and often given as a synonym but it differs in the squarer lip and the bright center stripe of the lip.
Similar to but separated from L bootanensis most readily by its epiphytic habit and always carrying a single leaf.
Synonyms Liparis terrestris J.B.Comber 2001; Stichorkis viridicallus (Holttum) Marg., Szlach. & Kulak 2008
References W3 Tropicos, Kew Monocot list , IPNI ; https://www.biodiversitylibrary.org/item/148155#page/17/mode/1up Flora of Malaya Vol 1 Holttum 1953; Dansk Bot Arkiv Bind 31 Nr 1 Orchids of Thailand IV Liparis Seidenfaden 1976 drawing fide; The Orchids of Penninsular Malaysia and Singapore Seidenfaden & Wood 1992 drawing fide; Orchids of Sumatra Comber 2002 as Liparis terrestris; Malesian Orchid Journal Vol 2 2008; Wild Orchids of the Cameron Highlands REACH 2009 photo not = L viridiflora; The Orchids of Mount Kinabalu Vol 1 Wood, Beaman, Lamb, Chu Lun and Beaman 2011 drawing/photo fide; The Orchids of Mount Kinabalu Vol 2 Wood, Beaman, Lamb, Chu Lun and Beaman 2011
---------------------------------------------------------------------------------------------------------------