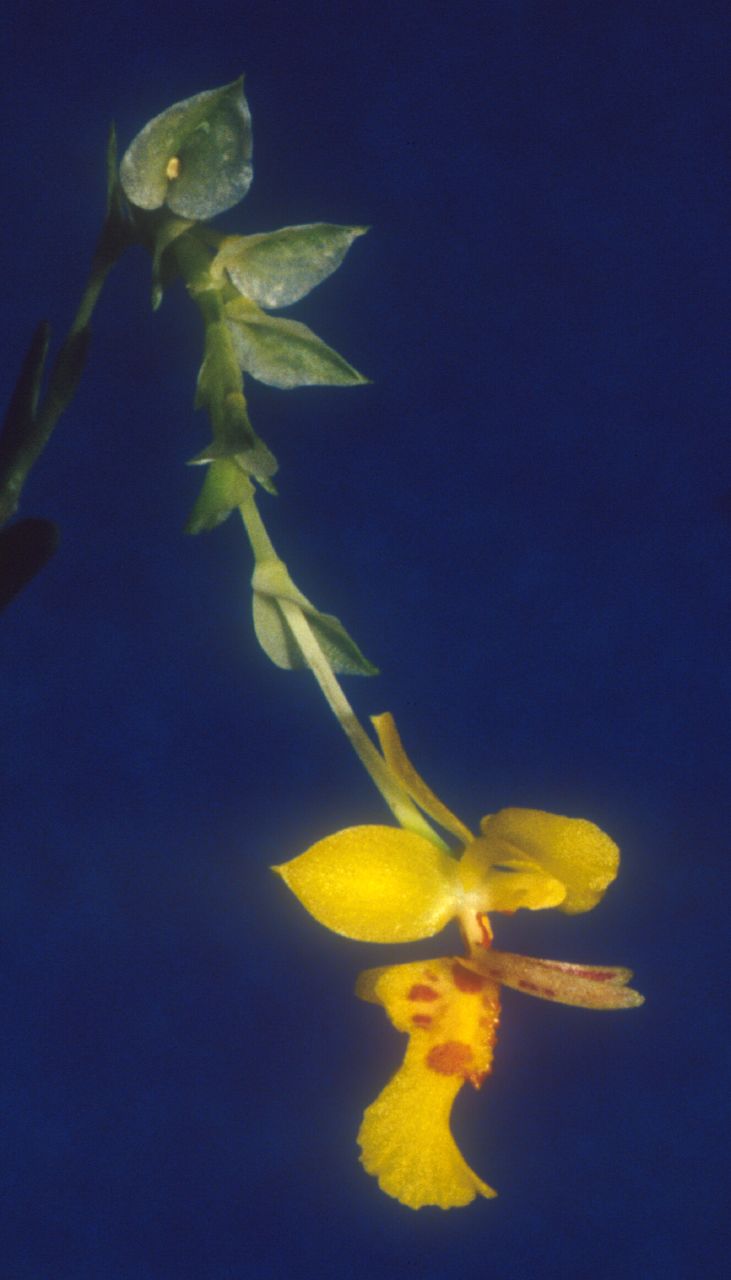 Lockhartia lunifera (Lindl.) Rchb. f. 1852
Photo by © Lourens Grobler
Photo courtesy of Andy's Orchids Copyright © 2002 All rights reserved.



and

Common Name The Half Moon Sepal Lockhartia
Flower Size 3/4" [2 cm]
A Brazilian epiphyte that is a medium to small, psuedobulbless plant with elongate, 4 to 12"[10 to 30 cm], mostly pendant stems that are very close together enveloped completely by numerous, disitchous, imbricating, basally clasping, conduplicate, triangular leaves that are bilaterally compressed, densly imbricate and about 1/2" [1.25 cm] long alternately arranged along the stem. The axillary curved flower stalks spring from the apical portion of the stem and have several flowers and are subtended by a concave bract. They bloom in the spring and summer and are very long lasting.
Synonyms *Fernandezia lunifera Lindley 1831; Fernandezia robusta Klotzsch ex Rchb.f. 1864
References W3 Tropicos, Kew Monocot list , IPNI ; Xenia Orchidaceae Rchb.f 1854 drawing; Die Orchideen Schlechter 1915; Iconografia de Orchidaceae Do Brasil Hoehne 1949 drawing fide; Encyclopedia of Cultivated Orchids Hawkes 1965; Die Orchideen #2 5-8 tafel 3 Rudolph Schlechter 1971 photo ok; Orchidaceae Brasilenses Band 2 Pabst & Dungs 1977 drawing fide; The Manual Of Cultivated Orchid Species Bechtel, Cribb & Launert 1992 drwaing fide; Rudolf Schlechter Die Orchideen Band 1B lieferung 31 1905 - 1976 Brieger 1995; Orchids of The Brazilian Central Plateau Menezes 2004 photo fide; Orchid Species Culture: Oncidium, Bakers 2006; Orchid Digest Vol 75 #4 2011 Photo fide; AOS Bulletin Vol 81 #1 2012 photo fide; Orquideas de Roirama Luz & Franco 2012 photo okish; Of Men & Orchids Part 1 Jenny 2015 drawing/photo fide;
--------------------------------------------------------------------------------------