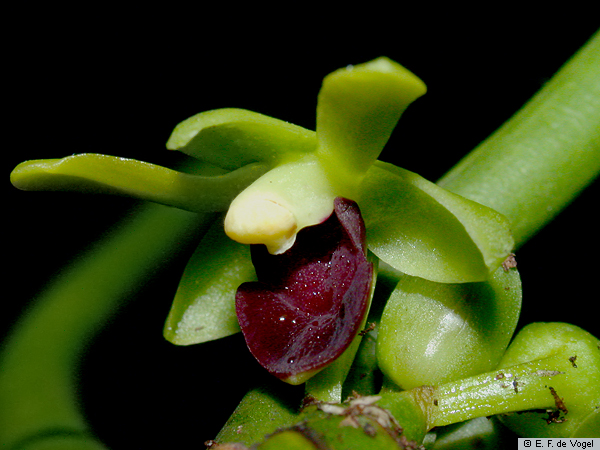 !Luisia tristis [Forst.] O.Ktze. 1890
Photo by Dr. E.F. de Vogel, courtesy of André Schuiteman and Jaap Vermeulen and Their Netherlands National Herbarium Website
Photo by Dale and Deni Borders.
Photo by Seidenfaden
Plant and Flowers in situ New Caledonia
Photo by © Edouard Faria



To




Common Name The Terete leaf Luisis
Flower Size 3/4" [2 cm]
Found in the Chinese Himalayas, Assam, India, Sri Lanka, Bangladesh, eastern Himalayas, Nepal, western Himalayas, Andaman Islands, Myanmar, Thailand, Malaysia, Vietnam, Java, Lesser Sunda Islands, Moluccas, the Philippines, New Guinea, Solomon Islands, Northern Territory and Queensland Australia, Fiji, New Caledonia Samoa, Marianas, Vanuatu and Guam as a small sized, hot to warm growing epiphytic orchid found on exposed trees at altitudes of 40 to 900 meters with a rigid, stout, terete, noded, monopodial stem carrying alternate, fleshy, terete, obtuse leaves that blooms in the winter, spring and summer and possibly at other times on an axillary, less than 1.6" [4 cm] long, few to several flowered inflorescence with a cluster of 3 to 10 small, faintly foul smelling, waxy, long-lived flowers all opening simultaneously.
This species has a kidney-shaped epichile and the apex is broadly rounded and has a quadrangular hypochile and the petals are strap shaped.
Synonyms Cymbidium tenuifolium Wight 1852; Cymbidium triste [Forst.] Roxb. 1832; *Epidendrum triste G. Forst. 1786; Luisia atacta D.L.Jones 2006; Luisia beccarii Rchb.f 1886; Luisia birchea Blume 1849; Luisia brachystachys Bl. var flaviola Par & Rchb.f ?; Luisia corrugata D.L.Jones 2006; Luisia macrocarpa Schltr. 1921; Luisia occidentalis Lindl. 1853; Luisia teretifolia Gaud. 1828; Luisia valida Rchb.f. 1862; Luisia zeylandica Lindley 1853; Trichorhiza teretifolia (Gaudich.) Lindl. ex Steud. 1841
References W3 Tropicos, Kew Monocot list , IPNI ; Xenia Orchidaceae Rchb.f 1854 as Luisia zeylanica; Xenia Orchidaceae Vol 3 Reichenbach 1890 as L teretifolia drawing; Orchids of Burma Grant 1895/1995; The Orchids of Sikkim-Himalaya Part 1 King & Pantling 1898 as L teretifolia drawing hmm; Die Orchideen Von Java J.J.Sm. 1905 as L teretifolia; The Orchids of North-Western Himalaya Vol IX Part II Duthie 1906 as L teretifolia ; Die Orchideen Von Java Figuren Atlas J.J.Smith 1908 as L teretifolia drawing fide; Orchidaceae of German New Guinea Schlechter 1913[1985] as Luisia beccarii drawing ; Die Orchideen Schlechter 1915 as L zeylandica; Encyclopedia of Cultivated Orchids Hawkes 1965 as L teretifolia; Encyclopedia of Cultivated Orchids Hawkes 1965 as L zeylanica; AOS Bulletin Vol 35 No 4 1966 as L teretifolia; Botanisk Tidsskrift bd 68 hft 1 Contributions to the Orchid Flora of Thailand V Seidedenfaden 1973 drawing fide; Flore de la Nouvelle-Caledonie et Dependences Vol 8 Orchidaceae Halle 1977 sa L teretifolia drawing fide; The Orchids of Papua New Guinea An Introduction Millar 1978 as L teretifolia photo fide; Indian Orchids: A Guide to Identification and Culture Vol 2 Pradhan 1979 as L birchea drawing ok; Indian Orchids: A Guide to Identification and Culture Vol 2 Pradhan 1979 as L zeylandica drawing ok; Indian Orchids: A Guide to Identification and Culture Vol 2 Pradhan 1979; The Complete Writings on Philippine Orchids Vol 1 Quisumbing 1981 as L teretifolia; A Revised Handbook to the Flora of Ceylon Vol 2 Dassanayake & Fosberg 1981 as L teretifolia not drawing fide; Orchidiana Philipiniana Vol 1 Valmayor 1984 as L teretifolia; Orchids of Nilgiris Joseph 1987 as L zeylanica drawing fide; Orchids of Nilgiris Joseph 1987 as L birchea drawing hmm; Rudolf Schlechter Die Orchideen Band 1B lieferung 19/20 1129 - 1264 Brieger 1988 as L teretifolia drawing fide/photo good; Rudolf Schlechter Die Orchideen Band 1B lieferung 19/20 1129 - 1264 Brieger 1988 as L zeylandica; Rudolf Schlechter Die Orchideen Band 1B lieferung 19/20 1129 - 1264 Brieger 1988 as L bircheaOpera Botanica #95 Seidenfaden 1988 as L platyglossa drawing/photo fide; The Orchids of Vanuatu Lewis & Cribb 1989 as L teretifolia; Orchids Travel By Air A Pictoral Safari Mulder, Mulder-Roelfsema and Schuiteman 1990 as L teretifolia photo fide; Orchids of Kumaun Himalayas Pangtey, Samant and Rawat 1991 as L zeylanica; The Orchids of the Solomon Islands and Bougainville Lewis & Cribb 1991 as L teretifolia; The Manual Of Cultivated Orchid Species Bechtel, Cribb & Launert 1992; Ferns and Orchids of the Mariana Islands Raulerson & Rinehart 1992 as L teretifolia photo fide; Identification of the Orchids [Orchidaceae Juss.] Vietnam Averyanov 1994 as L platyglossa; Lowland Orchids of of Papua New Guinea Peter O'Byrne 1994 as L teretifolia drawing/photo fide; Native Orchids of New Caledonia Societe' Neo-Caledonienne D' Orchidophile 1995 as L teretifolia photo fide; The Orchids of Samoa Cribb & Whistler 1996 as L teretifolia photo fide; Orchids of Papua New Guinea Millar 1999 as L teretifolia photo fide;Orchid Australia Vol 13 No 1 2001 photo as L teretifolia; Orchids of Sumatra Comber 2001 as L teretifolia photo fide; Beautiful Orchids of Nepal Rajbhandari & Bhattarai 2001 as L zeylandica; Lindleyana Vol 17 No 1 2002 as L teretifolia; Orchids of Bhutan Pearce & Cribb 2002 as Luisia birchea; Orchids of Bhutan Pearce & Cribb 2002 as Luisia zeylanicadrawing/photo ok; Flora Malesiana Orchids of the Philippines Vol I Agoo, Shuiteman and de Vogel 2003 as L teretifolia; Flora Malesiana Orchids of the Philippines Vol I Agoo, Shuiteman and de Vogel 2003 as L valida; A field Guide to the Wild Orchids of Thailand Vaddhanaphuti 2005 as L platyglossa photo hmm; Australian Orchid Review Vol 70 No 6 2005/6 as L teretifolia photo; Flora Malesiana Orchids of New Guinea Vol IV Shuiteman and de Vogel 2006 as Liparis tristis; Orchids of India A Glimpse Misra 2007 as L zeylanica drawing ok; Orchids of India A Glimpse Misra 2007 as L platyglossa; Orchids of India A Glimpse Misra 2007 as L teretifolia; Philippine Native Orchid Species Cootes 2011 as L teretifolia photo good; Genera Orchidacearum Vol 6 Epidendroideae Part 3 Pridgeon, Cribb Chase and Rasmussen 2014 photo good; Orchids of Odisha Misra 2014 drawing fide; LANKESTERIANA 15(1): 7—50. Jeewan Singh Jalal & J. Jayanthi 2015 photo fide; AOS Bulletin Vol 85 #3 2016 drawing fide;
--------------------------------------------------------------------------------------------------------------------------