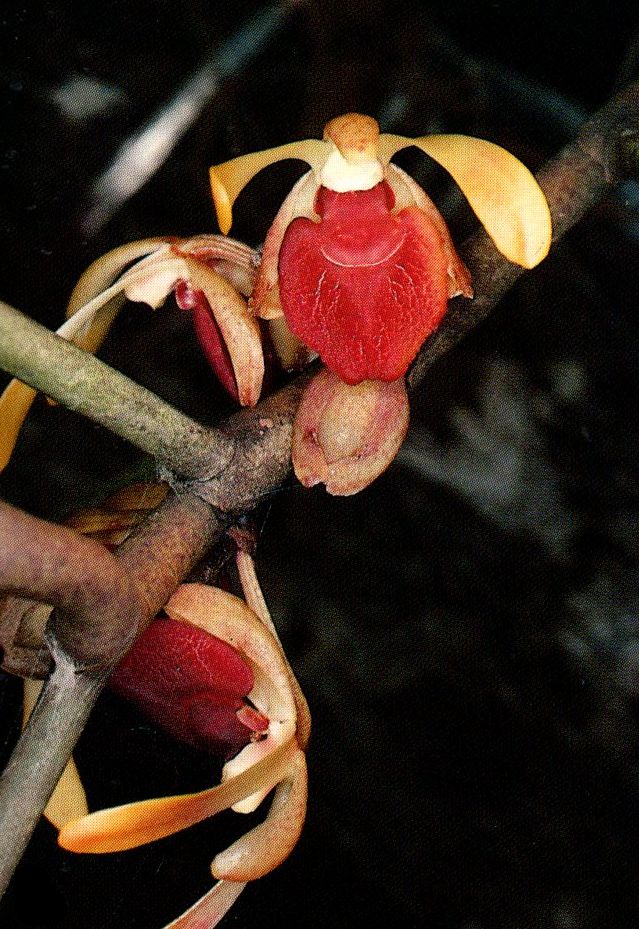 Luisia volucris Lindl. 1853
Photo by P J Cribb
Another Flower? Photo by Bill Garris.




Common Name The Twisted Snail Shell Luisia
Flower Size 2 1/2" [6.2 cm]
Found in Bangladesh, Assam India, the eastern Himalayas and Borneo at elevations below 900 meters as a medium sized, hot to warm growing monopodial epiphyte with a stout, noded stem carrying terete, obtuse, alternate, rigid leaves that blooms in the spring on a 1/2" [1.25 cm] long, stout inflorescence.
CAUTION!!! I truly have no idea what the true L volucris looks like, no references seem to agree. The 1 st photo by PJ Cribb was collected in Borneo and was published in ; The Plants of Mount Kinabalu Vol 2 Orchids Beaman, Wood, Beaman & Beaman 1993 . The photo by Bill Garris is without provenence and is unlike others in the genus. I need to see the type to be sure of which if either is truely L volucris.
References W3 Tropicos, Kew Monocot list , IPNI ; The Orchids of Sikkim-Himalaya Part 1 King & Pantling 1898 drawing fide; Indian Orchids: A Guide to Identification and Culture Vol 2 Pradhan 1979 drawing fide; Rudolf Schlechter Die Orchideen Band 1B lieferung 19/20 1129 - 1264 Brieger 1988 photo fide; The Manual Of Cultivated Orchid Species Bechtel, Cribb & Launert 1992 photo fide; The Plants of Mount Kinabalu Vol 2 Orchids Beaman, Wood, Beaman & Beaman 1993 photo fide for the 1st photo, diferent color for with wider lip to the second photo; A Checklist of the Orchids of Borneo Wood & Cribb 1994; Orchids of India A Glimpse Misra 2007
--------------------------------------------------------------------------------------