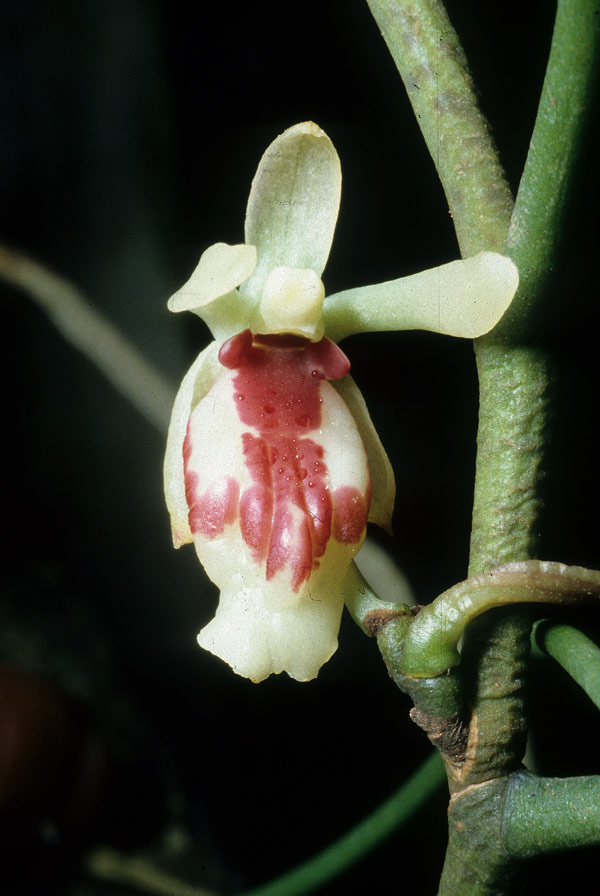 Luisia tenuifolia Blume 1849
Photo by © J B Comber and The Swiss Orchid Foundation at the Jany Renz Herbaria Website
What has been known as L evangelinae
Photo by © The Enchanting Kerala Website
Photo by © Dinesh Valke and The Flowers of India Website
What has been known as L birchea
Common Name The Thin Leaved Luisia
Flower Size .44" [1.1 cm]
Found in India and Sri Lanka in tropical, dry, mixed evergreen forests and tropical wet evergreen forests up to elevations of 950 meters as a small to large sized, warm growing epiphyte with terete, green, drooping stems carrying terete, more slender than the stems, green, straight to flexuous, apically constricted, basally clasping leaeves that blooms in the spring on a short to .24" [6 mm] , axillary, towards the end of the drooping stems, successively single, few flowered inflorescence with broadly crescent shaped, rounded, persistent floral bracts.
CAUTION!!!!!! Kew has three distinct types to this species as best as I can tell. I do not have many references with drawings or photos so please use with caution.
#1 in the first photo with a ribbed lip with the apex spread [which corresponds to Dassanayake & Fosberg 1981, the only drawing that I have for this species] and with 2 larger, distinct basal lobes
#2 in the second photo [which have been known historically as L evangeline ] with a smooth lip with the apex constricted to form two opposing lobes and basally with 2 smaller, less distinct basal lobes
# 3 What has been known as L birchea without basal lobes and a distinct deeply bilobed lip apex [which corresponds to J Joseph 1987, the only drawing that I have for this species]
I have decided to split out both L evangeline and L birchea as separate species so please proceed to the individual species page.
Synonyms Birchea teretifolia A.Rich. 1841; *Cymbidium tenuifolium Lindl. 1833; Luisia birchea Blume 1849; Luisia evangelinae Blatt. & McCann 1932; Luisia laurifolia M.R.Almeida 2009; Luisia laurifolia var. evangelinae (Blatt. & McCann) M.R.Almeida 2009; Luisia pseudotenuifolia Blatt. & McCann 1932; Luisia pulniana Vatsala 1981; Luisia tenuifolia var. evangelinae (Blatt. & McCann) Santapau & Kapadia 1962
References W3 Tropicos, Kew Monocot list , IPNI ; Die Orchideen lieferung 19/20 Schlechter/Brieger 1988 as L birchea; A Revised Handbook to the Flora of Ceylon Vol 2 Dassanayake & Fosberg 1981 drawing fide [to Combers Photo]; Orchids of Nilgiris Joseph 1987 as L birchea drawing fide; Lankesteriana Vol 18 [1]: 23–62 Jalal & Jayanth 2018
----------------------------------------------------------------------------------------------------------