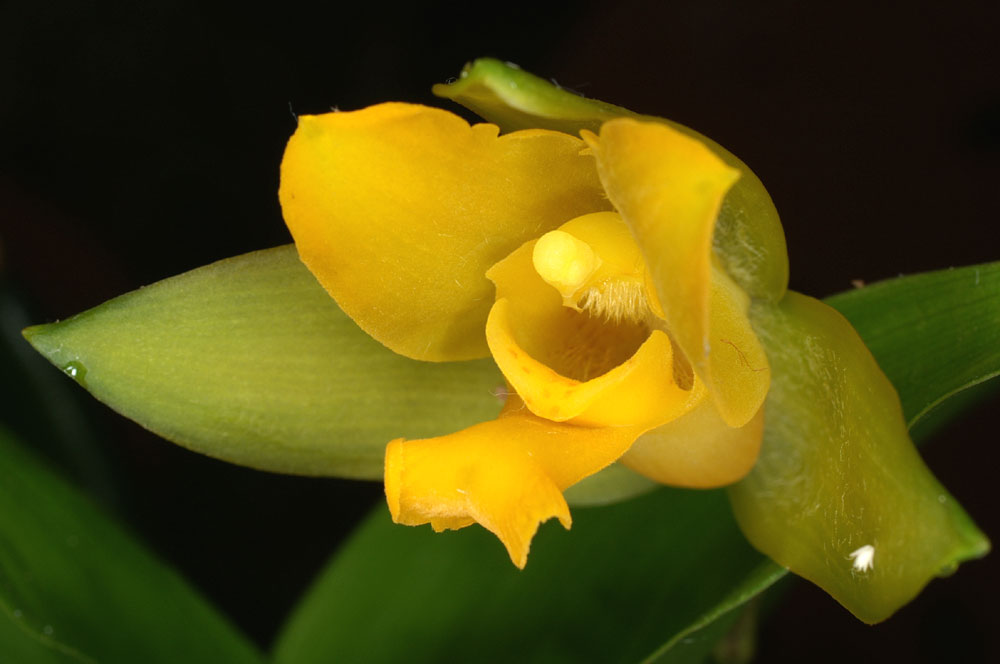 Lycaste aromatica [Graham ex Hooker] Lindley 1843 SECTION Aromaticae
Photo by © ORCHIDEES EN NORD SFO - Section Nord
Photo by © Allen Black
Photo by © Jay Pfahl



to

LATE

and

Common Name The Sweet Scented Lycaste
Flower Size to almost 3" [to almost 7.6 cm]
A medium to large, cool to warm growing epiphyte on mossy branches, lithophyte on damp limestone cliffs or occasional terrestrial in tropical semi-deciduous forests or warm oak forests in ravines along streams from Mexico, Guatemala, Nicaragua, Honduras and El Salvador, with ovate, compressed pseudobulbs subtended by fibrous sheaths and carrying deciduous, lanceolate, plicate, acuminate, basally clasping leaves, smells of cinnamon, and it blooms in late spring-summer along with the onset of new growth and there may be up to 10 erect, short to 6" [ 15 cm], brown sheathed, single flowered spikes per pseudobulb.
They are a deciduous plant so as the leaves brown up to fall it is time to give less water. As a lithophytic grower it is often found on damp limestone cliffs or epiphytically on mossy trees in moist cool woodlands between 500 and 2000 meters and has ovoid, compressed, sulcate pseudobulbs with 2 to 3 apical spines after the leaf falls and several scarious sheaths at the base from which the inflorescence arises with 2 to 3 deciduous, plicate, oblong-elliptic to elliptic obovate, acuminate leaves that are absent at blooming.
Similar to L crinita but differs in pseudobulbs and leaves less robust, the disc of the lip less pubescent, and the scapes are shorter as well as found on the eastern slopes of Vera Cruz and Chiapas instead of the western or Pacific slopes.
Synonyms Colax aromaticus [Hooker]Sprengel 1826; Lycaste aromatica var. hartleyorum Oakley 2001; Lycaste aromatica var. majus auct 1926; Lycaste aromatica var. retroflexa Oakley 2001; Lycaste consobrina Rchb.f 1852; Lycaste suaveolens Summerhayes 1931; *Maxillaria aromatica Hooker 1826; Maxillaria consobrina Beer ex Schlechter ?; Selbyana aromatica (Graham) Archila 2010
References W3 Tropicos, Kew Monocot list , IPNI ; Die Orchideen Schlechter 1915 photo ok; Atlas des Orchidees Cultivees Constantin 1920 drawing good; AOS Bulletin Vol 29 No 6 1960 photo fide; AOS Bulletin Vol 30 No 9 1961; AOS Bulletin Vol 33 No 5 1964; Encyclopedia of Cultivated Orchids Hawkes 1965; AOS Bulletin Vol 36 #4 1967; AOS Bulletin Vol 38 #4 1969 photo fide; The Genus Lycaste Fowlie 1970; Orchid Digest Vol 42 No 6 1978 photo fide; AOS Bulletin Vol 48 No 5 1979; AOS Bulletin Vol 48 No 6 1979 photo fide; Orquídea (Mexico City), n.s., 7[3]: 1979; Icones Planetarum Tropicarum plate 827 Dodson 1983 drawing ok; Icones Planetarum Tropicarum plate 831 Dodson 1983 as Lycaste suaveolens; Flora Novo-Galaciana Vol 16 McVaugh 1985; Selbyana Vol 10 Orchids of Central America Hamer 1988 drawing fide; Icones Orchidacearum I Plate 56 Hagsater and Salazar 1990 drawing ok; AOS Bulletin Vol 60 #2 1991 photo fide; AOS Bulletin Vol 60 No 3 1991 photo fide; The Manual Of Cultivated Orchid Species Bechtel, Cribb & Launert 1992 photo fide; Orchid Digest Vol 58 No 2 1994 photo fide; Rudolf Schlechter Die Orchideen lieferung 29 1777 - 1840 Brieger 1994 drawing fide; AOS Bulletin Vol 66 No 3 1997 photo fide; Orchid Australia Vol 11 No 6 1999 photo; Australian Orchid Review Vol 69 No 4 2004 photo; AOS Bulletin Vol 74 No 2 2005 photo fide; AOS Bulletin Vol 75 No 1 2006 photo fide; Orchid Digest Vol 71 #4 2007 photo fide; AOS Bulletin Vol 76 #6 2007 photo fide; AOS Bulletin Vol 76 #10 2007 photo fide; Oakley; Lycaste, Ida and Anguloa The Essential Guide Oakley 2008; AOS Bulletin Vol 78 #6 2009 photo fide;AOS Bulletin Vol 79 #4 2010 photo fide; Guia de Orquideas de Chiapas Carlos Rommel Beutelspacher Baigts 2013 photo fide; Orchid Digest Vol 78 #4 2014 photo fide; Orchid Digest Vol 80 #2 2016; AOS Bulletin Vol 85 #3 2016 as Maxillaria aromatica drawing fide; AOS Bulletin Vol 86 #1 2017 drawing fide; AOS Bulletin Vol 86 #6 2017 photo fide; AOS Bulletin Vol 86 # 11 2017 photo fide; Orchid Genera and Species in Guatemala Archila, Szlachchetko, Chiron, Lipinska, Mystkowska and Bertolini 2018 as Selbyana aromatica; Orchid Digest Vol 83 #3 2019 photo fide;
--------------------------------------------------------------------------------------------------------------------------
-------------------------------------------------------------------------------------------------------------------------------