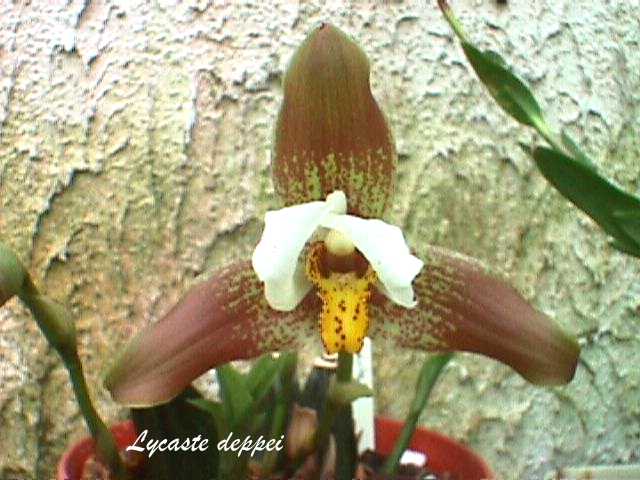 Lycaste deppei [Lodd.]Lindley 1843 SECTION Lycaste
Photo by © Jean Claude George.
Photo by © Jay Pfahl.
Photo by © Weyman Bussey.



to

LATE

Common Name Deppe's Lycaste [English Orchid Collector in Mexico 1800's]
Flower Size to 4 1/2" [to 11.5 cm]
Found in Tamaulipas, Puebla, Vera Cruz, Oaxaca and Chiapas states of Mexico, Guatemala, El Salvador, Honduras and Nicaragua on trees and rocks in humid montnae forests at elevations of 1100 to 1700 meters and is a small to medium sized, cold to warm growing epiphyte or a lithophyte with ovoid, compressed pseudobulbs enveloped basally by scarious sheaths carrying several apical, elliptic-lanceolate, plicate, deciduous, acuminate leaves that when fallen leave a few sharp spines. They have very fragrant, peppermint scented flowers in the spring on a erect, several at once, to 6" [15 cm] long, single flowered inflorescence with scarious sheaths and appear as the new growths arise and they are sometimes deciduous, so as the leaves brown to fall off they should be kept cooler and dry until the new growths arise in the spring.
Synonyms Deppia mexicana Raf. 1836; Lycaste deppei var. major Stein 1892; Lycaste deppei var. pallida Stein 1892; Lycaste deppei var praestans Linden 1898; Lycaste deppei var rosea Oakley 2008; Lycaste deppei var viridis Oakley 2008; Lycaste leiantha Beer 1854; *Maxillaria deppei Lodd. 1833; Maxillaria leiantha Beer ?
References W3 Tropicos, Kew Monocot list , IPNI ; Die Orchideen Schlechter 1915; Atlas des Orchidees Cultivees Constantin 1920 as L deppei var punctatissima drawing fide; AOS Bulletin Vol 30 No 9 1961; Encyclopedia of Cultivated Orchids Hawkes 1965; AOS Bulletin Vol 36 #4 1967; The Genus Lycaste Fowlie 1970; Las Orquedias De El Salvador Vol 2 Hamer 1974 drawing fide/photo hmm; AOS Bulletin Vol 48 No 5 1979; Orquídea (Mexico City), n.s., 7[3]: 1979; Las Orquedias de El Salvador Vol 3 Hamer 1981 drawing ok; AOS Bulletin Vol 52 No 9 1983 photo fide; Icones Planetarum Tropicarum plate 1031 Dodson 1984 drawing ok; An Introdution to the Orchids of Mexico Wiard 1987 photo fide Selbyana Vol 10 Orchids of Central America Hamer 1988 drawing ok; AOS Bulletin Vol 60 No 3 1991 photo fide; The Manual Of Cultivated Orchid Species Bechtel, Cribb & Launert 1992 photo fide; Phylogeny and Classification of the Orchid Family Dressler 1993 photo fide; Rudolf Schlechter Die Orchideen lieferung 29 1777 - 1840 Brieger 1994 photo fide; AOS Bulletin Vol 67 No 12 1998 photo; Guatemala Y Sus Orquideas Behar & Tinschert 1998 photo fide; Algunas Orquideas de Oaxaca Suarez 2004 photo fide; Orquideologia Vol 24 #2 2006 photo fide; Orchid Digest Vol 71 #4 2007 photo fide; Lycaste, Ida and Anguloa The Essential Guide Oakley 2008; Icones Orchidacearum fascile 10 plate 1041 Hagsater & Soto 2008 drawing fide; Guia de Orquideas de Chiapas Carlos Rommel Beutelspacher Baigts 2013 photo fide; Algunas Orquideas de Mexico Tomo 1 Suarez 2013 photo fide; Orchid Digest Vol 78 #4 2014 photo fide; Orchid Digest Vol 80 #2 2016 photo fide; Orchid Digest Vol 80 #2 2016; AOS Bulletin Vol 87 #1 2018 as Maxillaria deppie drawing fide; Orchid Genera and Species in Guatemala Archila, Szlachchetko, Chiron, Lipinska, Mystkowska and Bertolini 2018; Orchid Genera and Species in Guatemala Archila, Szlachchetko, Chiron, Lipinska, Mystkowska and Bertolini 2018 as L deppei var viridis Orchids, A Colombian Treasure Vol 3 Ortiz & Uribe 2019 photo fide
--------------------------------------------------------------------------------------
-----------------------------------------------------------------------------------