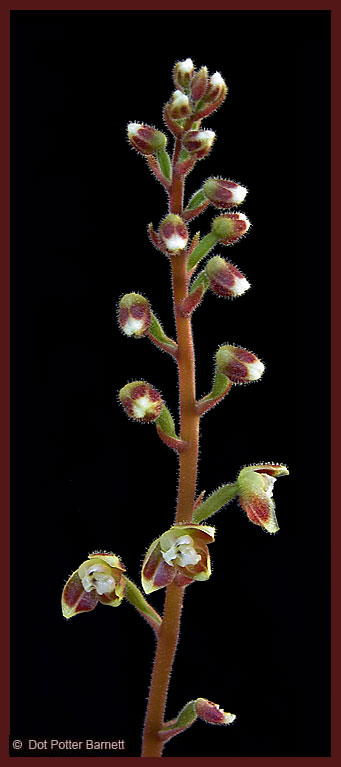 !Macodes petola [Bl.] Lindl. 1840
Photo courtesy of Dot Potter Barnett
Photo by © Jay Pfahl
Flower from Iriomote Island in Japan
Leaf from Iriomote Island in Japan
Photos by © Natsui


to


Common Name The Petiole Macodes
Flower Size 2/5" [1 cm]
The flower photos have been Ided as Macodes petola var javanicum according to the Cincinnati judging center of the AOS.
Found from Borneo, Java, Malaysia, Sumatra, the Phillipines and the Iriomote Islands of Japan in lowland and lower montane forests at elevations of 100 to 1500 meters as an evergreen, small sized, warm to hot growing terrestrial with a fleshy creeping rhizome carrying to 8, spiralling in a loose whorl, elliptic to ovate, acute, fleshy, hairy appearing as velvet, dark bottle green with 5 longitudinal and many reticulate veins of gold leaves that are purple green underneath and having a clasped at the base, grooved petiole. The plant blooms with small, insignificant, non-resupinate flowers on an erect, terminal, to 8" [to 20 cm] long, inflorescence.
In Java a juice is made from the plant and then dripped into the eyes with the thought to increase proficiency in the art of writing.
Synonyms Anoectochilus petola (Blume) Hereman 1868; Anoectochilus veitchianus Blume 1859; Anoectochilus veitchii B.S.Williams 1862; Argyrorchis javanica Blume 1859; Haemaria argyroneura Miq. 1864; Macodes argyroneura (Miq.) Rolfe 1896; Macodes javanica (Blume) Hook.f. 1889; Macodes petola var argenteo-reticulata J.J.Sm. 1905; Macodes petola var. cuprea Rob. 1864; Macodes petola var. latifolia Rob. 1864; Macodes petola var robusta J.J.Sm. 1905; Macodes petola var. superba Rob. 1864; Macodes petola var. velutina Rob. 1864; Macodes robusta J.J.Sm. 1921; Macodes veitchii Boxall 1880; Macodes xanthophyllus Boxall 1880; *Neottia petola Bl 1825; Rhomboda confusa Ormerod 1995; Spiranthes petola (Blume) Hassk. 1844
References W3 Tropicos, Kew Monocot list , IPNI ; Xenia Orchidaceae Rchb.f 1854 drawing fide; Bonplandia Rchb.f 1857; Die Orchideen Von Java J.J.Smith 1905; Die Orchideen Von Java Figuren Atlas J.J.Smith 1908 drawing fide; Die Orchideen Schlechter 1915; Die Orchideen Schlechter 1915 as M petola var argento-reticulata; Die Orchideen Schlechter 1915 as M petola var robusta; Atlas des Orchidees Cultivees Constantin 1920 as M javanica drawing ok; AOS Bulletin Vol 28 No 4 1958=9; Encyclopedia of Cultivated Orchids Hawkes 1965 photo fide leaf only; Encyclopedia of Cultivated Orchids Hawkes 1965 as M petola var javanica; Encyclopedia of Cultivated Orchids Hawkes 1965 as M petola var robusta; Die Orchideen 3 Auflage Bd 1 Sonderabdruck aus Schlechter Lieferung 5 257 - 320 Brieger, Maatsch and Senghas 1974; Orchid Digest Vol 38 No 1 1974 photo plant only; Orchid Digest Vol 38 no 5 1974 photo plant only; AOS Bulletin Vol 47 No 6 1978; Orchid Digest Vol 48 No 4 1984 photo fide; Orchidiana Philipiniana Vol 1 Valmayor 1984; Orchid Digest Vol 49 No 2 1985 photo fide plant only; Orchids of Java Comber 1990; The Orchids of Penninsular Mayasia and Singapore Seidenfaden & Wood 1992 drawing fide; The Manual Of Cultivated Orchid Species Bechtel, Cribb & Launert 1992 leaf only photo fide; The Plants of Mount Kinabalu Vol 2 Orchids Beaman, Wood, Beaman & Beaman 1993 photo plant only fide; AOS Bulletin No 63 No 12 1994 photo plant only; A Checklist of the Orchids of Borneo Wood & Cribb 1994; Orchid Digest Vol 65 #1 2001 photo fide; Orchids of Sumatra Comber 2001; Orchids of Sarawak Beaman, Wood & Beaman etal 2001; A to Z of South East Asian Orchid Species Vol 1 O'Byrne 2001 photo fide; Flora Malesiana Orchids of the Philippines Vol I Agoo, Shuiteman and de Vogel 2003; Orchids of Vietnam, Illustrated survey, part 1 Averyanov 2008; AOS Bulletin Vol 78 No 1 2009 photo fide; Mille et Une Mini Orchideees Roguenant 2009 photo fide; AOS Bulletin Vol 79 #1 2010 photo fide; The Orchids of Mount Kinabalu Vol 2 Wood, Beaman, Lamb, Chu Lun and Beaman 2011 drawing hmm/photo fide; Wild Orchids of Penninsular Malaysia Ong, O'Byrne, Yong & Saw 2011 photo fide; Flora Of Thailand Orchidaceae Vol 12 Part 1 Pedersen, Kurzweil, Suddee & Cribb 2011 drawing fide
--------------------------------------------------------------------------------------------------------------------------