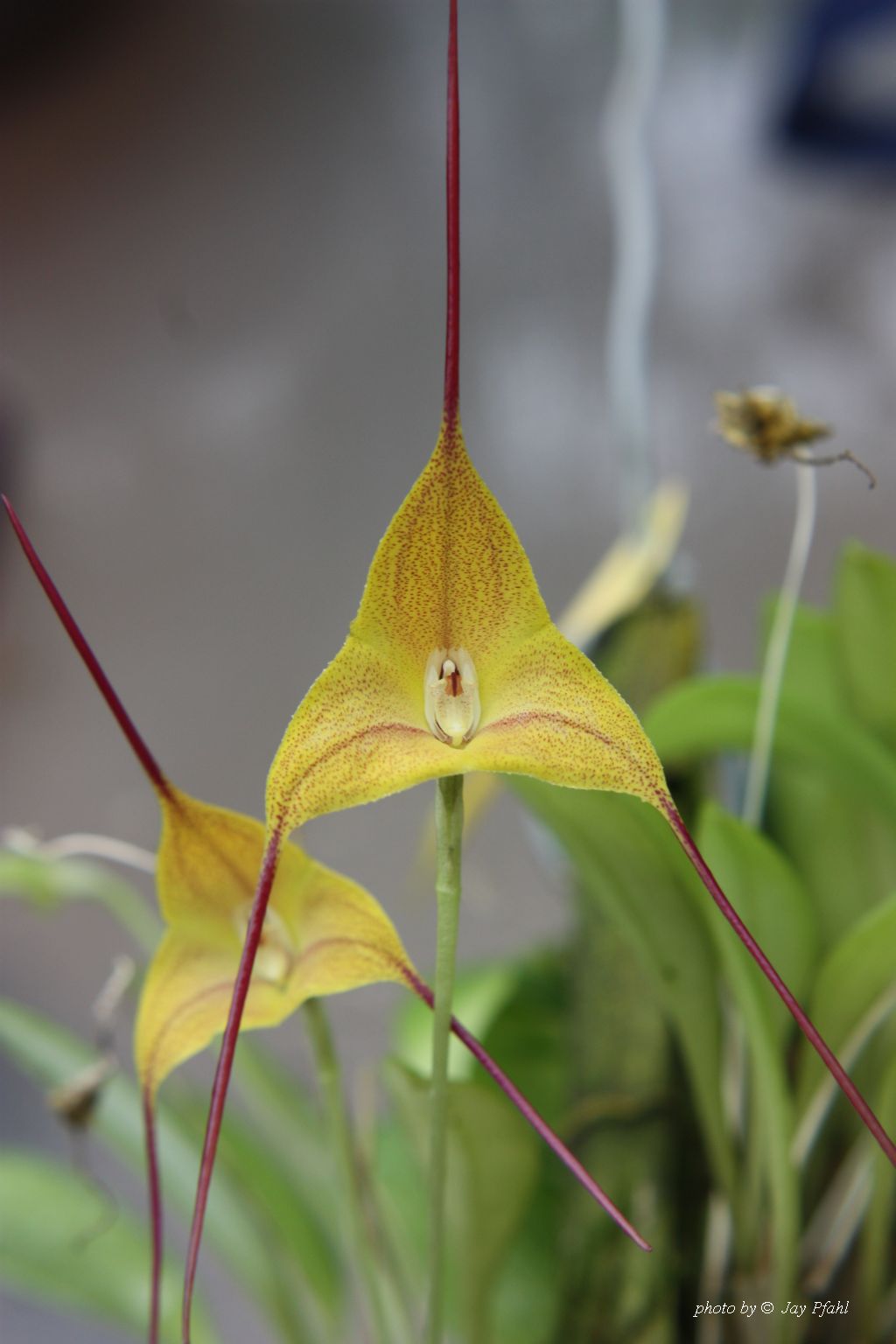 Masdevallia triangularis Lindley 1846 SUBGENUS Masdevallia SECTION Masdevallia SUBSECTION Caudatae Veitch 1889
Photo by © Jay Pfahl
Photo by © Lourens Grobler



to


and

Common Name The Three-Edged Masdevallia
Flower Size to almost 5" [to almost 17.5 cm]
Found in Colombia, Ecuador, Peru and Venezuela in mist forests at elevations of 750 to 2300 meters as a medium to small sized, mini-miniature sized, warm to cold growing, tufted epiphytic plant with a slender, erect, blackish ramicaul enveloped basally by 2 to 3 tubular sheaths carrying a single, apical, 6" [15 cm] long, obovate, erect or suberect, coriaceous, and their margins tend to furl toward the long petiolate base leaf that blooms in the summer and fall on an erect, slender, erect, to 6" [15 cm] long inflorescence arising from low on the ramicaul with a brown spotted bract near the base and a tubular floral bract and carrying a single fragrant, musty, repugnant smelling flower held well above the leaves.
This species likes an airy, humid, well watered environment.
This species can be confused with M. instar but differs in having an obovate labellum lamina, of which the widest portion is just below the apical lobule which has a denticulate-tuberculate margin and surface.
Synonyms
References W3 Tropicos, Kew Monocot list , IPNI ; Bonplandia Rchb.f 1854; Atlas des Orchidees Cultivees Constantin 1920 drawing good; Beitrage Zur Orchideenkunde Von Colombia 27:24 Schlechter 1924 as M maculigera; Venezuelan Orchids Illustrated Vol 1 Dunsterville & Garay 1959 drawing fide; AOS Bulletin Vol 30 No 5 1961; AOS Bulletin Vol 33 No 2 1964 photo fide; Encyclopedia of Cultivated Orchids Hawkes 1965; AOS Bulletin Vol 36 #9 1967; Flora de Venezuela Foldats Volumen XV Part 3 1970 drawing ok; Orchids of Venezuela, An Illustrated Field Guide Vol 2 Dunsterville & Garay 1979 drawing fide; AOS Bulletin Vol 53 #12 1984 photo fide; Systematics of Masdevallia Vol 2 Luer 1986; AOS Bulletin Vol 56 # 11 1987 drawing fide; Venezuelan Orchids Dunsterville 1987 drawing/photo fide; Orchids Travel By Air A Pictoral Safari Mulder, Mulder-Roelfsema and Schuiteman 1990 photo fide; The Manual Of Cultivated Orchid Species Bechtel, Cribb & Launert 1992 photo fide; Venezuela, Paraiso de Orquideas Romero 1997 photo fide; Orchid Australia Vol 11 No 2 1999 photo; Orchid Australia Vol 11 No 6 1999 photo; Orchids of Venezuela [An illustrated field guide] Vol. 2 Ramiro and Carnevali 2000 drawing fide; Masdevallia's in Kleur Vol 1 P M Oversteegen, Eisses & A P Sijm 2001 photo fide; Icones Pleurothallidinarum XXIII Systematics of Masdevallia Part 4 Luer 2002 drwaing fide; Native Ecuadorian Orchids Vol 3 Dodson 2002 drawing fide; Orquideas Nativas del Tachira Cesar Fernandez 2003 photo fide; Libro Rojo de Plantas De Colombia Vol 6 Primera Parte Saenz 2007; Orchid Digest Vol 72 No 4 2008 photo fide; Orchid Species of Peru Zelenko Bermudez 2009 photo fide; Orchidaceae Masdevallia and Affiliates Dodson & Luer 2009 drawing fide; Orchids Masdevallia with its segregates including Dracula Zelenko 2014 photo fide; Orchid Digest Vol 80 #2 2016;
--------------------------------------------------------------------------------------------------------------------------
---------------------------------------------------------------------------------------------------------------------------