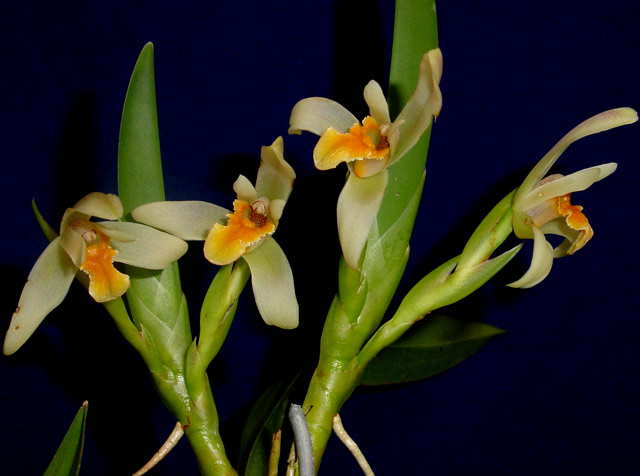 Maxillaria alpestris Lindley 1845 sect. Trigonae Christenson 2013 TYPE for the sect.
Photo by © Ecuagenera Orchid Website
Photo by © Carlos Hajek


To





Common Name The Alpine Maxillaria
Flower Size 3/8" [1 cm]
Found in Colombia, Ecuador, Peru, Bolivia and Venezuela within wet montane forests at elevations of 900 to 3000 meters as a small sized, warm to cold growing, caespitose, creeping, unifoliate epiphyte as well as a lithophyte with an elongate, creeping, sheathed rhizome giving rise to widely separated, ovate, flattened, rugose pseudobulbs subtended by several, imbricating, distichous, scarious sheaths and carrying a single apical, narrowly elliptic, coriaceous, obtuse apex, gradually narrowing into the conduplicate, clasping base leaf that can bloom at most any time of the year on several from one pseudobulb, erect, basal, .8" [2 cm] long, single flowered inflorescence arising on a newly arising pseudobulb and enveloped by distichous sheaths and carrying solitary flowers held at leaf height.
Synonyms Maxillaria baumanniana Schltr. 1920; Maxillaria chlorochila F. Lehm. & Kraenzl. 1899; Maxillaria compressibulba Schltr. 1929; Sauvetrea alpestris (Lindl.) Szlach. 2007 publ. 2006; Sauvetrea baumanniana (Schltr.) Szlach. & Sitko 2012; Sauvetrea chlorochila (F.Lehm. & Kraenzl.) M.A.Blanco 2013
References W3 Tropicos, Kew Monocot list , IPNI ; Die Orchideen der Sudamerikanischen Kordillerenstaaten II Colombia Schlechter 1920 as M baumanniana; Die Orchideen der Sudamerikanischen Kordillerenstaaten III Ecuador Schlechter 1921 as M xantholeuca; Venezuelan Orchids Vol 3 Dunsterville & Garay 1965 drawing fide; Flora de Venezuela Volumen 15 Parte 4 Foldats 1970 drawing hmm; Fieldiana Biology, Vol 33, 1st Supple. to the Orchids of Peru Schweinfurth 1970; Orchids of Venezuela An Illustrated Field Guide Vol 2 Dunsterville & Garay 1979 drawing fide; Icones Planetarum Tropicarum plate 551 Dodson 1982 drawing ok; Icones Planetarum Tropicarum Series II Orchids of Peru Plate 0104 Dodson & Bennett 1989; Icones Planetarum Tropicarum Series II plate 530 Dodson 1989 drawing; Orchids Travel By Air A Pictoral Safari Mulder, Mulder-Roelfsema and Schuiteman 1990 photo fide; Native Colombian Orchids Vol 3 COS 1991 photo photo fide; Orquídea (Méx.) 13(1-2): 301-308.1993; Die Orchideen Band 1B lieferung 28 1713 - 1776 Brieger 1993; Orchids of Venezuela [An illustrated field guide] Vol. 2 Ramiro and Carnevali 2000 drawing fide; Native Ecuadorian Orchids Vol 3 Dodson 2002 photo fide; Flora of the Venezuelan Guayana Vol 7 Steyermark, Berry, Yatskievych and Holst 2003 drawing ok; Orchid Species of Peru Zelenko Bermudez 2009 pg 229 photo not; Orchid Species of Peru Zelenko Bermudez 2009 pg 232 photo not; Orquideas del Peru Freuler 2010 photo fide; AOS Bulletin Vol 80 #2 2011 as Sauvetrea aff alpestris photo fide; Las Orquideas del Peru Bezverhov 2011 photo fide
----------------------------------------------------------------------------------------------------------
-------------------------------------------------------------------------------------------------------------------