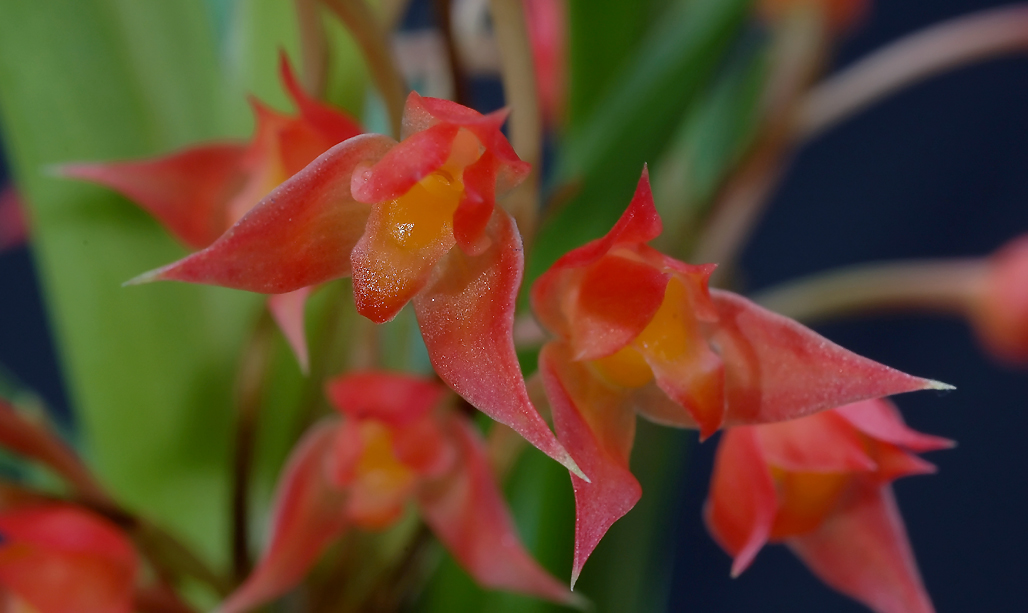 Maxillaria coccinea [Jacq.] L.O.Williams 1954 sect. Ornithidium [Salisb.] Christenson 2013 TYPE for the sect.
Photo by © Pieter C. Brouwer and his Nature Photo Website
Flower Closeup <> Photo courtesy of Andy's Orchids Copyright © 2002 All rights reserved.



and

Common Name The Scarlet Maxillaria
Flower Size less than 1" [less than 2.5 cm]
Found in the Dominican Republic, Leewards, Puerto Rico, Trinidad & Tobago, Windwards, Venezuela, Colombia and Brazil in primary forests at elevations of 500 to 1000 meters as a medium sized, warm growing solitary leafed epiphytic species with a rhizome enveloped by scarious, overlapping, papery sheaths with ovoid, compressed pseudobulbs carrying a single, apical, linear-oblong, acute or obtuse, conduplicate towards the base leaf that blooms in the spring and summer on a fascicle of wiry, 2 1/2" [6.5 cm] long, single flowered, lateral to descending inflorescence that arise from the base of the leaves.
Synonyms Camaridium coccineum [Jacq.]Hoehne 1947; Cymbidium coccineum [Jacq.] Willd. 1799; *Epidendrum coccineum Jacq. 1760; Helleborine coccinea multiflora Plum 1703; Ornithidium acaule Hoffmsg. 1843; Ornithidium coccineum [Jacq.] Salisb. 1812
References W3 Tropicos, Kew Monocot list , IPNI ; Symbolae Antillanae Vol VI Orchidaceae Urban 1909 as Ornithidium coccinium; Die Orchideen Schlechter 1915 as Ornithidium coccinium; Flore Descriptive des Antilles Francaises H. Stehle 1939 as Ornithidium coccineum drawing good; Flora Brasilica Vol XII VII 115-147 Hoehne 1953 as Camaridium coccineum drawing ok; Native Orchids of Trinidad Schultes 1960; Encyclopedia of Cultivated Orchids Hawkes 1965; Flora de Venezuela Foldats Volumen XV Part 4 1970 drawing good; Flora of the Lesser Antilles Garay & Sweet 1974; AOS Bulletin Vol 61 No 10 1992 photo fide; Rudolf Schlechter Die Orchideen Band 1B lieferung 28 1713 - 1776 Brieger 1993 as Ornithidium cocineum drawing fide/photo ok; An Orchid Flora Of Puerto Rico and the Virgin Islands Ackerman 1995 drawing fide; AOS Bulletin Vol 78 No 2 2009 photo fide as Ornithidium coccineum; AOS Bulletin Vol 84 #4 2015 as Ornithidium coccineum photo fide; AOS Bulletin Vol 85 #3 2016 as Cymbidium coccineaum drawing fide; AOS Bulletin Vol 86 #2 2017 photo fide;
--------------------------------------------------------------------------------------------------------------------------