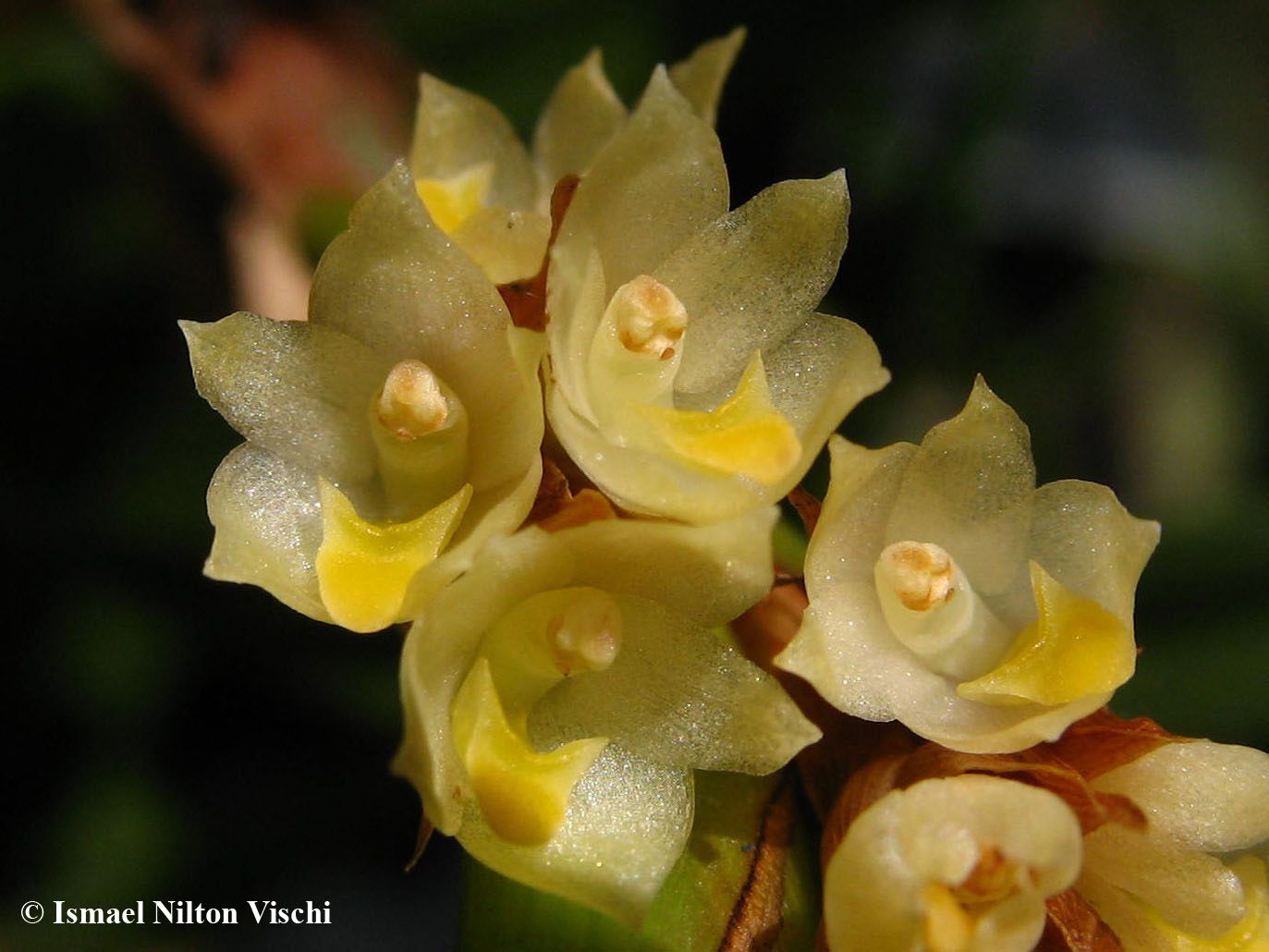 Maxillaria parviflora (Poepp. & Endl.) Garay 1967 sect. Pseudomaxillaria [Hoehne] Christenson 2013 TYPE for the sect.
Photo by Ismael Nilton Vischi
Photos by Dalton Holland Baptista
Photo by Jay Pfahl ©
Plant In situ Dominican Republic
Photo by © Linda & Mikael Karlbom, Sweden


To





Common Name The Small-Flowered Maxillaria
Flower Size less than 1/2" [less than 1.2cm]
Found as a small sized, ascending or creeping, cool to hot growing epiphyte in Florida, the West Indies, Trinidad, Mexico, Guatemala, Belize, Honduras, Venezuela, Colombia, Peru, Brazil and the Guyanas in elfin or wet montane forests at elevations of sealevel to 1400 meters with a complanate, elongate rhizome completely enveloped by distichous, imbricating, scarious bracts with well spaced ovate-elliptic, compressed pseudobulbs subtended by a pair of scarious, non foliaceous sheaths and carrying a single, apical, oblong-lanceolate, abruptly attenuate to conduplicate, petiolate base, acute leaf that blooms at any time of the year on a fascicle of filiform, axillary inflorescence arising from the base of the mature pseudobulb as the new shoots arise and holding the clustered flowers close to the pseudobulb.
This species is often found in conjunction with ants and may benefit from their presence.
Synonyms Auliza vestita (Sw.) Acuña 1939; Camaridium micranthum M.A.Blanco 2007; Camaridium purpureum Spreng. 1826; Camaridium purpureum var parviflorum {poepp & endl.] Hoehne 1953; Camaridium vestitum Lindl. 1858; Chelyella purpurea Szlach. & Sitko 2012; Cymbidium vestitum (Sw.) Sw. 1799; Epidendrum vestitum Sw. 1788; Maxillaria conferta (Griseb.) C. Schweinf. ex León 1946; Maxillaria exigua Regel 1855; Maxillaria purpurea (Spreng.) Ames & Correll 1943; Maxillaria purpurea var. parviflora (Poepp. & Endl.) C. Schweinf. 1945; Maxillaria purpurea var. purpurea 1945; Maxillaria simulans Ames & C. Schweinf. 1930; Maxillaria surinamensis Focke ex Rchb. f. 1863; Maxillaria vestita (Sw.) A.Lemée in ?.; Ornithidium chloroleucum Barb. Rodr. 1882; Ornithidium confertum Griseb. 1866; Ornithidium parviflorum (Poepp. & Endl.) Rchb. f. 1854; Ornithidium rhomboglossum Schltr. 1929; Ornithidium simulans Ames & C. Schweinf. 1930; Ornithidium vestitum [Sw] Rchb.f 1863; Ornithidium virescens Schltr. 1924; Pseudomaxillaria chloroleuca (Barb. Rodr.) Hoehne 1947; Pseudomaxillaria conferta (Griseb.) Szlach. & Sitko 2012; Pseudomaxillaria exigua (Regel) Szlach. & Sitko 2012; Pseudomaxillaria parviflora (Poepp. & Endl.) Brieger 1977; Pseudomaxillaria rhomboglossa (Schltr.) Brieger 1977; Pseudomaxillaria vestita (Sw.) Brieger 1977; *Scaphyglottis parviflora Poepp. & Endl. 1836
References W3 Tropicos, Kew Monocot list , IPNI ; Bonplandia Rchb.f 1854 as Ornithidium parviflorum; Bonplandia Rchb.f 1854 as Ornithidium parviflorum; Symbolae Antillanae Vol VI Orchidaceae Urban 1909 as Ornithidium vestitum; Symbolae Antillanae Vol VI Orchidaceae Urban 1909 as Ornithidium confertum; Flora of Jamaica Fawcett & Rendle 1910 as Ornithidium vestitum drawing ok; Flora Brasilica Vol XII VII 115-147 Hoehne 1953 as Camaridium purpureum; Flora Brasilica Vol XII VII 115-147 Hoehne 1953 as Camaridium purpureum var parviflorum; Flora Brasilica Vol XII VII 115-147 Hoehne 1953 as Pseudomaxillaria chloroleuca drawing ok; AOS Bulletin Vol 26 No 10 1957 as M conferta photo ok; Venezuelan Orchids Illustrated Vol 1 Dunsterville & Garay 1959 as M purpurea drawing good; Native Orchids of Trinidad Schultes 1960 as M conferta; Encyclopedia of Cultivated Orchids Hawkes 1965 as M vestita; Encyclopedia of Cultivated Orchids Hawkes 1965 as Pseudomaxillaria chloroleuca; AOS Bulletin Vol 36 #9 1967 as M purpurea; Flora de Venezuela Foldats Volumen XV Part 4 1970 as M purpurea ok; Fieldiana Biology, Vol 33, 1st Supple. to the Orchids of Peru Schweinfurth 1970; Flora of the Lesser Antilles Garay & Sweet 1974 as M conferta drawing fide; Orchids of Venezuela, An Illustrated Field Guide Vol 2 Dunsterville & Garay 1979 as M conferta drawing ok; Icones Planetarum Tropicarum plate 149 Dodson 1980 as Maxillaria conferta drawing fide; The Orchids of Surinam Werkhoven 1986 as M conferta photo fide; Orquideologia Vol 17 #3 1988 as M conferta subgen Ornithidium; Icones Orchidacearum Peruviarum Plate 111 Bennett & Christenson 1993 drawing fide; Rudolf Schlechter Die Orchideen Band 1B lieferung 28 1713 - 1776 Brieger 1993 as Ornithidium confertum drawing/photo fide; An Orchid Flora Of Puerto Rico and the Virgin Islands Ackerman 1995; Native Colombian Orchids Vol 6 COS 1998 as M conferta photo fide; Fieldiana Biology, Flora Costa Ricensis Family # 39 Orchidaceae, subtribes Maxillariinae and Oncidiinae Atwood & Mora 1999 drawing ok; Orchids of Venezuela [An illustrated field guide] Vol. 2 Ramiro and Carnevali 2000 drawing ok; Native Ecuadorian Orchids Vol 3 Dodson 2002 Drawing fide; Flora of the Venezuelan Guayana Vol 7 Steyermark, Berry, Yatskievych and Holst 2003 as M conferta; AOS Bulletin Vol 73 No 8 2004; AOS Bulletin Vol 75 No 11 2006 photo fide; Orquideas Nativas del Tachira Cesar Fernandez 2003 as M conferta photo fide; Orquideas de la Serrania del Baudo Misas Urreta 2006 as M conferta drawing/photo fide; AOS Bulletin Vol 10 2008 as Camaridium micranthum photo fide; Orchid Digest Vol 73 #3 2009; Orquideología Vol 26 #2 2009 as M conferta photo fide; Orchids of Costa Rica Vol 4 Morales 2009 as Camaridium micranthum photo fide; Las Orquideas del Peru Bezverhov 2011 photo fide; Orquideas de Roirama Luz & Franco 2012 as Camaridium parviflorum photo fide; Algunas Orquideas de Mexico Tomo 1 Suarez 2013 photo fide; Orchid Flora of the Greater Antilles Ackerman 2014 as Camaridium micranthum drawing fide; Orchid Genera and Species in Guatemala Archila, Szlachchetko, Chiron, Lipinska, Mystkowska and Bertolini 2018 as Ornithidium parviflorum; AOS Bulletin Vol 89 #2 2020 photo fide; Orquideas de Farallones de Cali Galindo-Tarazona, Haelterman, Zuluaga Trochez and Sebastian Moreno 2020 as Camaridium vestitum photo fide
--------------------------------------------------------------------------------------------------------------------------