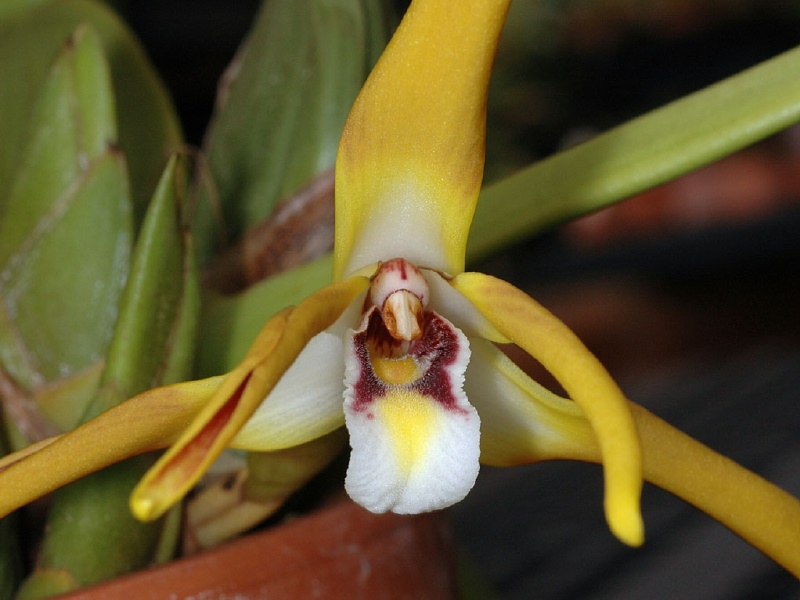 Maxillaria setigera Lindl. 1845 sect. Aggregatae Pfitz 1889 TYPE for sect.
Lip Detail Showing Bristles Photo by Eric Hunt



To

Common Name The Bristle Carrying Maxillaria [refers to the lip]
Flower Size 2.4" [6 cm]
Found in Colombia, Venezuela, Guyana, Surinam, Ecuador? and Peru in rainforests and in shrubby locations at elevations of 40 to 670 meters as a medium sized, hot to warm growing epiphyte with close set, pyriform, smooth pseudobulbs carrying a single apical, erect, coriaceous, rigid, narrowly linear, gradually narrowing below into the elongate, petiolate base leaf that blooms on several, basal, erect, 3" [7.5 cm] long, single flowered inflorescence arising on a mature pseudobulb and enveloped by a few, imbricate, tubular acuminate bracts and carries a large, fragrant flower.
Synonyms Maxillaria robusta Barb.Rodr. 1882;
References W3 Tropicos, Kew Monocot list , IPNI ; Die Orchideen Schlechter 1915; Flora Brasilica Vol XII VII 115-147 Hoehne 1953 drawing good; Venezuelan Orchids Vol 3 Dunsterville & Garay 1965 drawing fide; Encyclopedia of Cultivated Orchids Hawkes 1965; Flora de Venezuela Volumen XV Part 4 Foldats 1970 drawing fide; Orchidaceae Brasilenses Band 2 Pabst & Dungs 1977 drawing fide; Orchids of Venezuela, An Illustrated Field Guide Vol 2 Dunsterville & Garay 1979 drawing fide; Orchids of Venezuela Dunsterville 1987 drawing/photo fide; Orquideologia Vol 17 #3 1988 as subgen Camaridium; Native Colombian Orchids Vol 3 COS 1991 as #371 M luteo alba Photo fide; Icones Orchidacearum Peruviarum Plate 114 Bennett & Christenson 1993 drawing fide; Rudolf Schlechter Die Orchideen Band 1B lieferung 28 1713 - 1776 Brieger 1993; Native Colombian Orchids Vol 6 COS 1998 errata M luteoalba = M leptosepala = M setigera; Orchids of Venezuela [An illustrated field guide] Vol. 2 Ramiro and Carnevali 2000 drawing fide; Orquideas Nativas del Tachira Cesar Fernandez 2003 photo fide; Flora of the Venezuelan Guayana Vol 7 Steyermark, Berry, Yatskievych and Holst 2003 drawing ok; Orquideologia Vol. 23 No 1 2004 as M leptosepala; Orquideas de la Serrania del Baudo Misas Urreta 2006 as M leptosepala drawing/photo maybe; Orquideas de la Serrania del Baudo Misas Urreta 2006 drawing/photo maybe; Orchid Species of Peru Zelenko Bermudez 2009 photo
--------------------------------------------------------------------------------------------------------------------------