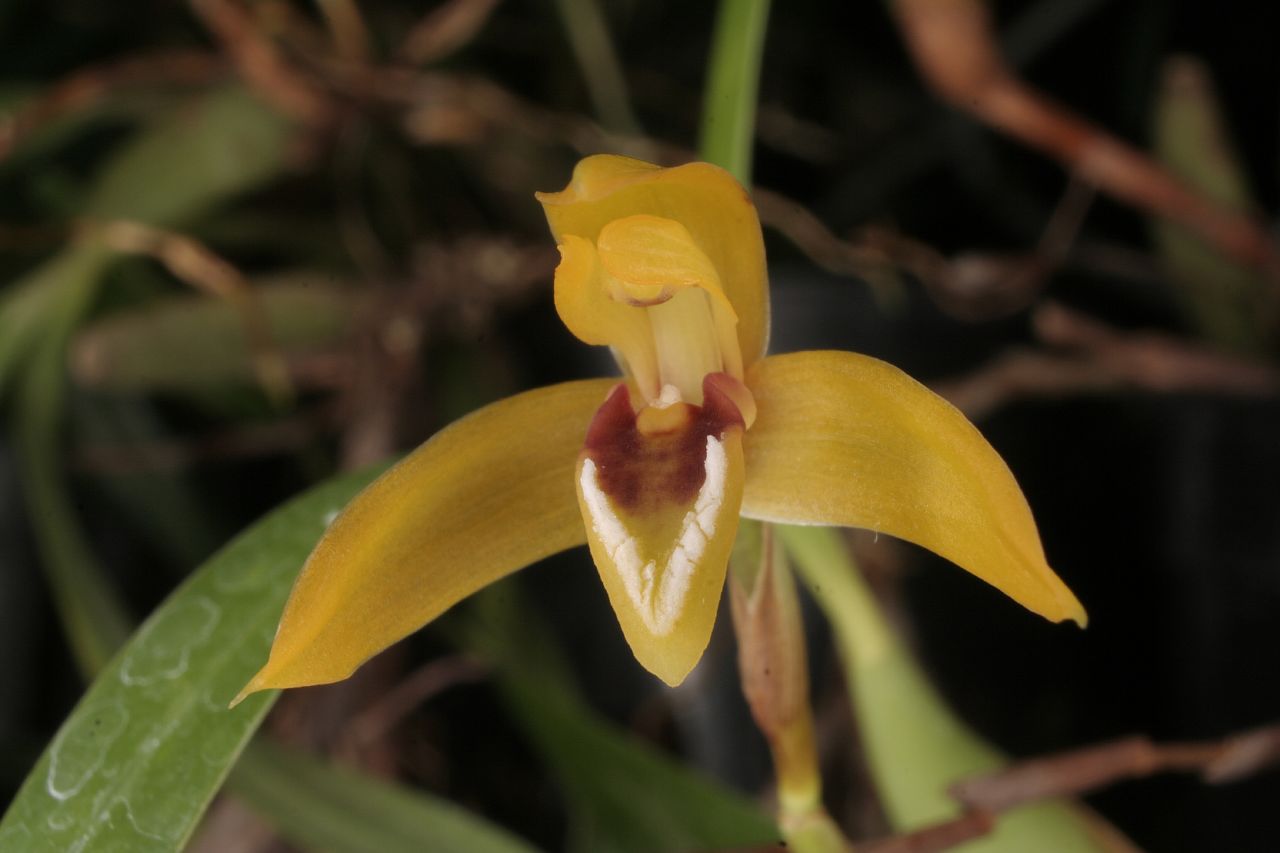 Maxillaria notylioglossa Rchb. f. 1854 Subgen Camaridium Photo by © Lourens Grobler
Plant in situ in Peru Photo by © Eric Hunt






Common Name The Notylia-Like Lip Maxillaria
Flower Size 3/8 to 3/4" [1.5 to 2cm]
Found in Colombia, Brazil, Ecuador, Peru, Bolivia and Venezuela in wet montane forests at elevations of 1000 to 2000 meters as a small sized, cool growing, scrambling epiphyte with the rhizome completely enveloped by imbricate, scarious bracts with remote, ovoid-ellipsoid, complanate pseudobulbs subtended by several small scarious sheaths and carrying 2 apical, ligulate, emarginate, conduplicate at the subpetiolate base leaves that blooms in the winter, spring and summer on an erect, basal, 1.5" to 2" [3.5 to 5 cm] long, single flowered inflorescence with the peduncle concealed by overlapping, imbricating, compressed bracts and the floral bract larger and longer than the ovary, holding the fragrant flowers at mid leaf height and arising on a mature pseudobulb as the new growths appear usually in the spring.
Best grown in a basket or suspended pot to accomodate the scrambling growth and given warm to cool temperatures, moderate shade and year round moisture.
The v shaped, white callus on the margin of the lip is a very good diagnostic for this species.
Synonyms Maxillaria cerifera Barb. Rodr. 1877; Maxillaria divaricata var. parvifolia Cogn.1907; Maxillaria fallax Schltr. 1929; Maxillaria flavoviridis Barb.Rodr. 1877; Maxillaria meirax Rchb.f. & Warm. 1881; Maxillaria nervosa Rolfe ex Britton 1895; Ornithidium ceriferum (Barb.Rodr.) Barb.Rodr.1882; Ornithidium divaricatum Barb. Rodr. 1882; Ornithidium flavoviridium (Barb.Rodr.) Barb.Rodr. 1881; Rhetinantha cerifera (Barb.Rodr.) M.A.Blanco 2007; Rhetinantha divaricata (Barb.Rodr.) M.A.Blanco 2007; Rhetinantha fallax (Schltr.) Szlach. & Sitko 2012; Rhetinantha notylioglossa (Rchb. f.) M.A. Blanco 2007
References W3 Tropicos, Kew Monocot list , IPNI ; *Bonplandia Rchb.f 1854; Xenia Orchidaceae Rchb.f 1854 drawing; Otia Botanica Hamburgensia Rchb.f 1881 as M meirax; Flora Brasilica Vol XII VII 115-147 Hoehne 1953 as M cerifera drawing fide; Flora Brasilica Vol XII VII 115-147 Hoehne 1953 as M meirax drawing fide; Flora Brasilica Vol XII VII 115-147 Hoehne 1953 as M flavoviridis drawing fide; Venezuelan Orchids Illustrated Vol 1 Dunsterville & Garay 1959 drawing fide; Encyclopedia of Cultivated Orchids Hawkes 1965; AOS Bulletin Vol 36 #9 1967; Flora de Venezuela Volumen XV Part 4 Foldats 1970 drawing good; Fieldiana Biology, Vol 33, 1st Supple. to the Orchids of Peru Schweinfurth 1970; Orchidaceae Brasilenses Band 2 Pabst & Dungs 1977 as M cerifera drawing fide; Orchidaceae Brasilenses Band 2 Pabst & Dungs 1977 drawing fide; Orchids of Venezuela, An Illustrated Field Guide Vol 2 Dunsterville & Garay 1979 drawing fide; Icones Planetarum Tropicarum plate 555 Dodson 1982 drawing fide; Orchids Travel By Air A Pictoral Safari Mulder, Mulder-Roelfsema and Schuiteman 1990 photo fide; Orchids of the High Mountain Atlantic Rainforest in SE Brazil Warren & Miller 1994 as M cerifera; Icones Orchidacearum Peruviarum Plate 314 Bennett & Christenson 1995 as Maxillaria divaricata drawing ok; Native Colombian Orchids Vol 3 COS 1991 photo fide; Die Orchideen Band 1B lieferung 28 1713 - 1776 Brieger 1993 as M cerifera photo fide; Die Orchideen Band 1B lieferung 28 1713 - 1776 Brieger 1993; Icones Orchidacearum Peruviarum Plate 320 Bennett & Christenson 1995 drawing fide; Orchids of Venezuela [An illustrated field guide] Vol. 2 Ramiro and Carnevali 2000 drawing fide; Native Ecuadorian Orchids Vol 3 Dodson 2002 photo fide; Orquideas Nativas del Tachira Cesar Fernandez 2003 photo fide; Flora of the Venezuelan Guayana Vol 7 Steyermark, Berry, Yatskievych and Holst 2003; Orquideas Da Chapada Diamantina Brito & Cribb 2005; Orchid Species of Peru Zelenko Bermudez 2009 photo fide; Las Orquideas del Peru Bezverhov 2011 photo fide; AOS Bulletin Vol 88 #8 2019 photo fide;
--------------------------------------------------------------------------------------------------------------------------
--------------------------------------------------------------------------------------------------------------