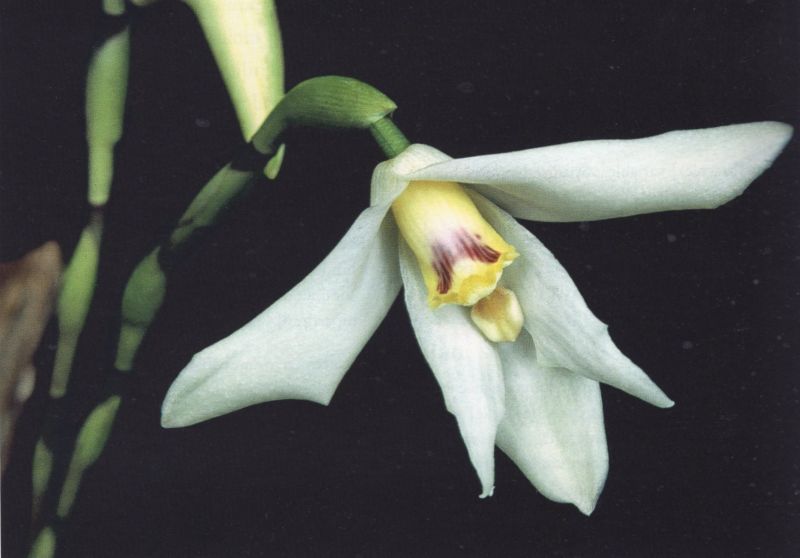 !Maxillaria platypetala Ruiz & Pav.1798 sect. Maxillaria Ruiz & Pavon TYPE for sect.
Photo by © Michael McIllmurray courtesy of Pascal Sauvetre




LATE

EARLY

Common Name or Meaning The Broad Petaled Maxillaria
Flower Size 3.2" [8 cm]
Found in Peru in wet cloud forests at elevations around 1950 to 2400 meters as a small to medium sized, cool to cold growing terrestrial and less commonly epiphyte with narrowly ovoid pseudobulbs enveloped basally by leafless sheaths and carrying a single, apical, erect, coriaceous, elliptic-lanceolate, acute, conduplicate below into the petiolate base leaf that blooms in the late spring and early summer on lateral, at the pseudobulb base, 2" [5 cm] long, single flowered inflorescence enveloped by several, conspicuous, imbricate, tubular, compressed bracts and has subsimilar, longer than the ovaries floral bracts and carries a single campanulate flower.
Synonyms Dendrobium platypetalum (Ruiz & Pav.) Pers.1807; Dendrobium polypetalum Steud. 1821; Maxillaria polypetala Steud. 1821
References W3 Tropicos, Kew Monocot list , IPNI ; Harvard Papers in Botany #11 52 De Nominus Orchidaceaearum Incunabulorum Garay 1997; Icones Orchidacearum Peruviarum Plate 701 Bennett & Christenson 2001 drawing fide; Native Ecuadorian Orchids Vol 3 Dodson 2002 drawing/photo fide; Orchid Species of Peru Zelenko Bermudez 2009 photo fide; AOS Bulletin Vol 80 #2 2011 photo fide; Las Orquideas del Peru Bezverhov 2011 photo fide; OrchidDigest Vol 88 #4 2019 photo good
--------------------------------------------------------------------------------------------------------------------------