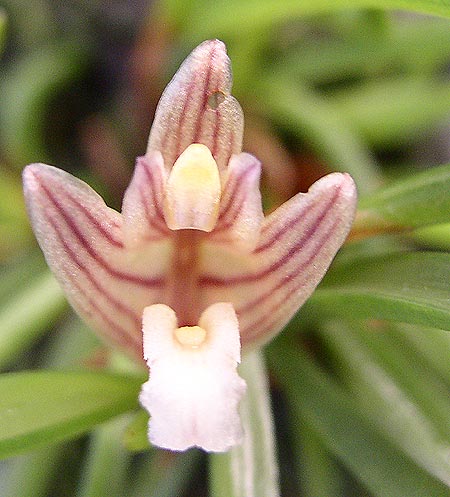 Maxillaria uncata Lindl. 1837 Subgen Camaridium
Photo by Oak Hill Gardens and their Orchid Catalog
Photo by Jay Pfahl


To





Common Name The Hook Shaped Maxillaria
Flower Size .48" [1.2 cm]
Found in French Guiana, Surinam, Guyana, Venezuela, Colombia, Ecuador Peru and Brazil in wet montane rainforests at altitudes of sealevel to 1300 meters and is a small sized, hot to cool, scadent growing epiphyte with a pendulous stem that has a fusiform-cylindrical, sulcate with age pseudobulb with a solitary semi-terete leaf that blooms at most any time of the year on a short, lateral, subsessile, single flowered inflorescence with subtending scarious sheaths held close into the leaves.
I have mine either mounted on treefern or in a fine mix of sphagnum, fenrock, woodchips, treefern and charcoal. Both plants are in semi-shade and get even year round conditions.
CAUTION I have separated M macleei and its synonyms from this species, please refer to it for more information.
Synonyms Camaridium squamatum (Barb. Rodr.) Hoehne 1947; Camaridium uncatum (Lindl.) Hoehne 1952; Christensonella squamata (Barb.Rodr.) S.Koehler 2007; Christensonella uncata (Lindl.) Szlach., Mytnik , Górniak & Smiszek 2006; Maxillaria nana Hook. f. 1841; Maxillaria squamata Barb. Rodr. 1882; Maxillaria stenostele Schltr. 1918; Maxillaria striatella Kraenzl. 1928; Ornithidium nanum Rolfe; Ornithidium squamata (Barb. Rodr.) Barb. Rodr. 1882
References W3 Tropicos, Kew Monocot list , IPNI ; Bonplandia Rchb.f 1856; Repert. Sp. Nov. Regni. Veg. Beih. 17: 72. Panama Schlechter 1922 as M stenostele; Repert. Sp. Nov. Regni. Veg. Beih. 19: 236. Costa Rica Schlechter 1923 as M stenostele; The Orchids of Panama L.O. Williams & P Allen 1946; Flora Brasilica Vol XII VII 115-147 Hoehne 1953 as Camaridium squamatum drawing fide; Flora Brasilica Vol XII VII 115-147 Hoehne 1953 drawing good; Venezuelan Orchids Vol 2 Dunsterville & Garay 1961 drawing fide; Encyclopedia of Cultivated Orchids Hawkes 1965; AOS Bulletin Vol 36 # 9 1967; Flora de Venezuela Volumen XV Part 4 Foldats 1970 drawing ok; Orchidaceae Brasilenses Band 2 Pabst & Dungs 1977 drawing fide; Orchids of Venezuela, An Illustrated Field Guide Vol 2 Dunsterville & Garay 1979 drawing fide; Icones Planetarum Tropicarum plate 163 Dodson 1980 drawing fide; Icones Planetarum Tropicarum plate 868 Dodson 1983 drawing fide; The Orchids of Surinam Werkhoven 1986 photo fide; Orquideologia Vol 17 #3 1988 as subgen Camaridium; Icones Planetarum Tropicarum plate 1369 Dodson 1989 drawing fide; Orchids Travel By Air A Pictoral Safari Mulder, Mulder-Roelfsema and Schuiteman 1990 photo fide; The Manual Of Cultivated Orchid Species Bechtel, Cribb & Launert 1992 drawing fide; AOS Bulletin Vol 62 No 8 1993 as Max squamata photo fide; Icones Orchidacearum Peruviarum Plate 117 Bennett & Christenson 1993 drawing fide; Rudolf Schlechter Die Orchideen Band 1B lieferung 28 1713 - 1776 Brieger 1993 drawing fide/photo good; Fieldiana Biology, Flora Costa Ricensis Family # 39 Orchidaceae, subtribes Maxillariinae and Oncidiinae Atwood & Mora 1997; Native Colombian Orchids Vol 6 COS 1998 photo fide; Guatemala Y Sus Orquideas Behar & Tinschert 1998 photo fide; Fieldiana Biology, Flora Costa Ricensis Family # 39 Orchidaceae, subtribes Maxillariinae and Oncidiinae Atwood & Mora 1999 drawing fide; Orchids of Venezuela [An illustrated field guide] Vol. 2 Ramiro and Carnevali 2000 as M squamata drawing fide; Harvard Pap. Bot. 5 #2: Carnevali etal. 2001; Icones Orchidacearum Peruviarum Plate 710 Bennett & Christenson 2001 drawing fide; Icones Orchidacearum Peruviarum Supplemental Plate Bennett & Christenson 2001 drawing fide; Native Ecuadorian Orchids Vol 3 Dodson 2002 drawing fide; Flora of the Venezuelan Guayana Vol 7 Steyermark, Berry, Yatskievych and Holst 2003 as M squamata; Flora of the Venezuelan Guayana Vol 7 Steyermark, Berry, Yatskievych and Holst 2003 drawing ok; Manual de Plantas de Costa Rica Vol 3 Hammel, Grayum, Herrera and Zamora 2003; Orquideas de la Serrania del Baudo Misas Urreta 2006 drawing/photo fide; Orchids of Costa Rica Vol 2 Morales 2009 as Christonella uncata photo fide; AOS Bulletin Vol 80 #7 2011 as Christesoniella uncata photo fide; AOS Bulletin Vol 80 #2 2011 as Christonella uncataphoto fide; Orquideas de Roirama Luz & Franco 2012 as Christensonella uncata photo fide; Guia de Orquideas de Chiapas Carlos Rommel Beutelspacher Baigts 2013 as Christensonella uncata photo fide; A Compendium of Miniature Orchid Species Parsons & Gerritsen 2013 as Christensonella uncata photo fide; AOS Bulletin Vol 86 #8 2017 photo fide; Orchid Genera and Species in Guatemala Archila, Szlachchetko, Chiron, Lipinska, Mystkowska and Bertolini 2018 as Christonellas uncata photo fide; AOS Bulletin Vol 88 #8 2019 photo fide;
--------------------------------------------------------------------------------------------------------------------------
------------------------------------------------------------------------------------------------------------------------------------------