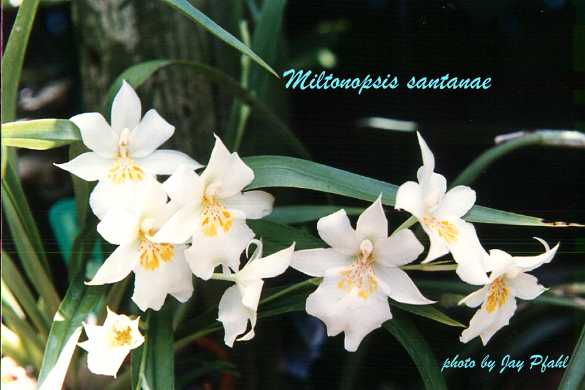 Miltoniopsis santanaei Garay and Dunsterville 1976
Photo by © Jay Pfahl
Photo courtesy of Dale and Deni Borders.


to


Common Name Santana's Miltoniopsis
Flower Size 2 1/2" [6.25 cm]
A small sized, cool to warm growing, caespitose epiphte from Venezuela, Colombia, Ecuador, Peru and Brazil found in seasonally flooded, wet forests at elevations of 200 to 1200 meters with an ovoid-ellipsoid, compressed pseudobulb that is subtended by foliaceous bracts that are shorter than the single, linear, petiolate, acuminate leaf that blooms in the summer on a 3 3/4" [10 cm] long, axillary, racemose inflorescence with ovate, acute floral bracts arising on a mature pseudobulb that are shorter than the leaves.
This species, when discovered in 1976, did not fit into Miltonia just as the other members of Miltonopsis didn't seem to jive, so Dunsterville and Garay resurrected Miltonopsis from Godefroy-Lebeufs original genus described in 1889 which used Miltonopsis vexillaria as the type species and added the other four species, leaving Miltonia confined mostly to the Brazilian species.
References W3 Tropicos, Kew Monocot list , IPNI ; *Venezuelan Orchids Illustrated Vol 6 Dunsterville & Garay 1976 drawing fide; AOS Bulletin Vol 47 No 10 1978 photo fide; Orchids of Venezuela An Illustrated Field Guide Vol 2 Dunsterville & Garay 1979 drawing fide; Icones Planetarum Tropicarum plate 167 Dodson 1980 drawing fide; AOS Bulletin Vol 62 No 9 1993 photo fide; Rudolf Schlechter Die Orchideen Band 1C lieferung 33 - 36 2057 - 2308 Brieger 1997; Icones Orchidacearum Peruviarum Plate 516 Bennett & Christenson 1998 drawing fide; Orchids of Venezuela [An illustrated field guide] Vol. 2 Ramiro and Carnevali 2000 drawing fide; Native Ecuadorian Orchids Vol 3 Dodson 2002 drawing/photo fide; Flora of the Venezuelan Guayana Vol 7 Steyermark, Berry, Yatskievych and Holst 2003 drawing fide, Orchid Species Culture: Oncidium, Bakers 2006; AOS Bulletin Vol 83 #8 2014 photo fide; AOS Bulletin Vol 88 #10 2019 photo fide;
--------------------------------------------------------------------------------------------------------------------------
-----------------------------------------------------------------------------------------------------------