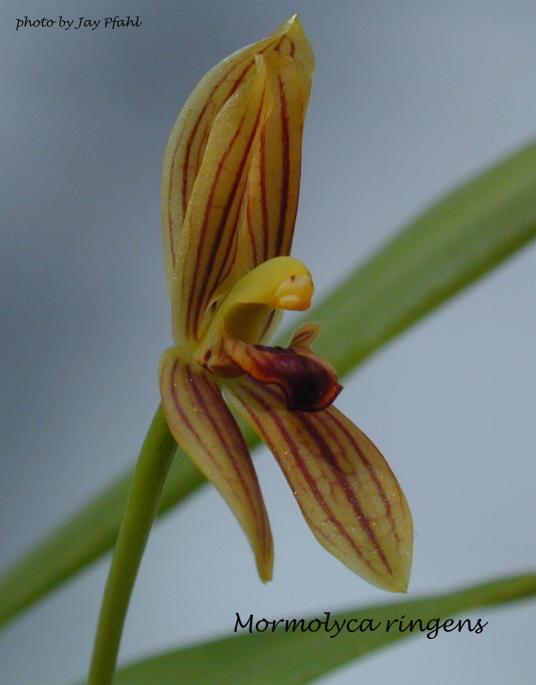 !Mormolyca ringens [Lindley] Gentil 1907
Photos by © Jay Pfahl.






Common Name The Rigid Mormolyca
Flower Size to 1" [2.2 cm]
From Mexico, Belize, Guatemala, El Salvador, Honduras, Nicaragua and Costa Rica as a small to medium sized, hot to cool growing epiphyte found on trees in dense humid forests from sealevel to 1400 meters, with clustered, arising from a wiry rhizome, subrotund to ellipsoid, compressed pseudobulbs enveloped basally by distichous sheaths and carrying a single, apical, coriaceous, linear-ligulate to narrowly lanceolate, acute to obtuse, gradually narrowing below into a conduplicate petiolate base leaf that blooms on an erect, single flowered, 10" [24 cm] long inflorescence that has brown, scarious bracts and is longer or equal to the length of the leaves and occurs all spring and summer if well grown.
Best planted in a wooden basket given moderate shade and watered well during growth and a lessening after maturity.
Synonyms Mormolyca lineolata Fenzl. 1849; *Trigonidium ringens Lindley 1840
References W3 Tropicos, Kew Monocot list , IPNI ; Die Orchideen Schlechter 1915 as Mormolyze ringens; Encyclopedia of Cultivated Orchids Hawkes 1965; Las Orquedias De El Salvador Vol 2 Hamer 1974 drawing/photo fide; Icones Planetarum Tropicarum plate 878 Dodson 1983 drawing fide; An Introdution to the Orchids of Mexico Wiard 1987 photo fide; AOS Bulletin Vol 57 No 2 1988 photo; Orchids Travel By Air A Pictoral Safari Mulder, Mulder-Roelfsema and Schuiteman 1990 photo fide; The Manual Of Cultivated Orchid Species Bechtel, Cribb & Launert 1992 photo fide; Rudolf Schlechter Die Orchideen lieferung 29 1777 - 1840 Brieger 1994 drawing/photo fide; Guatemala Y Sus Orquideas Behar & Tinschert 1998 photo fide; Fieldiana Biology, Flora Costa Ricensis Family # 39 Orchidaceae, subtribes Maxillariinae and Oncidiinae Atwood & Mora 1999 drawing fide; Harvard Pap. Bot. 5 #2: Carnevali etal. 2001; Manual de Plantas de Costa Rica Vol 3 Hammel, Grayum, Herrera and Zamora 2003 drwaing fide; Algunas Orquideas de Oaxaca Suarez 2004 photo fide; Mille et Une Mini Orchideees Roguenant 2009 photo fide; Orchid Digest Vol 74 #1 2010 photo fide; AOS Bulletin Vol 80 #2 2011 photo fide; Guia de Orquideas de Chiapas Carlos Rommel Beutelspacher Baigts 2013 photo fide; Algunas Orquideas de Mexico Tomo 1 Suarez 2013 photo fide; Of Men and Orchids Part 1 Jenny 2015 drawing/photo fide; Orchid Genera and Species in Guatemala Archila, Szlachchetko, Chiron, Lipinska, Mystkowska and Bertolini 2018 photo fide; Vanishing Beauty, Native Costa Rican Orchids Vol 2 Lacaena to Pteroglossa Pupulin 2020 photo fide
--------------------------------------------------------------------------------------
------------------------------------------------------------------------------------------------------------